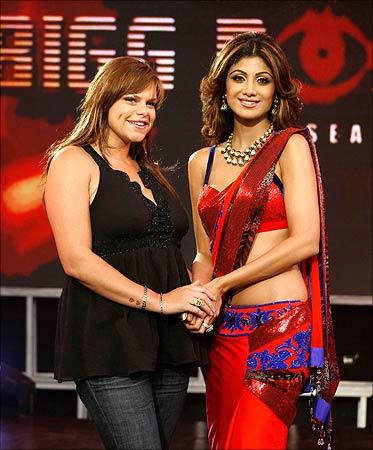 Cancer-stricken Jade Goody has exchanged wedding rings with her beau Jack Tweed after doctors told her that she has months to live.
The couple staged the private ceremony on the side of the River Thames after doctors allowed the former Big Brother star to leave the Royal Marsden hospital where she had been receiving treatment for cervical cancer.
Although, the pair plans to marry formally in the next two weeks, they wanted to mark their partnership before the reality TV star became too weak.
'Jade's aware she getting weaker by the day. They'll exchange rings again when they wed, but this was almost as special,' the Mirror quoted a pal, as saying.
'When Jade slipped the ring on to Jack's finger they both burst into tears. It was a beautiful moment between just the two of them and they wanted it that way,' the pal added.
'There were also tears as they tried on the jewellery in the store and the occasion got the better of them. The rings are simple but utterly stunning,' the pal added.
After buying their rings at Tiffany & Co in London's West End, the couple went to Harrods in Kensington, where Goody selected a wedding dress and browsed pageboy outfits for her two children Bobby, five, and Freddy, four.
The pal said: 'She was really excited about the trip. Everyone's delighted the wedding gives her something to look forward to. She's desperate to make it happen, not just for Jack but for her two boys as well.
'It was a tiring emotional day but Jade was in good spirits. And it was made all the more special by their private ceremony afterwards by the river,' the pal added.
Jade Goody poses with Shilpa Shetty.
Text: ANI | Photograph: Ho New