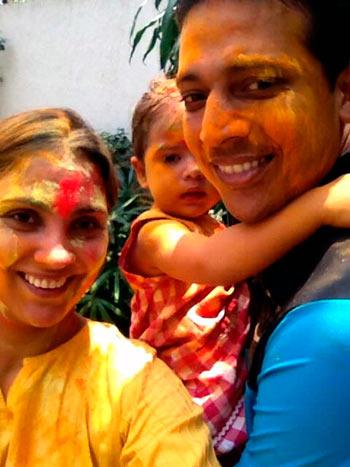 Lara Dutt seemed to have a lot of fun in her last release, Singh Is Bling, but she's in no hurry to sign another film.
"Singh Is Bling is my first film in two and a half years," she says. "My first criteria for doing a film is the time it would take me out of the house, away from my daughter Sara. I've no burning ambition to face the camera. I never did. It will take a really interesting role to drag me out of my home, and to go to the sets every day."
"Luckily, my husband Mahesh (Bhupati) is a hands-on dad," she adds. "He takes care of her when I am working. If it wasn't for for Mahesh, I wouldn't have come back to work. Even when I was shooting in Goa for Azhar and in London in Fitoor, Mahesh came down to look after Sara while I was shooting."
Arclights beckoned now that Lara's daughter is three years old.
When Lara took on Singh Is Bling, the little girl was first told her mom is going to office.
"But then Sara would look at me strangely when I came home from shooting wondering why Mama returned home from office with so much makeup on! Now Sara knows I am actress. She is quite happy with what her mother does," laughs Lara.