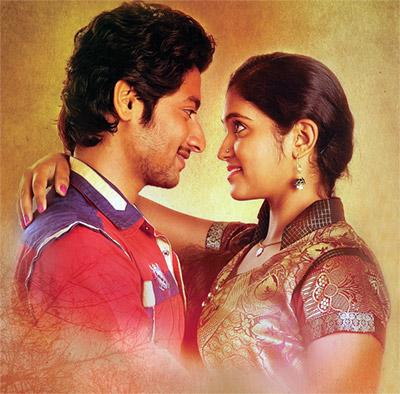 'I knew Sairat would make an impact because its theme of inter-caste relationship and marriage connects with our entire country. I won't pretend the success was unexpected.'
Sairat director Nagraj Manjule basks in the film's success.
Nagraj Manjule, who has films like Fandry and Pistulya to his credit, has given Marathi cinema its highest grossing film of all time.
Sairat, a searing indictment of caste discrimination, stars two unknown faces (Akash Thosar and Rinku Rajguru). Reportedly made at the cost of Rs 4 crores, the film has grossed more than Rs 50 crores at the box office.
The film's shy director is no stranger to fame as his first feature film Fandry was highly acclaimed. But Manjule is not comfortable with the sudden upsurge of public attention.
His phone is switched off most of the days as strangers keep calling him up to discuss the film and its characters.
Says Nagraj, "Maharashtrians have embraced the film as if they own the characters. Sairat is not a film for them. It is a part of their lives."
What surprises Nagraj is the way non-Maharashtrians have taken to the film. "This is most unexpected. I knew the film would make an impact but I never knew it would cross the language barrier so easily and in such overwhelming numbers.
"Today, when Aamir Khan or Irrfan tweets about the film, it's a huge thing for me." adds the National Award-winning filmmaker.
Nagraj, who comes from a humble background, says Sairat was a story that had to be told.
"I knew it would make an impact because its theme of inter-caste relationship and marriage connects with our entire country. I won't pretend the success was unexpected," he says.
"In fact, I had warned my two lead actors that it would be near-impossible for them to step out of their homes alone once the film is released. I told them to enjoy the freedom of movement as long as they were shooting," says Nagraj.
How Nagraj chose Akash Thosar and Rinku Rajguru to play the lead is another story.
"My brother saw Akash on the street and told me he is the boy I am looking for to play Parshya in my film. I met Akash. He was so shy, he could barely mumble a few words. But it did not take much persuasion to get him on board. Rinku Rajguru is the daughter of a lady I know from my village. I knew she was Archie the minute I saw her."
He then worked extensively with his principal actors to ensure they got the rhythm right.
"It was important for them to not look like actors. They had to transform into the protagonists, Akash and Archie. Luckily, this is exactly what happened. Audiences see them as the characters," he says.
Though many moments in the couple's courtship has a ring of authenticity, Nagraj says he hasn't borrowed much from his own life.
"Yes, I am from a backward section of society, just like my hero. In some way or another, both my earlier films have touched on caste discrimination. But Fandry was far more personal. It was almost like my own story," he says.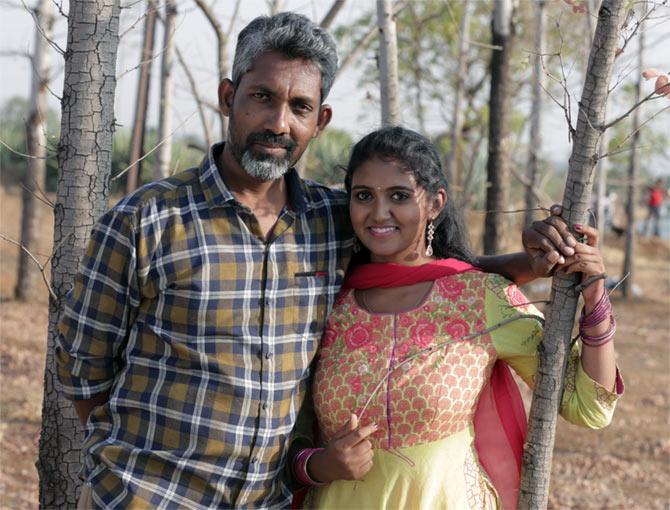 IMAGE: Nagraj Manjule and Rinku Rajguru on the sets of Sairat
"Sairat is less personal. I haven't borrowed from my life, except that I have been rejected in love because I was unworthy of the girl. The sequence where Parshya places flowers on Archie's chappals when she is inside the temple is taken from my own life. Yes, I've done that for a girl. It's amazing what love can make one do."
Nagraj denies being inspired from Bollywood loves stories like Qayamat Se Qayamat Tak and Ek Duuje Ke Liye, as reported in certain section of the media.
He says, "So many interviews have put words in my mouth. I have never said Sairat is a homage to these Bollywood love stories. I have grown up watching Bollywood films. Rather than being inspired by them, I have absorbed the pitfalls of commercial cinema and how to avoid them in my cinema. So I'd say Bollywood has taught me what not to do rather than what to do in my cinema."
Sairat and its message of social discrimination has touched millions of hearts by now and Nagraj hopes to do many more films about social inequality. In fact, there is talk of remaking Sairat into various languages but Nagraj shoots down all such speculation.
"Right now, we should just allow Sairat to grow. Its reach has exceeded anything any of us had ever hoped for. We are now sitting back to see where Sairat is heading. We are enjoying the journey," adds the director.