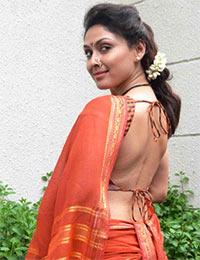 'The casting couch does exist but nobody rapes you. The ball is in your court, and you have to choose.'
Wah Taj actress Manjari Fadnis discusses her journey in Bollywood.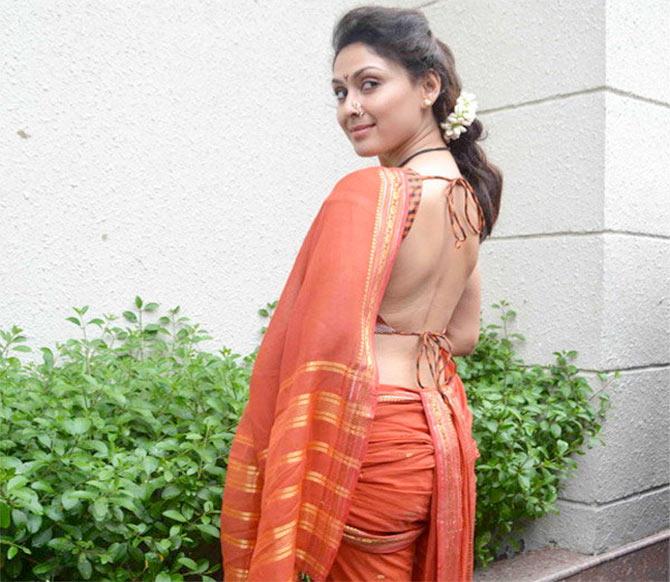 IMAGE: Manjari Phadnis at a promotional event for Wah Taj. Photograph: Pradeep Bandekar
Manjari Fadnis is quite excited about her role as a Maharashtrian farmer's wife in her new release Wah Taj.
The actress, best known for her work in Jaane Tu... Ya Jaane Na, seems quite comfortable in saris as well as Western outfits.
"Nowadays, where do you get to see people wearing nauvari saris unless there is a special occasion or a shoot? Manjari asks, referring to the traditional nine yard saris she wears through the film. "Now, I am learning to wear one. I think the body compliments whatever you wear naturally."
Though she is a Maharashtrian, she doesn't speak Marathi fluently.
"My dad is in the army, so we have mostly lived in the north," she explains. "My parents are from Madhya Pradesh. We speak Hindi at home. My Marathi is not that great but I understand everything."
She found it tough to relate to her character Sunanda, who hails from a village.
"My character speaks Hindi with a Marathi accent. So I had to get the dialect and body language right. I would speak to my Maharashtrian housemaid a lot. Since she knows my Marathi is not so good, she talks to me in Hindi with a Marathi accent. I would ask her to say my lines from the film and copy the way she did it," she says.
Manjari also listened to her onscreen husband Shreyas Talpade carefully during the shooting, as they had to sound like a family.


'I have never played a role like this!'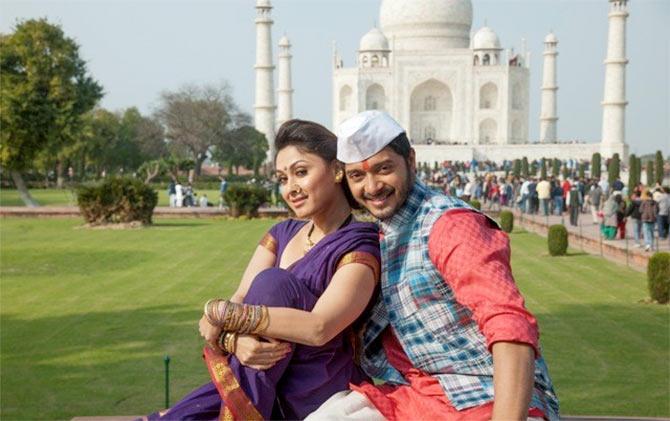 IMAGE: Manjari Phadnis with Shreyas Talpade in Wah Taj
"When my second film Mumbai Salsa released (in 2007), (Wah Taj director) Ajit Sinha (then an assistant director) told me he liked my work and would cast me as the heroine of his film whenever he made it. I was moved but you know how things are -- people promise but never keep them. Though Mumbai Salsa didn't do well, people who saw it really liked it. I was appreciated too," she says.
"After six years, he called me and said that he was making his first film and that he wanted to cast me," she continues with a smile.
She loved the film's narration and "grabbed the movie".
"I have never played a role like this!" she exclaims. "And it has a beautiful message at the end too."
Getting the film wasn't really a cakewalk though.
While the director was convinced about her, the rest of the team could not image her as a farmer's wife.
"I walked in wearing a summer dress for a meeting with Ajitji and writer M Salimji. Salim sir looked at me first and then looked questioningly at Ajit sir. Even during the narration, he narrated without heart. When we shot the first scene, he sat with Shreyas and finally confessed that he didn't think I could do it. Now, he cannot see me doing a modern character!" she says with a laugh.

'When your first film doesn't work, it becomes more difficult because people want a fresh face'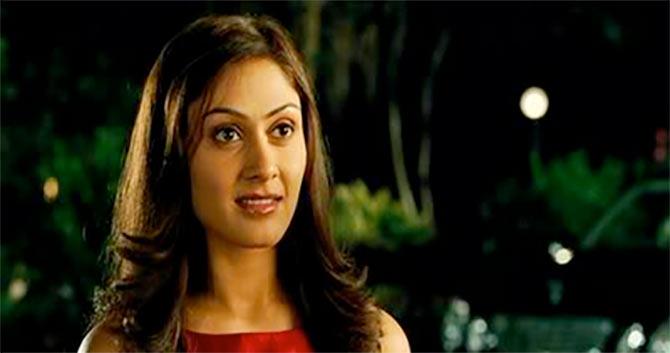 IMAGE: Manjari Phadnis in Jaane Tu... Ya Jaane Na
So how difficult is it getting work in the industry?
"It is difficult if you don't have a filmi background," she replies. "I don't mean it's easy for star kids because they have a different kind of struggle. They have to live up to expectations. But it's easier for them to get a break because they have friends and family in the industry. Even if the first film doesn't work, they will have more chances to prove themselves."
Recalling her own journey in Bollywood, Manjari says, "God has been kind to me. There have been people, who have gone through more struggle than I have. When I decided to become an actor, my parents supported me. They thought I would realise how difficult getting work is and come back. They were hoping that because they didn't want me to be in this industry!"
Manjari gave her portfolio pictures to an casting agency after she completed junior college and got calls for auditions within a month.
She landed her first film job in the second round of auditions.
Rok Sako To Rok Lo (2004) did not work but she was noticed and was nominated for an award.
Later, she went on to do movies in the south.
"When your first film doesn't work, it becomes more difficult because people want a fresh face. Even if you break your head saying that you've done only one film and are still fresh, they shut you down," she says.
"I went through an emotional struggle more than a physical one," she continues. "But having said that, I have been lucky to get opportunities in spite of not being from the industry. I have had a re-launch in so many films!"
Jaane Tu... Ya Jaane Naa, which introduced Imran Khan in 2008, worked wonders for her career. She also did films like Grand Masti and Kis Kisko Pyar Karoon after that.
I wanted to play a heroine but after Jaane Tu..., people started type-casting me."
The casting couch does exist, she admits.
"But nobody rapes you," she says. "The ball is in your court and you have to choose. I have handled it diplomatically because you don't want to offend people as you will be in the same industry. You have to be smart enough to handle such situations. At the most you won't get a role... that's okay. There was one incident where I really had hope (for landing the role) but (it) didn't work out. I kind of left it went back home and cried a lot. My parents were also so moved and they also cried and said they were very proud of me."
For now, she's keenly awaiting the release of Wah Taj, and hopes it will put her right back on the Bollywood map.