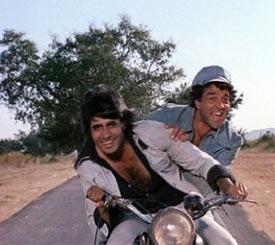 'Satyajit Ray was somewhat tolerable; you didn't have to hang your head in shame.'
'Sholay is a series of stereotypes and borrowed ideas... And we are still singing praises of that film.'
'What would I make of two grown men behaving in this manner? It's deeply embarrassing.'
If you thought Naseeruddin Shah was too frank with his opinions, he'd have to take a back seat to wife Ratna Pathak Shah, who doesn't waste a second, giving you her strong views on matters, movies and personal.
Go on, read Ratna's fascinating interview to Patcy N/Rediff.com
Mind you, this is only the first part!
Ratna Pathak Shah enacted her mum Dina Pathak's famous role in Khubsoorat in the film's remake, which released last Friday, September 19.
We don't see much of Ratna in the movies because she says there are limited opportunities for older women.
"They can barely write a good part for Deepika Padukone, so how are they going to write a good part for me?" she asks Patcy N/Rediff.com
/>You play the role your mother first played in Khubsoorat.
My memory of that Khubsoorat is not very sharp. I don't think this film is a repeat of that.
It has probably just taken off from that idea. I enjoyed doing the part. It is pretty well written. I was very happy to work with Shashanka Ghosh, the director. He has a sense of humour, which is always welcome.
In an interview you said you never wanted to be an actress. So what did you want to be?
I wasn't sure what I wanted to do. I was going through the usual pilot, airhostess, hotel management, whatever... that everyone around me was thinking of.
I didn't want to be an actress because everyone around me took it for granted that I would be an actress because mum was an actress. I thought it was such a ridiculous argument.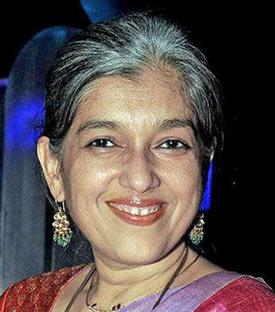 As it turned out, I did become an actress eventually. I spent a long time trying to learn how to act and I have enjoyed the process very, very, much.
After doing your second play with (Satyadev) Dubeyji, you saw Om Puri and Naseeruddin Shah acting, and that's when you decided you must learn acting and joined the National School of Drama.
It was a very ad hoc process. I am afraid the training of actors in our country is very hit and miss, ad hoc kind of situation.
There are no teachers of acting in this country, at least no professional teachers. There are some people who know how to help actors, but they are few and far between.
All actors learn on the job, make many mistakes before they can even begin to figure out what is right for them. I went through the same process.
My process has lasted almost 40 years! I still don't really know exactly what it is to be a good performer.
I know what the requirements are now, and what the role of the performer in any work is. And it is not to show off or to show my own abilities and my own skills, but to use my abilities and my skills to help tell the story better.
That realisation has been a very useful one, but it has taken a long time.
Are you saying one should learn acting on the job?
In an ideal world, one should go to acting school. But when there is no such acting school available, then what does an actor do?
I would be hard pressed to advise a young actor except to say do what you can do by yourself, which is to train your body, train your voice, train your mind, and train your ability to detect what is and is not a good performance.
See what you like when you watch an actor performing and what you don't like, and then try and find your own individual way to arrive at the truth, rather then simply to copy other actors, which is how we all start out.
We all start off copying other actors, but you have got to move beyond that.
A lot of actors in our country don't move beyond that.
The big difference between actors in India and actors in American movies is that the American movies once upon a time had a lot of substance; they focused on human interaction and the relationship between people.
I am not talking about Expendables, Transformers, Spiderman, Batman, Superman -- that kind of filmmaking anyone can do. But other kinds of films made greater demands on the actors, so the actors were much better, they had to rise to that level.
In our country what is demanded of actors by and large? Whether a woman or a man?
Some movies do make greater demands on actors and those are the kind of films that will hopefully help change the kind of films that are made in India.
Why are we so happy with Kick and Humshakals? Why do we tolerate this? Aren't we educated, intelligent people? This is not entertainment, at least not to me.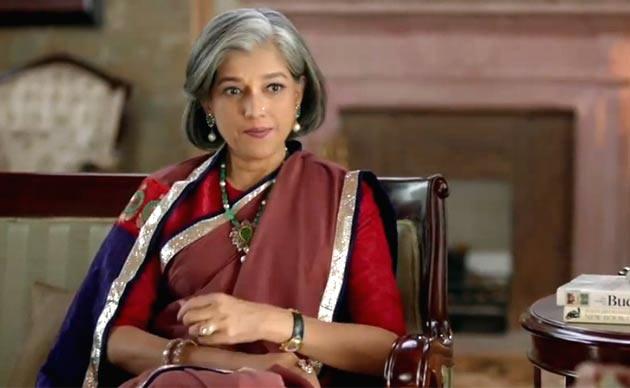 Image: Ratna Pathak Shah in Khoobsurat.
Was your mother your inspiration to become an actress? Or was it a combination of your mother and your aunt, Shanta Gandhi?
My mum, yes, as an actress, definitely. Not Shantaji as an actress, but Shantaji in many other ways has had an impact on me.
She was an educationist. I am very interested in education and have been involved with education all through my life. I work with an educational NGO, the Avehi-Abacus Project. We produce teaching and learning material for schools.
That has certainly enriched my life, made me understand and appreciate different kinds of people. Shantaji's impact on my life has been enormous.
But Ma's impact on my abilities as an actress has been very great; she was a very good critic. She watched everything we did with interest and spent time and energy explaining what she did or did not like.
"

Today supposing a bomb drops on the world and supposing all that is left is
Sholay
, what will that say about the way Indians behave towards each other? What would it say about our civilisation?
"
Being an actress she had an insight which was useful to me. The kind of things Ma did in the last few years of her life were stereotypical performances. She just became a kind mother. But that's what Hindi films tend to do: They make stereotypes out of everyone.
Fortunately, so far, I have been able to avoid stereotyping and I hope to continue avoiding it in future.
But most of the movies you do are comedies -- Jaane Tu Ya Jaane Na, Golmaal 3. In television too you did comic roles like in Sarabhai Vs Sarabhai.
Everyone wants to do dramatic roles.
I am lucky I was spared the glycerin and the sad look experience of a lot of Indian actresses, particularly of my generation and my age.
Opportunities are limited for older actresses.
I get very few roles compared to Naseer. Things will hopefully change, and women will be thought of as live and interesting human beings, not stereotypes. Until that happens, we have to make do with whatever we get.
There is a new wave of cinema today with films like Finding Fanny.
I haven't been offered such films.
As an actor you look out for something challenging and something you haven't done before, something that pushes you to explore aspects of yourself or your craft.
The lack of that is a bit depressing, but at the same time, theatre has provided great sustenance for my mind and my ability as an actor.
They can barely write a good part for Deepika Padukone, so how are they going to write a good part for me?
Poor girl, she has been around for several years now and she just got one decent part, something that is really going to stand the test of time.
India is getting educated and it is changing in a big way. When this bunch of kids grows up and they look back at the kind of films that were made, they will find it ridiculous.
I was watching a documentary the other day about world cinema called The Story of Film. They talked about cinema from all over the world including places like Iran, Korea and Burkina Faso.
I tell you, even the film from Burkina Faso was more interesting than what we have to offer. All we had to offer was Satyajit Ray, who was somewhat tolerable; you didn't have to hang your head in shame.
And then the next thing on offer was Sholay. They showed the song between Dharmendra and Amitabh Bachchan.
I was thinking, if I were a French person watching this, what would I make of two grown men behaving in this manner? It was deeply embarrassing.
I thought back on Sholay. It's a series of stereotypes and borrowed ideas from films from all over the world, mainly American, of course. And we are still singing praises of that film. What kind of self analysis are we doing as a filmmaking nation?
This is our hundred years as a film producing nation and today supposing a bomb drops on the world and supposing all that is left is Sholay, what will that say about the way Indians behave towards each other? What would it say about our civilisation?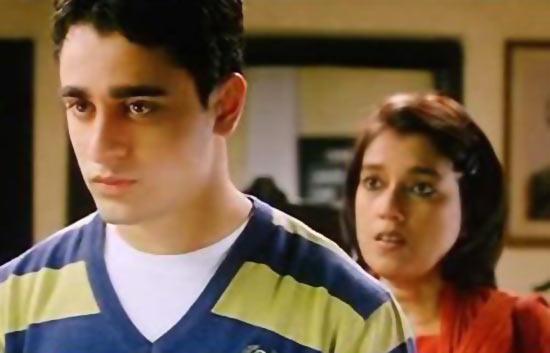 Image: Imran Khan and Ratna Pathak Shah in Jaane Tu... Ya Jaane Na.
Which were your most challenging roles?
The most challenging role for me was the play that we did many years ago, in 1984. It was a play by George Bernard Shaw called Don Juan in Hell.
I found that really difficult in terms of understanding what was being communicated and I found it difficult to be able to speak the dialogue in the way that I was required to do.
I would say that my growth as an actress started from that point, though I had been acting for 10 years before that.
It opened up the world for me; it made me aware of my shortcomings as an actress and set me on the path to finding solutions.
Any performances in recent times that you have admired and wished they had been offered to you?
I think Ankhon Dekhi, a film by Rajat Kapoor, is a wonderful film. I would love to be part of something like that where the characters are believable, people I can see in my family and other families too.
I would certainly like to do more humour, because I think humour is very under-utilised and poor in our country.
Humour needs too much effort and we don't want to put in too much effort. We want to copy, steal, somehow just put it out there and make a lot of money.