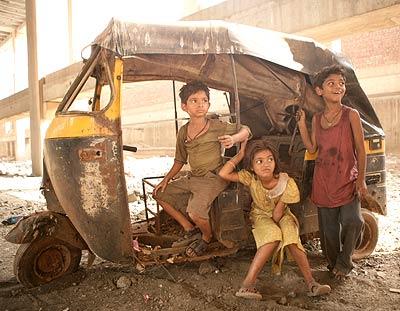 'They are busy making films that suit their purpose. If it suits their purpose to make a Slumdog Millionaire, they will make it.'
'Why are we so upset about not getting an Oscar or producing Oscar quality work? Just look at the quality of work that is venerated by the Oscars. It is not particularly great work. Why are we so desperate to get acknowledgment from the West?'
In the first part of her fascinating interview with Patcy N/Rediff.com, Ratna Pathak Shah denounced Sholay.
In this segment of the interview she frankly discusses her relationships -- with her mother Dina Pathak, sister Supriya Pathak, her husband Naseeruddin Shah and her children, Heeba, Imaad and Vivaan.
And, of course, the many things that bug her about actors and the movies.
In 20 years you have done less than 20 films. Was that because you took a break when your children were growing up?
No, it was not because of that. I just was not offered work, so I didn't do any work except what work I was offered, which was in television and theatre.
I am very happy now that it happened because it gave me a chance to grow.
If I had just gotten into this movie-making business as a lot of other actresses who are my contemporaries have done... I don't see the same kind of growth in their lives.
What is the most frustrating part about filmmaking for you as an actress?
How little people want to work. Physical work everyone will be willing to do -- from morning to night people are happy to stay on the sets and slog for very little money -- but intellectual work, no one (does).
We don't have written scripts a lot of the time; forget about reading it, half the time you don't get a script.
We are lazy intellectually. We like to say I am spontaneous, I will trust my director and do exactly what my director tells me to do.
That's just laziness. You should be doing that work; it is not the director's job to tell you what to do. Your director's job is to see what you are doing and help you become better. But that kind of effort we are not willing to do.
People don't even bother to learn their lines. You have people prompting in the middle of a scene where you have just three lines.
I have heard people prompting in a song picturisation! The hero is singing and somebody is prompting from behind. How lazy can we be?
Those guys (male stars) earn a lot of money, so if you are earning that kind of money, how come you are not putting in the effort required?
Was this the same 20 years ago?
There is a more educated bunch of people in the business today -- filmmakers, writers, people on the sets and very important, producers.
There are people who are beginning to take some risks with other kinds of story ideas, trying different ways of making movies. We are nowhere comparable to European movies or Iranian movies, which are beautifully made.
Definitely we are somewhat better now. Cinema hit rock bottom in the '70s, '80s and '90s. Now, hopefully, we will go up. But Indians are known to snatch defeat from the jaws of victory. So we can go further down any time.
Television has done that. What a wonderful, new, fresh medium and look what we have done to it! Depressing beyond belief.
Are you willing to do more television now?
Of course, if I get something halfway decent. But I would be very surprised if I do. If less time and energy is spent in film, television is worse, so you can imagine what a mess that is.
Everyone hoped there would be a second season of Sarabhai vs Sarabhai. Maybe they have also run out of ideas.
Producing comedy is a tiring and difficult job. It really is a hard job.
What do you think about standup comedy shows?
I have not seen too much. I think it is certainly going to produce its own writers and actors. It hasn't happened yet, but it will and hopefully it will rub off on movies in general.
Basically, we need good writing in comedy and we don't have that.
(Writer-producer) Aatish Kapadia was one of the more unusual people. Sarabhai has not come back because there is no other Aatish Kapadia. He produced script after script. It was extraordinary what he was able to do given the conditions.
Have you seen Comedy Nights with Kapil?
I tried to watch a little bit, bit I find it very crude. It is not to my taste. Many people like it, I know.
In India, comedy is a fat guy slipping on a banana skin; a fat woman slipping on a banana skin is even funnier. But the world has moved on.
We wrote more humorous stuff in our own country. Ismat Chughtai (the legendary writer who wrote films like Junoon and Garam Hawa) is fantastic. Or (satirist) Hari Shankar Parsai. There are so many absolutely wonderful writers in each language in our country who have produced good humour.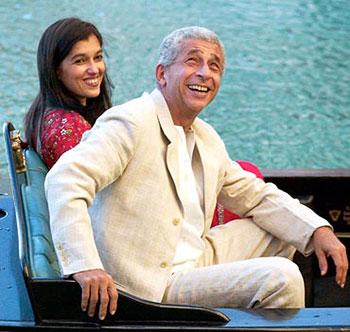 'Ratna taught me how to love' is a memorable headline from one of your husband Naseeruddin Shah's interviews. He is an intimidating person, so how do you have such a successful marriage?
I have known him long enough not to be intimidated by him now! I have got past that (laughs).
He is a very fair and very open person, but he has a low threshold for boredom and bullshit.

I respect that; I am very thankful that he is like that. You meet too many people who have a great sense of themselves.
I have managed very happily with him, without any trouble at all.
We talk about this many times. The take away from the 40 odd years we have been together is that we had a lot of fun. We didn't expect that.
We thought we would be together, we would be happy, and we would have children and we would work and blah blah, the usual things that people think.
But we didn't realise that it would be so much fun to be together.
Your elder son's accident must have traumatised you both. How did it change you? Did it change your relationship with your sons? What kind of a parent are you?
It was the biggest shock in my life; nothing can prepare you for something like that. We were extraordinarily lucky that it wasn't more serious. We still have our son.
What it taught me is that almost anything can be born; human beings can put up with almost anything, and you get the strength for whatever you have to do.
I saw what Imaad dealt with. It was okay for me, I was not in pain. I wasn't in bed for a whole year at the age of 20. To have his education, social life interrupted... his whole life interrupted.
And with what calmness and maturity and good humour he did it. Hats off to the boy! I learnt a lot from him.
What is he doing now?
He is a musician and an actor. He and Sama Azad have a band called Mad Boy Mink. He performs regularly; they travel around for their gigs.
He also does music for films and he acts as and when he can. He is a rather nice actor but I don't know how interested he is in it.
I used to think when I was growing up that it's possible to do many things, so why should I choose only one? I think Imaad thinks the same way.
My experience has proved that maybe it's a good idea to focus, but I don't know what Imaad's experience will teach him.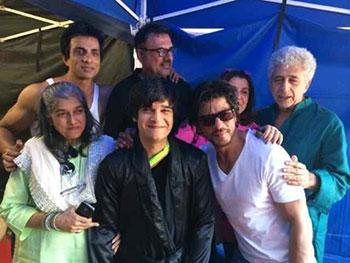 Have you seen the rushes of Happy New Year, which features your younger son Vivaan?
No, I haven't seen anything, except what is on YouTube. Vivaan has shown us the dances and all that. I am really looking forward to seeing it.
He is a good actor. The trouble is he is a bit cocky. At the moment one can excuse him because of his age, but at some point if this cockiness continues and he doesn't learn too much as an actor, he will be in trouble.
How is your relationship with Heeba, your step-daughter?
It was more difficult for her than for me. She was coming into my house. I was on firmer ground in that sense. She also had to learn the language, she had to go to a new school, make friends.
It was a huge attempt that she made. She gave it her all. Within six months she had learnt English, Hindi and Marathi. She was giving exams in three languages that she had never used before or used very little because she grew up in Iran with her mother.
It was a big change for her and she lived up to the challenge. She is an extremely gutsy person, very sane, totally held together inside her heart and mind, a strong person and very affectionate.
We do plays together. Over time, we have become good friends and it is a relationship of equals now.
You have played some interesting mother roles, both on television and on the big screen. What is the real life mom like?
I am a strict mom. I have understood some things from life that I need to pass on to my kids because it's of value to me. But I can't force it down their throats. They will have to make their own decisions, whether they want to accept what I have said or not.
I also think that I have been a loving mother; I have spent a lot of time with them and expended a lot of energy. I have enjoyed every single moment of the journey.
I wouldn't exchange it with anything else. I think if I hadn't had this experience, my life would have been significantly poorer.
Eventually, I hope we are friends. I think we are well on our way there. I wouldn't like them to do things for me only because I happen to be their mum. I would like them to do things for me because they want to.
As I was saying to Naseer the other day, we happen to be among the luckier people in the world. Our kids actually want to spend time with us. We often go out together, we travel together, and they want to participate in our lives.
By the time I was 20, I did not want anything to do with my family and my mom.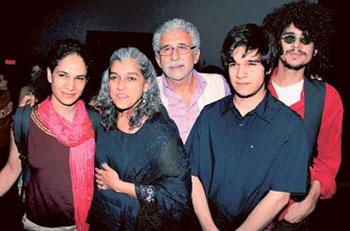 What kind of relationship did you share with your mother?
A very loving relationship, but also very traumatic. Both of us were drama queens, we dumped on each other. I don't think we were very good for each other for a while.
But I got a chance to make friends with her. She lived long enough for me to grow up and see how stupid I had been and to approach her in a different way, to find another relationship with her.
Also, having kids myself was a huge help. She was a wonderful grandmother, a happy, hands-on, delighted grandmother. That gave us a way to bond again through the children.
Like every mother-daughter relationship, we had our ups and downs and we had our huge fights while I was growing up, but we got past that.
What kind of relationship do you have with your sister Supriya Pathak? In an interview she said you were not part of her daily life...
No, I wasn't. I liked being with older people much more than I liked being with people my age or younger. I was a bit impatient with people younger than me; I thought they are not worth wasting time on.
My sister and my (cousin) brother tell me that I was a terrible bully. I probably was.
I liked spending time outside the house. All through my life my mum would go to work on weekends and she would drop me off at her friend's place.
I would hang out the whole day with this woman much older than me and never get bored. I was very happy to be with anyone.
Supriya and I didn't have common interests for a long time. Supriya cried a lot at one point when she was a baby -- she just cried too much and I didn't like that crying.
It was only after I grew up that we connected and became friends.
Has the relationship now changed?
Oh yes, it is much better. We are very much more accepting and fond of each other. Working together helped, when we didIdhar Udhar together.
We don't meet frequently, she is busy with her life and I am with mine, but when we do there is a lot of affection and a lot of connection now.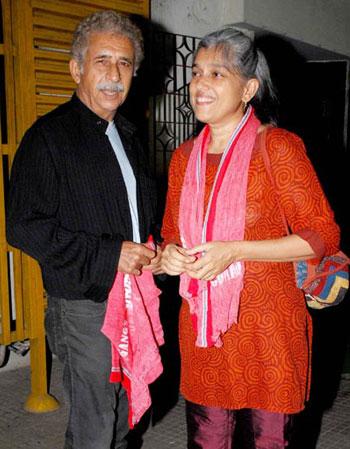 Do you think Mr Shah has got his due? Or has his talent gone unrecognised by the film industry?
Has his reputation for frankness, his inability to suffer fools and his reputation as a difficult person come in the way of his career?
Why do you think he never made it big in Hollywood?
Naseer should have got much better work, but it wasn't being produced in this country. He got the best of what has been done in this country.
As far as Hollywood is concerned, why should Hollywood be interested in us? They are busy making films that suit their purpose. If it suits their purpose to make a Slumdog Millionaire, they will make it.
Nobody is doing anyone a favour. India sometimes becomes the flavour of the month abroad. Suddenly everyone starts saying India India India. Indian festival, Indian food, Indian films. Then it fades away. Why should we be concerned about this?
Why are we so upset about not getting an Oscar or producing Oscar quality work? Just look at the quality of work that is venerated by the Oscars. It is not particularly great work. Why are we so desperate to get acknowledgment from the West?
We should be focusing on what we need to do in our country, in our lives, to find ways of telling stories that matter to all of us in the best possible way. Then we will interest the world too.
Iranian films are not made for an Oscar; they make films to talk about their lives and then it becomes interesting for us also to watch.
Since there is so much being said about 'love jihad,' I want to ask you about the challenges of an inter-religious marriage. Does one's faith or a different cultural upbringing intrude into a marriage? What about when it comes to the children?
I have no trouble at all being in an inter-religious marriage, or inter-region marriage, inter-culture marriage. I think it has in fact added to my store of experiences and ideas.
I have learnt a language that I would not have learnt otherwise. I have met people that I would not have met otherwise, and I have really enjoyed that process.
Neither Naseer nor I are particularly religious people; neither of us believes in organised religion. I abhor it. Organised religion has led to much more trouble than good.
I think this love jihad business is certainly manufactured and I am so happy to know that it did not work so well in the recent Uttar Pradesh polls.
I am really happy that people, who pushed this dirty love jihad idea as a political weapon, did not get the seats that they fought for.
As far as our children our concerned, we didn't have any kind of religious upbringing to offer them because neither of us believes in anything in particular. If they find solace of that kind, it's up to them which kind of solace.
I just hope they grow up to be good human beings rather than good Muslims or good Hindus or good anyone else.
But there is a lovely little incident I would like to recount. When Imaad was a kid, in 1993 the riots had just taken place in Mumbai and suddenly in school these questions were being asked.
He came home and asked me, 'What are we? What am I -- a Hindu or a Muslim?'
I told him 'I don't know, you have to decide when you grow up,' but he said 'My friends were asking me.' I told him for the time being you can say you are Bhelpuri because you are a bit of this and a bit of that. He found that amusing.
He started asking about our other friends. As it happened, many of the people we knew were in mixed marriages. Suddenly it tuned out all his friends were Bhelpuri too!
He asked me about my cousin Sanjeev. 'What about Sanju mama and his daughter? Is she a Bhelpuri too?' I said no, Sanjeev and Monica are both Hindus married to each other.
He said, 'My god, one Hindu married to another Hindu!' He found that unusual.
Children change the world. They are not going to follow our script, and it is time to dump our script in this matter.
Did you watch Finding Fanny? What did you think about it?

Yes, I loved it. I think more such movies should be made. More films that are unusual, that talk about Indians as they are now, with such a lovely sense of humour.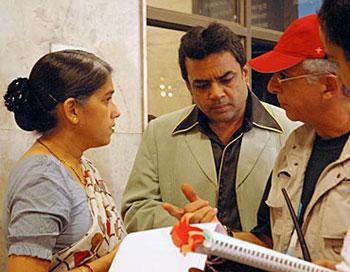 Which of your films is your personal favourite?
Naseer's film, the one he directed, Yun Hota Toh Kya Hota. That was a part I really enjoyed because that was something that I had not done before. It gave me something to dig my teeth into. I enjoyed it very much.
I enjoyed Jaane Tu... Ya Jaane Na very much. It was a fun part to play.
Naseer sir told me in an interview that he will never direct again. What was he like as a director?
Never say never again... you never know.
He was too cool for words. I was very worried. I mean a director should not be so cool. His pants should have been on fire.
I have seen first-time directors from the time I was in college and there is much more anxiety and much more passion and the need to prove themselves. Naseer was too cool, I was a little worried.
When the film did not do well, it upset me. I had a good part and nobody saw it.
I also realised that the film was very badly promoted. We had a producer who didn't believe in the film at all. This kind of films needs to be nurtured, it needs to have somebody pushing, making space for a film like that. It didn't happen.
Is there any film you wish you hadn't done?
None. Each one I learnt from.
How do you select your films?
Does the script interest me? Does the director seem like the person I would like to work with and is the part interesting and different?
But, again, it's entirely your gut instinct. Something you like and do well and it turns out nice and something you don't like, but you still do it and it turns out nice. It is just the luck of the draw.
You are never seen at any Bollywood parties, do you have close friends in the film industry?
No. I don't think you can have close friends in the industry. You see the filmmaking process is like an affair -- you can't have long lasting relationships, it is an in and out kind of scene.
You are together for the period of the film, you really live in each other's hair for that time and you really feel this is going to be a relationship that will last forever. But the day you leave shooting and go away, that's the end of the relationship.
Whereas theatre is more like a marriage because you have to do show after show for many years, so you learn to make friends, you learn to build relationships. You need that for you to be able to work. In the film industry you don't need it.
What are you working on right now?
Naseer is going to do a play called Einstein, which we will co-direct, or at least I will do the design and the other aspects of the play.
There is another production that I am thinking of directing; hopefully we will start in March.
I have acted in another film called Nil Bate Sannata, about the importance of education in a very interesting manner.
Nil bate sannat is UP slang for someone who is a complete loser. It is directed by first time director Ashwini Iyer Tiwari. It has Swara Bhaskar in the lead.