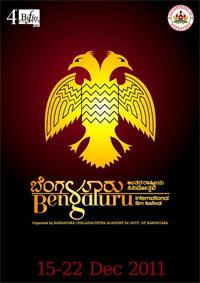 Bangalore is preparing to host the fourth edition of the Bengaluru International Film Festival (BIFFES) from December 15 to 22. 175 films from 40 countries will be shown across nine screens in the city.
The fact that awards are up for grabs at this year's festival will ensure that the best of world cinema will seek entry. World Cinema Award, Asian Cinema Award, Indian Cinema Award and Kannada Cinema Award are the competitive categories.
Bangaloreans have a special reason to rejoice: among the entries is the South African film
Lucky
that stars Kannada actress B Jayashree. She won an award for her acting at the Abu Dhabi International film festival.
Films from Norway, Germany, Sweden, Turkey, Italy, Poland, Columbia, Philippines, Israel and China are also contesting.  "Given the quality of films that will be screened in the competition section, Bangalore will soon emerge as an important international film festival venue," says Nagabharana, chairman of Karnataka Chalanachitra Academy, which is organising the festival.
Some of the films that will be screened are Theodoros Angelopoulos's
Landscape in the Mist, Eternity and a Day
and
The Weeping Meadow
; Iranian film maker Dariush Mehrjui's
The Cow, The Lodgers, Sara, The Pear Tree
and
The Music Man
; Taiwanese director Hsiao-hsien Hou's
Café Lumiere, Goodbye South Goodbye, Good Men Good Women, A Summer at Grandpa
and
Daughter of the Nile
; G Aravindan's
Thanmpu, Esthappan, Kumatty, Vastuhhaara
and
Chidambaram
and Puttanna Kanagal's
Nagarahaavu, Gejje Pooje, Belli Moda, Sharapanjara and Ranganayaki
.
Films
from Poland and Egypt will be screened as well. There is a dedicated category for films with political themes:
Interrogation, Lemon Tree, The Whistle Blower
and
Z
will be shown in this category.
Air India 182, Mao's Last Dancer
and K Balachander's
Thaneer Thaneer
will also be screened.
This festival will provide an opportunity to view 20 classic Kannada films as well. The film
Rasarushi
will premiere at the festival.
Seminar
As a precursor to the festival, a seminar on Kannada cinema in the global context was held. The forum discussed whether the Kannada diaspora has emerged as a substantial market for Kannada cinema.
The role of government in promoting Kannada cinema abroad, the current and earlier marketing efforts, and the need to put to best possible use the available technology and promotional strategies to expand the market were also discussed.   
Registration
The general public can register by paying Rs 500; for students the fee is Rs 100, and for film society members, Rs 200. Registration counters are located at the Karnataka Film Chamber of Commerce, Crescent Road; GM Rejoyz Theatre, Malleshwarama 8th Cross and Suchitra Film Society, Banashankari II Stage.