'I am always curious about human relationship. Life is far more bizarre than what is depicted in films.'
Sruti Harihara Subramanian gets candid about her National-award winning documentary on Krishen Khanna.
Sruti Harihara Subramanian made a stunning debut as a documentary filmmaker with A Far Afternoon — A Painted Saga by Krishen Khanna, and she was honoured with a National Award for Best Art/Cultural Film.
The film also won an award for its musical score which is composed by Chennai-based duo Aravind Murali and Jaishankar.
The documentary traces the journey of celebrated artist Krishen Khanna through one of his paintings, a 20-foot masterpiece that he began at the age of 89.
Sruti, who is overwhelmed by her win, is a passion theatre artist and a model since her college days. Before turning filmmaker, she assisted veteran actress Revathi an also starred in a serial directed by the legendary K Balachander.
In this exclusive chat with Rediff.com contributor S Saraswathi, Sruti shares her experiences of understanding one of the most prolific and influential artists of contemporary Indian art through one of his creations.
Congratulations!
Thank you very much. The news has yet to sink in. I still cannot believe it!
What inspired this documentary?
I have been a part of mainstream cinema for quite a while now. Like any filmmaker from Chennai, I have been exposed to our regular cinema.
To make some money for survival, I did some corporate films and ads. I had just penned my own script, and was in the process of pitching it to potential producers, when I got this opportunity.
The Piramal Art Foundation had got to know that this particular artist, the renowned Mr Krishen Khanna, was planning a one-of-a kind project, a 20 foot painting that captured the essence of his journey as a painter over the years.
Mr Khanna is 90 and for archival purposes the Foundation wanted to record the whole process.
This was a huge break for me; Krishen is someone very important to the art industry and for us to get the opportunity to be in his studio to see an art work take shape was something rare. We usually get to see the final work of an artist, but never what goes into a painting.
So we thought why not make the 'art work' as the central point of the film and make a documentary around it.
Did you work on some kind of strategy as to how you were going to take the film forward?
Initially, the plan was just to capture the artist at work. It took him six months to complete this masterpiece -- he started at the age of 89, and by the time he finished he was 90.
But as we researched more about him, we realised that here was a treasure trove of memories: 90 years of his life, there is so much history to it, so many stories, and we did not want to miss out on those things.
That is when we decided to make this into a full-fledged documentary. Even then the plan was do something small -- may be 20-30 minutes -- but the film eventually turned out to be 73 minutes long.
We were also determined to portray the unseen and unheard aspects of his life, because so much has already been written about him. He was born in Pakistan, studied in England and after Partition, came to India and became a banker.
We had the advantage that nobody else had, we had the front row seats to witness this big moment in the history of art. Our plan was to use the painting as the focal point of our film and through that, we will get to know the artist and his works.
How did you plan the logistics?
Mr Krishen lives in Gurgaon, Delhi, I live in Chennai, my cinematographer lives in Pondicherry and my sound and editor are from Mumbai and we had a limited budget.
There were lots of restrictions but we were constantly in touch with Mr Krishen and his son.
There were other things to consider because even though he painted most days, the development may not be very obvious. There would also be days where he went without painting. Suddenly, his son would call and say that he was planning to start a new panel or something like that and we would immediately travel to Delhi.
What challenges did you face?
Because I come from a mainstream film background, there was a certain sensibility. I am not used to the typical documentary format. I was very concerned about not making the film long or slow for no reason.
At the same time, I wanted to make sure I told the truth. Because this is a documentary, and we are reflecting the truth, unlike the fiction stories that I have worked on.
We work with a bound script, we have actors, makeup and everything. But in a documentary, you shoot everything and then you come to the edit table and string the whole thing together. I needed to get out of that mode and understand this new format.
Mr Krishen is 90, so he has a certain pace. He is not jumping around the studio, not splashing colours. His method is very thoughtful, so I needed to go with that pace. At the same time, it should not look slow for the audience.
I had to find the balance between Krishen's pace and the audience's patience. I wanted people to know that he really takes his time, ponders on over every single colour, every single brush stroke, before he paints.
How has the reaction been to the film?
Most people -- like friends and family, who have come because I have invited them -- have not seen a documentary, or are not interested in one. They think it is a boring format. Most of them have no connection to art and they don't even know Krishen.
But after watching the film, they were very inspired and fascinated. They did not realise that documentaries could be so informative and exciting.
People, who know art and Krishen Khanna's work, found the film interesting as well because they were getting to see a new perspective of the artist.
I think it appealed to all kinds of audiences.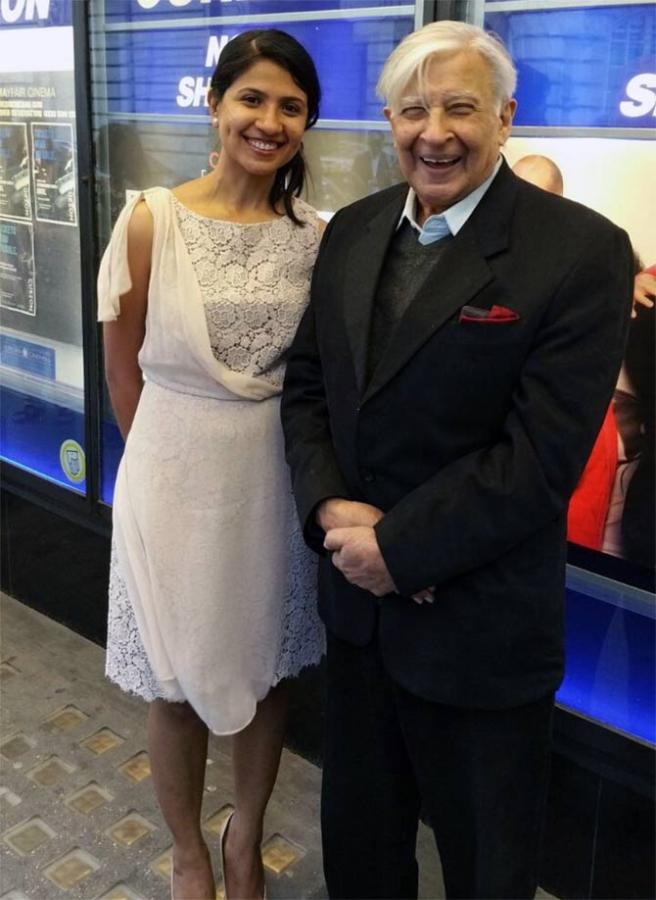 Does Mr Krishen talk about his art?
Yes, at every stage.
That's why I say it not your typical documentary because we don't have a voice over. We have made it in such a way that you feel you are in his studio, in his house, travelling with him in his car. Wherever he went, we followed him with a camera, even when he travelled or visited his friends or had discussions about art.
When he worked in the studio, he would be meditative and not talk much as he painted.
What exactly did you want to portray in the film, and do you feel that has been conveyed?
I wanted to show Krishen Khanna in a way nobody had seen him before. He is an amazing person, very funny, very charming. A wonderful human being, who is now painting a work that is a masterpiece.
I wanted to see what goes on behind his mind as he executed this masterpiece. I think I have achieved that.
Tell us about yourself.
I did my visual communication and immediately joined (actor) Revathi, as an assistant director. I acted in K Balachander's serial titled Sahana.
I have also assisted director Vishnuvardhan in the Telugu film Panjaa starring Pawan Kalyan. I am a very creative person, and I love music, dance, drama and photography.

During my college days, I won the Miss Chennai title and have been modeling ever since.
Has winning the National Award changed your life, the way people look at you?
Honestly, it has not sunk in yet. I am receiving a lot of love. I never knew I had so many well-wishers.
It has given me recognition or that stamp that I am a filmmaker finally. It is every filmmaker's dream to get a National Award.
What kind of films do you wish to direct?
I like all kinds of cinema. I love masala, action, songs and dance. I watch films from any language. I hope to do various genres.
I am always curious about human relationship. Life is far more bizarre than what is depicted in films. We have to deal with different kinds of people and have different relationships.
This is very difficult to bring on screen, so even if I do various genres, relationships will play a great role in my films.