He does not have six pack abs, and nor does he command the price of the Khan trio. But he is probably the only Khan Hollywood knows.
"People in Hollywood don't know the other Khans," Irrfan Khan confirms. "They don't know their popularity in India and the fact that I am nowhere near their popularity.
"I have seen Shah Rukh Khan stopping London traffic. Even in a place like Morocco, he has a huge fan following," the actor adds.
So how does it feel being a part of Hollywood? "It's good," Irrfan answers. "You know, for an actor to get selected in the second audition of a Hollywood film is a big thing. I am happy to have managed to act in their films."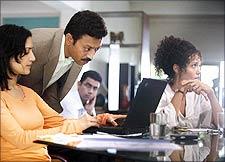 Irrfan's first brush with Hollywood was in A Mighty Heart, which costarred Hollywood A-lister Angelina Jolie, and was produced by Brad Pitt.
More recently, the actor was seen in The Darjeeling Limited, which also featured Owen Wilson, Adrien Brody and Jason Schwartzman.
Irrfan's performance in Mira Nair's international film The Namesake has also brought him rave reviews. Not surprisingly then, the actor has landed a role in her next film, where he plays a homosexual.
"I wanted to experiment; thats why I took it up," Irrfan explains.
But before that, Irrfan will be seen in Rohit Shetty's Sunday, where he plays a struggling actor. Releasing on January 25, the comedy film also stars Ajay Devgan, Arshad Warsi and Ayesha Takia.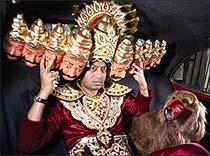 So how different has Sunday been from his earlier films? "I have danced in the film!" Irrfan exclaims. "That was exciting."
He continues, "I play a struggling actor who feels he is the only person who can save the film industry. He comes to know that a director is making a film on Ramayana; so he disguises himself as Ravana and asks for the role."  
And how was his dancing experience? "It was good," Irrfan laughs. "I picked up well and suggested some steps to (choreographer) Ganesh Hegde. He just told me to concentrate on what was given to me! I am eager to see how people will react to this role. I am an actor who goes by the vision and sensibility of the creative people around me. I go by the director's vision, even that of a dance director. I respect their judgement."
And what is the one role he would like to play? "I would love to play an action hero!" Irrafn laughs.
Recognition has been the biggest achievement for the actor, who came to Mumbai from Jaipur in the 1990s. "It is good to know that people recognise you as a person and your work. An actor cannot ask for anything more than this."