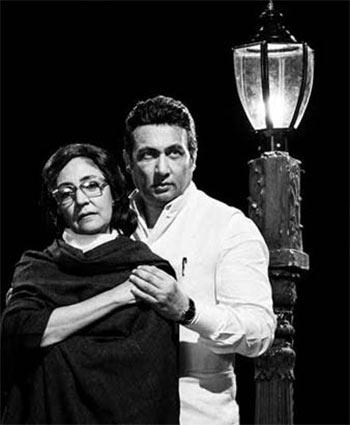 'Pre-Partition India wasn't as hunk-dory as we talk about; Hindus and Muslims lived in harmony, sure, but never as miyan-biwi (husband-wife)'
'Unrequited love is very good for a playwright/director.'
Theatre director Saif Hyder Hassan talks about his new play Ek Mulaqat and his protagonists Sahir Ludhianvi and Amrita Pritam -- two of India's iconic literary figures.

Left: Deepti Naval and Shekhar Suman in Ek Mulaqat
When theatre writer-director Saif Hyder Hassan (pictured below) flunked high school, he did something drastic but not quite unheard of in India, where academic results determine a teenager's true worth.
He ran away from home.
He joined a film unit to work as an assistant but was caught two days later and sent back home.
His fleeting brush with showbiz left an indelible mark though -- Hassan realised that he wanted to make a career in the movies.
After completing his graduation, he worked in New Delhi-based theatre group Pierrot Troupe for four years as a writer and occasional actor before he moved back to his hometown, Mumbai, in 2002 and joined the corporate world with Mouthshut.com.
Hassan juggled theatre and his corporate job for 12 years before he finally tasted commercial success with his play, Ek Mulaqat, starring Shekhar Suman and Deepti Naval.
Based on the love story of legendary Hindi film lyricist Sahir Ludhianvi and acclaimed Punjabi poetess Amrita Pritam, Ek Mulaqat, still running to packed houses, is all set to complete its silver jubilee.
Hassan shares his insights into one of Indian literary world's most fascinating courtships with Syed Firdaus Ashraf/Rediff.com.
How does it feel to see your play complete silver jubilee?
I feel very happy, fulfilled and vindicated.

I knew people would like it when we started rehearsing but I was surprised to see the initial reaction.

I did not anticipate the Urdu language to be so wholeheartedly accepted by people.

People are buying tickets to the play even after watching it four-five times. We are truly grateful and humbled. It's a big high for all of us -- Shekhar Sumanji, Deepti Naval, my co-writer Sumana Ahmed and me.
Did you expect it to do so well?
We expected it to do well. We were confident about the play but we did not expect people to see it four-five times.
How did you choose this subject?
I was working with a lot of urban stories for plays that highlighted urban angst, people living in flats, plays like Aianey Ke Sau Tukde, with Shweta Tiwari, and the English version of it titled Mirror Mirror on the Wall.

I was probably influenced by the 20th century European writers.

At some point I wanted to trace my own roots in the Urdu language. And one day, I thought, out of the blue, 'Sahir pe kuch karte hain (Let's do something on poet Sahir Ludhianvi).

I had heard a lot about him growing up from my grand aunt, Qurratulain Hyder, who was a Jnanpith award winner.

We used to frequent (Urdu poet and writer) Ali Sardar Jafri's house where Sahir was discussed a lot -- his house, Parchaiyan (Sahir's anti-war poem).

I wanted to do a love story and who'd have been better for it than Amrita Pritam (Pritam and Ludhianvi had a brief affair before moving on with different people).

So, I got in touch with my co-writer Sumana Ahmed and told her about the plot.
Why do you think people have loved this play considering Ludhianvi died way back in 1980 and Amrita Pritam in 2005?
People love love stories.

Secondly, the languages have worked (Urdu and Punjabi) too.

Also, Deepti Naval and Shekhar Suman have performed brilliantly. I could not have foreseen anybody else in Sahir's role other than Shekhar Suman.
Was it problematic to deal with a Hindu-Muslim love story?
I guess so.

They (Pritam and Ludhianvi) were young when the Muslim League took to its wings.

Pre-Partition India wasn't as hunk-dory as we talk about. There was communal angst. One must realise that Hindus and Muslims lived in harmony as brothers, sure, but never as miyan-biwi (husband-wife).

Inter-religious marriages were never really encouraged in our society even before the advent of Muslim League or Jan Sangh. So, I think their religious identity was definitely an issue. And Sahir apparently was commitment phobic.

Does your play hint at Sahir's supposed commitment phobia too?
If you read Khushwant Singh, he categorically states that Sahir was commitment phobic and Amrita Pritam, on the other hand, was married to her first husband Pritam Singh.

But she fell in love with Sahir and Sahir, being the man, must have followed.

I think more than lovers they were soul mates.

It was probably a good thing they did not marry otherwise we wouldn't have got the story for Ek Mulaqat (laughs).
Did Sahir consider himself a Muslim ever?
Sahir never went out of his way to establish his religious stand.

Today, you and I may project just a name, not an identity. But where does your cultural baggage go? Your cultural baggage has a lot to do with your identity.

Once you get a Muslim or a Hindu name, it is more than enough to prove that you belong to a particular sect. So it is the society we are living in that, I think, possesses a problem rather than an individual.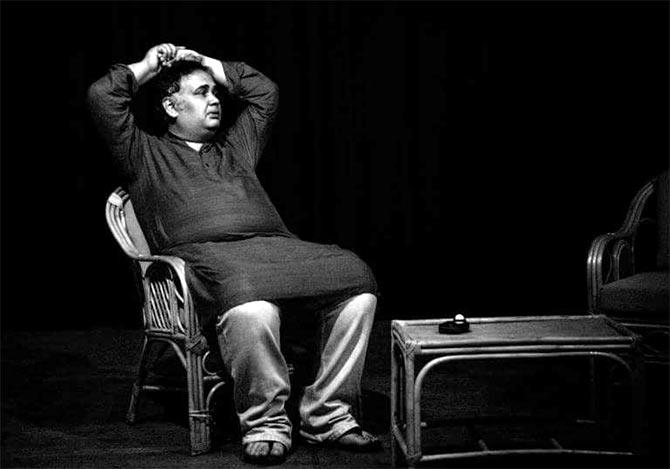 Is unrequited love true love?
I don't know about true love but for a playwright and director it is very good.

There are a lot of dramatic possibilities. Our most enduring moment of unrequited love is Devdas. The biggest high for a writer and director is the time when audience cry in the auditorium and feels for that unfulfilled love.

My other play, Gardish Mein Taare, is the story of Guru Dutt and his wife Geeta Dutt's unfulfilled love. I don't know anything about true love but dramatic possibilities are there.
Imroz also plays a very important role in the drama. What kind of a man watches his wife long for another man?
Amrita was not married to Imroz. He was her companion and he was living with her.
So why did Sahir never think of being her companion?
Sahir was a strange man.

He lived in Mumbai and Amrita Pritam lived in Delhi. So Sahir got into other relationship. In that period, Amrita saw Imroz on the rebound.

Imroz loved her very much even though he was 10 years younger than her.

Even in her last days, when she broke her hip bone, Imroz took care of her. So, I think if you talk of true love, it was Imroz's.

Amrita Pritam wrote a beautiful poem in Punjabi, Main Tai nu phir milan da. It's not that she was obsessed with Sahir. Probably she loved two men with equal intensity.

Samana has written a line very beautifully in the play -- 'Imroz mujhe ek thairao deta hai'.
Imroz kept her grounded and Sahir was her unattainable sky.
Was it difficult to convince Shekhar Suman and Deepti Naval to be a part of Ek Mulaqat?
Not really.

Deeptiji had met Amrita Pritam. She told me to send the script and was on board after she read it. She asked me who I was considering for Sahir.

I had other options in mind but she suggested Shekhar Suman and I instantly agreed.

A lot of people know Shekhar Suman from his comedy talk show but for me, it was his earlier work, the film Utsav, TV shows like Reporter and Main (by Anand Mahadevan) that I remembered him by.

He had also played Lord Ram in Legend of Ram.

The incentive from Shekharsaab was that he takes keen interest in Urdu while Deeptiji prepares very well and is a hard working actress.
Why did you choose your next subject on Guru Dutt and Geeta Dutt?
I am making a trilogy on unfulfilled love, artists, music and death. The next one after Gardish Mein Tare is on Bade Ghulam Ali Khan.