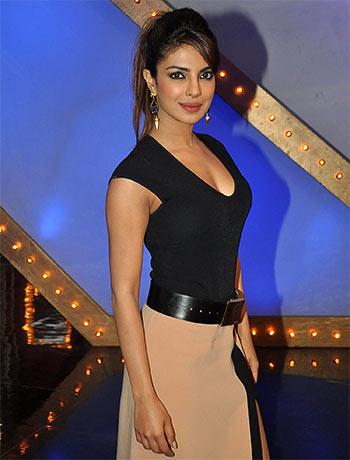 A look at the top tweets from your favourite Bollywood celebrities:

As the Indian cricket team won its first World Cup match against Pakistan over the weekend, several Bollywood stars turned to Twitter to congratulate the team:
Amitabh Bachchan: YEEEAAAAHHHHH ! India wins .. my second prediction came true too .. is it got something to do with the date 15th Feb !!! Well played INDIA .. entire team showed resolve, talent and determination ..!! May you continue such onwards .. JAI HIND !!
Priyanka Chopra: Indiaaaaaa indiaaaaaa! Love waking up to amaaaazing news! #ProudIndian #WorldCup
Lata Mangeshkar: Namaskar. Hamari Bhartiya Cricket team ko is jeet ke liye meri taraf se bohot bohot badhaai.
Hema Malini: Great win at Adelaide! Proud of ur win Team India! Keep up the fine performance.
***
Varun: I am nothing without you all
Sriram Raghavan's Badlapur is set for release this Friday.
The film's lead actor Varun Dhawan thanked his fans for their support ahead of the film's release.
'Change is important but it's uncomfortable. In 4 days badlapur will release and I will say goodbye to Raghu. So before people judge him, I just wanna thank all u guys for helping me make Badlapur. You guys gave me the encouragement to do this film and I have done it. To entertain all of u in a different manner. Thank u for the love everyday u guys gimme I am nothing without ul,' Varun tweeted.
The film also features Nawazuddin Siddiqui, Huma Qureshi, Yami Gautam, Vinay Pathak, Divya Dutta, and Radhika Apte.
***
Kabir Bedi pays tribute to Louis Jordan
Hollywood actor Louis Jordan, who played Kamal Khan in 1983 James Bond film Octopussy, passed away at his home in Beverly Hills on Saturday.
Kabir Bedi tweeted: 'Deeply saddened to hear, from @twitter friends, of the passing of Louis Jordan, with whom I worked in Bond film, Octopussy.'
***
Farhan Akhtar to perform for gender equality
Farhan Akhtar will perform live at the Sounds of Freedom concert in Delhi next month.
'Come celebrate freedom for gender stereotypes. 3rd March. @SOFconcert, Amity University. Delhi,' he posted on Twitter.
Farhan will be joined by Madboy/Mink, Raghu Dixit Project, Tritha and other artists.

***
Abhishek Bachchan's childhood dream comes true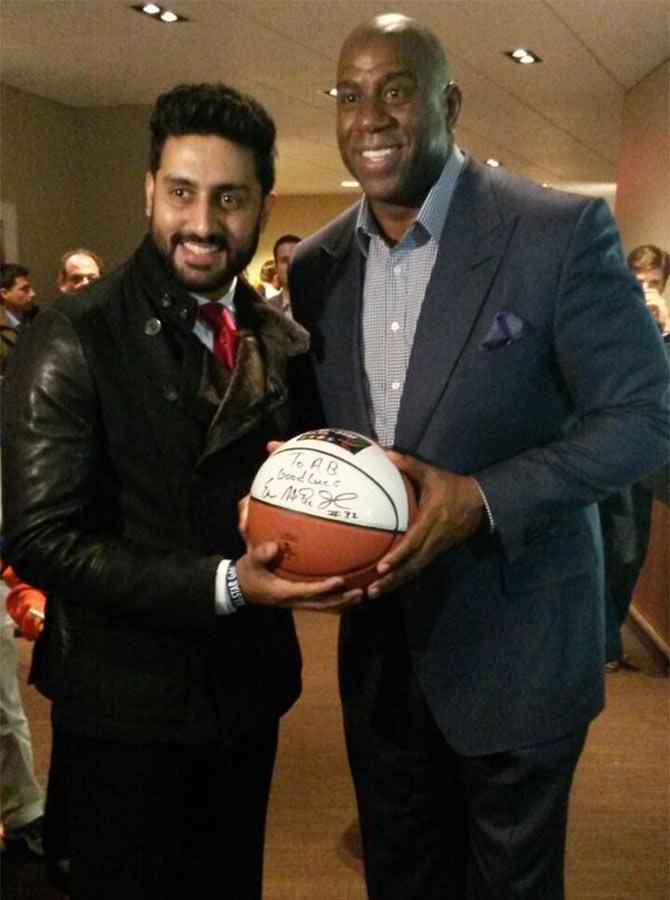 Abhishek Bachchan, who is a self-proclaimed Los Angeles Lakers fan­­­­, recently met retired American professional basketball player Earvin Magic Johnson at the NBA All-Star Celebrity Game in New York.
He shared a picture (above) and tweeted: 'Today a childhood dream of mine came true. I met my idol. @MagicJohnson . Thank you for being such an inspiration!'

***
Dhanak bags two awards at Berlinale 2015
Nagesh Kukunoor's Dhanak bagged two awards -- The Grand Prix for the Best Feature Film and the Special Mention for the Best Feature Film by The Children's Jury for Generation Kplus, at the recently concluded 65th Berlin International Film Festival.
Thanking his well-wishers, Nagesh tweeted: 'Goodbye Berlin. You have been wonderful to us @Dhanakthefilm. Still reeling, still smiling, still grateful. And a big thank you to all the support and the love from India!'