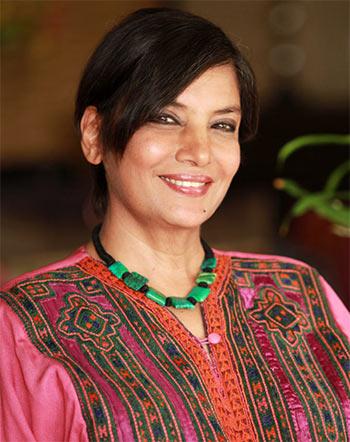 'Banning the film is an unfortunate response and does great injustice to Nirbhaya's parents, who have supported the film and to the brave young men and women who forced the government to set up the Justice Verma Commission.'
Bollywood gets their voice across.
Audiences around the world feel very strongly about the documentary India's Daughter, which is based on the gang rape and murder of a young Delhi girl.
The film has been banned in India, and Bollywood celebrities have been quite vocal about the subject, on social media and otherwise.
Here's a look at what these film personalities have to say:
Shabana Azmi: India's Daughter is a very powerful film that celebrates India's spirit to fight back and not be cowed down.
The utterances of Mukesh Singh (the convicted rapist) and his defence lawyers only reveals the deeply entrenched misogynist, patriarchal values we as a society have to root out of our system.
Audiences can feel nothing but revulsion for the criminal. The film does not lionize him.
Remedying horrific crimes needs exposing the sick mentalities that underlie them.
Banning the film is an unfortunate response and does great injustice to her (the victim, known as Nirbhaya) parents who have supported the film and to the brave young men and women who forced the government to set up the Justice Verma Commission.
Dia Mirza: I haven't seen the documentary. But I do know that Nirbhaya's parents have given their consent for it.
They believe her story must be told. These sick minds must be exposed and serious introspection as a society is the need of the hour about what we must teach our children and how we must bring them up.
If there has been violation of rules to obtain some of the interviews featured in the documentary, then that must be investigated. But I don't think it should be banned.
Taapsee Pannu: It is paradoxical that the interview can be published but it can't be telecast. Such hypocrisy!
I don't know how we consider ourselves the biggest democracy in the world.
Let the documentary be shown.
Let the people out there know what kind of fear each and every woman in India lives and breathes every single day.
Pooja Bedi: I've no issues with a documentary exposing/analysing a depraved mind because it shows the filthy mind's perspective.
But I have an issue if news channels show this rapist's interview and glorify his perspective.
Kalki Koechlin: The documentary is one director's perspective, one opinion, and our whole nation's reputation doesn't depend on that one documentary.
One has the choice to watch it or not watch it. By banning it you are giving the documentary more importance than it perhaps deserves.
Esha Gupta: The documentary is a wake-up call not only about what happened but also a reflection of the mindset of the rapists and even their lawyers.
We place our trust in the educated classes. But aren't these lawyers educated?
Their attitude only shows what most men in India think of women. And to think that the juvenile rapist who knew how to rape and torture a woman will be released next year...
Bharat Maa has been put to shame.
Divya Dutta: I am disgusted beyond limits to hear this man talk like this about Nirbhaya. They are all so unapologetic! They look like they'd do it again if they are released.
I am asking, why are they not punished yet? They should be hanged. Why is the government telling us it takes ages for justice to prevail?
Until then, Nirbhaya's parents must keep running in and out of courts.
Reema Kagti: It was very wrong on the part of the police and government to allow the filmmakers access to the rapist.
Tisca Chopra: The BBC documentary is only holding up a mirror to what is actually a prevalent mindset in some sections of our society.
It is a good thing that they've shown the truth. We should at least now take some hard decisions on rape laws, even if it is out of a sense of shame.
Nandita Das: Freedom of expression fuels both good and bad ideas. And some times ludicrous ones like the ban demanded on the use of the word Bombay in films.
But I have always concluded that freedom for all is the only solution and censorship is a tool best not used.
Any form of censorship is a double-edged sword and if we ever want it for things that offend us, we must be aware that one day, it will be used by others for things that we hold dear.
In a free and modern world, we have to have faith that only good things will survive the test of time and the despicable ones will sooner or later go into oblivion.
The other compelling reason for protecting freedom of expression is that this is the only way new and challenging ideas come to the fore. For instance, early champions of widow remarriage faced a lot of opposition at every level of society.
It was only through their relentless struggle that change was possible, both in law and mindset.
Today, we would find it largely unacceptable for someone to oppose widow remarriage.
In the same way, today's blind spots can only be questioned and changed if there is space for dialogue, debate and dissent.
I want to be educated not by the same noise, but by different voices so that I can make an informed choice.
If democracy is what we have desired and chosen, then how can we disregard its strongest pillar?
Why are we allowing a few to tell us what we must watch and wear, think and express or read and write?
If this freedom is sabotaged, the truth will have little hope of prevailing.
Despite friendly warnings and not so friendly threats, I know that many fearless writers, artists, journalists and citizens would echo what Martin Luther King, Jr said: 'Our lives begin to end the day we become silent about things that matter.'
Shweta Prasad: I urge everybody to watch the Nirbhaya documentary. I don't understand why it's being banned! It shows nothing derogatory. It's the stark reality about our patriarchal society.
Defence lawyer M I Sharma says, 'We have the best culture. In our culture, there is no place for a woman.' I don't know whom I am more angry with, the rapist or the lawyer.