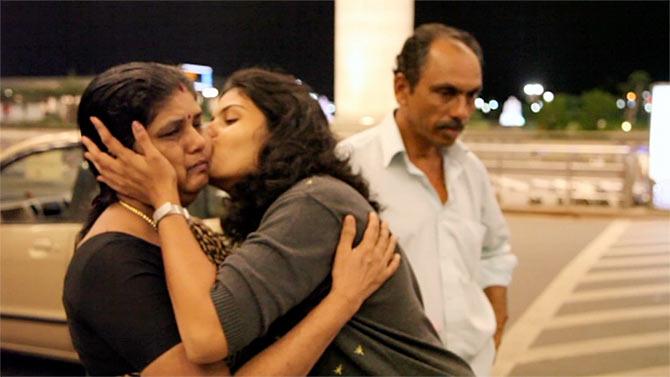 IMAGE: A scene from India in a Day.
'The family in Assam, where we see the little girl washing her face in the gutter before she heads to school, to me that is a shocking story.'

'But there are hundreds of millions of people in these circumstances and what can they do but to carry on.'
Canadian-Indian filmmaker Richie Mehta has worked on diverse subjects -- from very compassionate exploration of India's underprivileged: Siddharth (2013) and Amal (2007) (both films are now available on Netflix) to a sci-fi thriller I Will Follow You Down (2013).
Mehta has now directed a unique project, India in a Day -- a 90-minute documentary about India today as seen through the eyes of its citizens.
The Google-produced documentary is entirely crowd sourced, in the sense that all the footage was provided by individuals in India.
Mehta and his team -- including executive producers Ridley Scott and Anurag Kashyap, -- reached out to hundreds of thousands of Indians who are connected through social media, or use smartphones and other video recording devices.
The request was for these people to record any event happening around them or in their lives.
The only catch was the videos had to be shot on October 10, 2015.
Once all the footage was submitted, Mehta and his team spent several months in a post-production editing facility in London and what they put together is now called India in a Day The film premiered at the Toronto International Film Festival.
India in a Day is a lovingly made portrayal of a nation on the move, with its highs and lows.
While the film looks at the bright, upbeat moments in the lives of some Indians, it does not forget the large numbers who have not been impacted by India's growth story. Mehta's film has a lot of heart.
Aseem Chhabra spoke to Mehta for Rediff.com before the film's premiere about working on a project very different from his other films.
Richie, how many entries did you get and how many hours of footage did you have?
We had over 16,000 submissions and just under 400 hours of footage.
You watched all 16,000 submissions?
No, I did not. We had a team of people and they were assigned various chunks of footage. And they would rate each footage.
I would see the good stuff and the okay stuff. But I also kept randomly checking the bad stuff just to make sure nothing was missed. We did this for months.
I actually saw about 4,000 clips.
There were times when people just had their cameras out capturing traffic for hours. There was nothing there.
But there were many, many stories that were more meaningful.
And just to backtrack, how did you reach out to people besides using social media?
Social media, of course and Google put out the call on their Indian home page.
I did a lot of press around the country. Anurag Kashyap, Shekhar Kapur and Zoya Akhtar -- they all did call out videos. And we had an outreach team in Delhi that had people in various parts of the country to get the word out.
So as compared to your other films where you have written scripts, pitched and then raised money, you had no idea what kind of film you were going to make when you set out with the project?
Right. Absolutely no idea. The film was created on the editing table.
And while you were watching the clips and editing, the story just evolved. I love how you start with the morning and then go through the day, lunch and afternoon, until the night. That idea also emerged out of seeing the footage?
No. That basic structure is there in the other Life in a Day films, including Japan in a Day, Britain in a Day and Italy in a Day (all produced by Ridley Scott). That was not mandatory, but they said that is what seemed to work.
So we looked at the footage, we noticed that a lot of the stories with emotional resonance seemed to be coming in the afternoon. And that worked dramatically for the film.
You want those sorts of narratives two-thirds into the film. If you have lured the audience through the lightness, the snappy movements, then you can transition them into the moving segments.
The segment where actor Rajesh Tailang's bother has cancer that was shot in the afternoon? You show it later as well.
Yes, in the afternoon and the sun is setting, which takes us into the evening, when he is driving.
Segments like this became the pillars. We laid them down and we built the film around them.
What was the biggest challenge you faced making the film?
I think the biggest challenge was doing justice to the honest and genuine nature of the footage that we were given and trying to present it in a manner that really embodied what was happening -- not just in India, but was a reflection of humanity.
There were some really big things that we were going to tackle. And that is why it was important for me to make the farmer's story the spine of the film.
We were given so much beautiful footage of this farmer's life near Dehradun. I thought it was a perfect counterpoint to the progress that we talk about.
The nature of progress is questioned in this film. So I wanted to visit this issue in a manner that doesn't beat you over the head, but it leaves a provocative note outside of other emotional elements in the film.
For some reason I thought this would turn out to be a very upbeat India shinning kind of a film. And I was surprised it was not so always.
You do show a lot of hardship people go through in their daily lives in rural areas and even in cities.
And that story of Priya towards the end -- a single mom, her life story was heartbreaking.
People were really honest in front of the camera.
Yes, they had something to say. I think within many stories you see different shades of emotions. Priya's story, for instance, is very tragic.
And all of this must have come as a complete surprise to you right? Rajesh is the only character you know since he played the lead in your last film Siddharth.
Exactly. There are a few other people I know who submitted and ended up getting in the film with small bits.
I had approached everybody I knew as well asking them to send footage. It so happened that October 10 is Rajesh's birthday. And he told me that he was going to meet his brother who had cancer.
And I said please, without being disrespectful, if you can capture your birthday celebration moment with your brother, it would be lovely.
Is his brother still alive?
No, he passed away.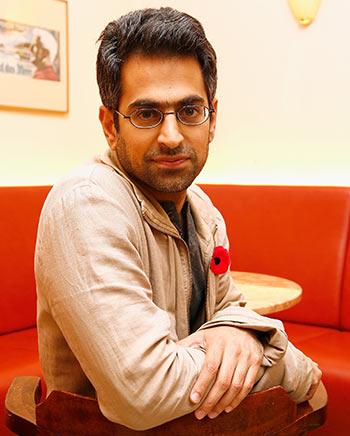 How long was the editing process?
It lasted from October 11 to when we finished the job in June. It was total collaboration between my editor and Google team. And it was a new country for me, working in London. It's a whole new industry.
I loved the music.
We were very fortunate to work with Stephen Warbeck (Oscar winner for Shakespeare in Love). He is an amazing composer.
Was there a deadline to finish the film very soon?
We had to finish it to get it online on YouTube. But they were very gracious to give us some more time and that made the film really special.
So what did you learn about India making this film? You go to India often, you have shot your films there, but what different stuff did you learn this time?
India will never, ever cease to confound me. No matter how many times I feel that I have gotten my head wrapped around it.
The Andaman Island women (in the segment towards the middle of the film), who did not even know what the mainland is -- that is shocking.
But there is also something very calming about many of the stories you show.
People seem secure in their lives, even though some of their lives are tough.
The family in Assam, where we see the little girl washing her face in the gutter before she heads to school, to me that is a shocking story. And we tried to present it in a non-judgmental manner, just as the film was presented to us.
The family just carries on its way, there is a little shack along the road, the children go to a temple to ask for money and then they go to school.
We look and say their life is so tragic. But there are hundreds of millions of people in these circumstances and what can they do but to carry on.
That will never cease to amaze me.
Was it the most fun you had making a film, where you were handed material and told to make a narrative out of it?
It was really special. Honestly, going into it I thought I don't have to put my heart and soul into it, since the footage will speak for itself and the film will evolve. And if anything, it will be sociologically fascinating.
But I soon realised that to do this right it would take absolute devotion and dedication.
Which story are you most attached to?
I am really close to all of them. There is a reason we chose them and there are lots of them we could not put in.
But the last image of the film, the farmer -- and you know my other films -- there is a resemblance between that farmer to the character in Siddharth and in Amal. And an emotional character resemblance as well.
There is something about the world he comes from, his attitude, which I find extremely moving and very important to look at.
So after the TIFF screening where does the film go?
After TIFF it will be released in cinemas in India on September 23. And shortly after that it will go on YouTube in India.
The international released has to be worked out. Once it is released the film will live on YouTube.