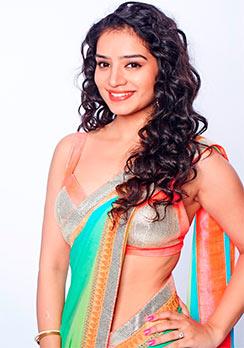 'I connected with Upen but there was nothing brewing between us. When two good looking people get close, people are bound to draw such conclusions,' Sukirti Kandpal tells Rajul Hegde.
Sukirti Kandpal is the first contestant to be evicted from the eighth season of reality TV show Bigg Boss.
The actress, who rose to fame after her telly soap Pyaar Kii Ye Ek Kahaani, was nominated for eviction along with Praneet Bhatt and Gautam Gulati.
Sikirti claims she isn't disappointed with her elimination but did not see it coming either.
"It was an early elimination for me but I am not disappointed," she says. "When you go into the game, you know you can be out any time. More than me, my family and fans are disappointed.
"This is the first time I was offered Bigg Boss, and I immediately agreed to be part of it. I had loads of fun. Given a chance, I would like to go back to the house as a wild card contestant," she adds.
Sukirti's friendship with Sonali Raut went sour when the latter saw Sukirti discussing her with Soni Singh after Sonali was asked to leave the house. That made Sonali nominate Sukirti and send her to the danger zone.
"I don't wish to hold Sonali responsible for my eviction," Sukirti says. "She may not have meant to harm my interests but she was the catalyst in my eviction. She realised her mistake and apologised to me. So it's fine. I had a choice to be bad and create controversies but I chose to remain good. If there is a price to pay for that, then so be it."
Sukirti's chemistry with housemate Upen Patel has attracted a lot of attention. Was that planned? "I connected with Upen but there was nothing brewing between us," Sukirti answers. "When two good looking people get close, people are bound to draw such conclusions. I was close to Arya (Babbar) as well."
The actress clarifies that "Romance cannot happen in two days, nor can it be planned."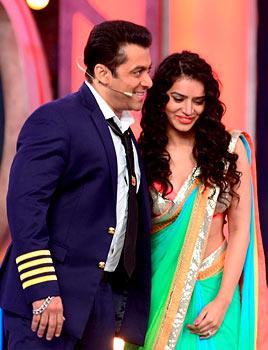 "Besides, I am not the kind to do such things for footage," Sukirti adds.
The actress did not know anyone on the show, except for Gautam Gulati, who had done a cameo in her show, Pyaar Kii Ye Ek Kahaani. And after Bigg Boss, she has resolved never to speak with him again.
"Don't ask me anything about Gautam. He is not important," she says. "He was not sorry for his actions (Gautam started name-calling Karishma Tanna after they had a war of words) and that annoyed us."
But she has made some friends for life. "I will miss Upen, Arya, Sushant Singh, Diandra Soars, Karishma Tanna and Soni. I am already missing them!" she exclaims.
So who's playing the games in the show? "I can't say. But Natasa (Stankovic) is very innocent," she says.
Living in a cramped aircraft was uncomfortable initially, says Sukirti, but "we got used to it in two-three days."
"Somewhere all us of knew that there would be another house," she adds. "It's obvious that you cannot get enough content in a smaller place but we didn't know for how long we were going to stay in the aircraft."
What next?
"I have just come out of the house. I want go for a holiday before I take up any new project," Sukirti signs out.