'And Tina, that girl inside that woman, wants to try different things.'
Chitrangada Singh tells Rediff.com's Ronjita Kulkarni what she's looking for.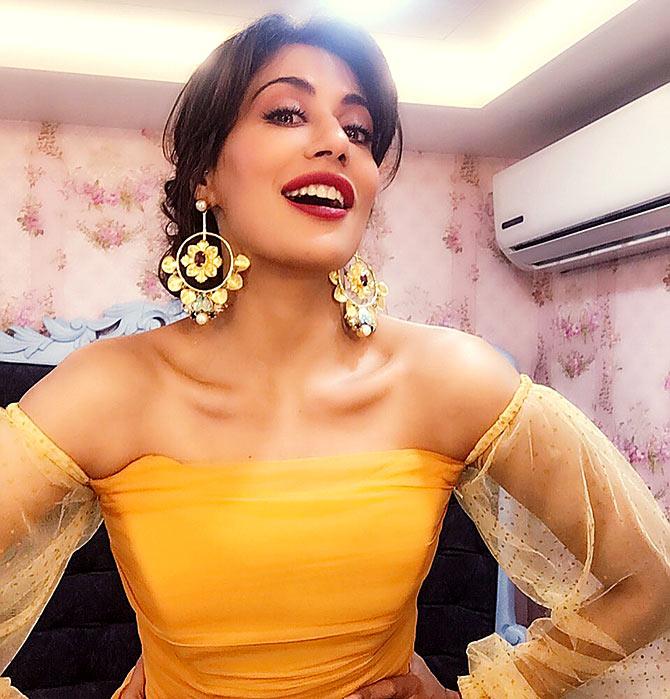 Chitrangada Singh is a Jat from Punjab, but she gets her first name from a Tagore poem.
The name, she says, means 'a girl whose features are like art.'
And that's probably the best way to describe her.
Wearing a white and black pant suit, Chitrangada looks ethereal.
"I was about to be named Jodhabai!" she says, and bursts out laughing.
"Apparently, the lady who was looking after me started calling me Jodhabai. Thank God I got saved! 'Chitrangada' is long enough, but it's better," adds the actress, who was born in Jodhpur, Rajasthan. She lived there for a year until her father, an army officer, was transferred to his next posting.
Chitrangada is passionate about sport. And that is hardly a surprise since her brother Digvijay Singh and former husband Jyoti Randhawa are professional golfers.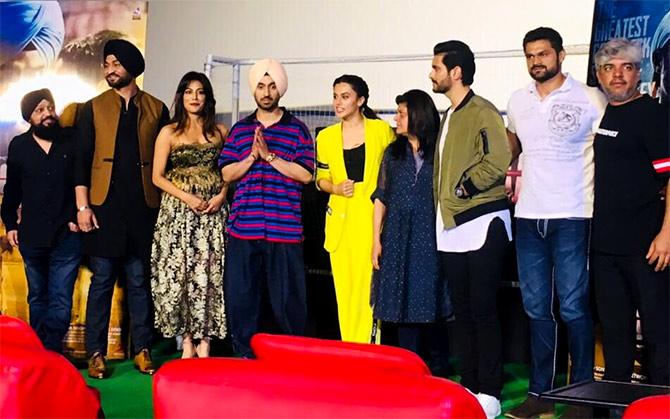 That's why she chose to produce Soorma, a biopic on hockey player Sandeep Singh.
"I know a lot of national shooters and, of course, golfers," she says. "When you meet sportspeople from sports other than cricket, you realise how difficult it is to be able to carry on with just that drive to perform.
"It becomes a luxury after a point," she adds.
"If you're not getting your kit, if you're not being kept well, if you're not dressed well... For example, if you go for the Asian Games, the clothes you wear, the fittings..." she says, shaking her head.
"For a sportsman, who is going there to play for his country, the only things that keep him alive are his emotions and his feeling of patriotism. And if your own countrymen do not acknowledge that, there's nothing left to play for."
"What else can you play for? You only play for that glory."
Chitrangada admits she had never heard of Sandeep Singh until a common friend approached her with his story in 2014.
"I follow sports, other than cricket, quite a bit. But even I didn't know of him. So I felt a sense of guilt and shame. And he had to sell his house to pay the hospital bills! His story touched me and I felt strongly about it."
"I felt what are we making films about? Do we always make films for money or do we also make films to send out a message? To make heroes out of real people," Chitrangada says, animatedly.
It is her first production, and did not fall together easily.
"A lot of people said it was another biopic, another sports biopic... yeh toh hockey par hai. Sandeep Singh kaun hai? Why are you even making a film on him?" Chitrangada recalls.
But her plan found resonance at Sony Pictures Networks India who co-produced Soorma with her.
Chitrangada wrote down the chain of events in Sandeep's life in a story format. After director Shaad Ali came on board, he took over and wrote the screenplay.
Why didn't Chitrangada star in the film, opposite Diljit Dosanjh?
"I did not fit the part," she answers. "I'm not being idealistic about this, but it needed to be real. I did not want the audience to feel, kya jhoot bol rahe hai, does she really look 19? We've all done that."
"So when you produce something, and have a chance at getting it right, you really want to get it right.
"This girl is 20 in the film, and she's playing hockey at the national level. She comes from a rural background. She has that that innocence, a slightly rustic feel to her. There's nothing dainty about her. She needs to walk like a sportsgirl," she says.
And Taapsee Pannu, she adds, is fabulous.
***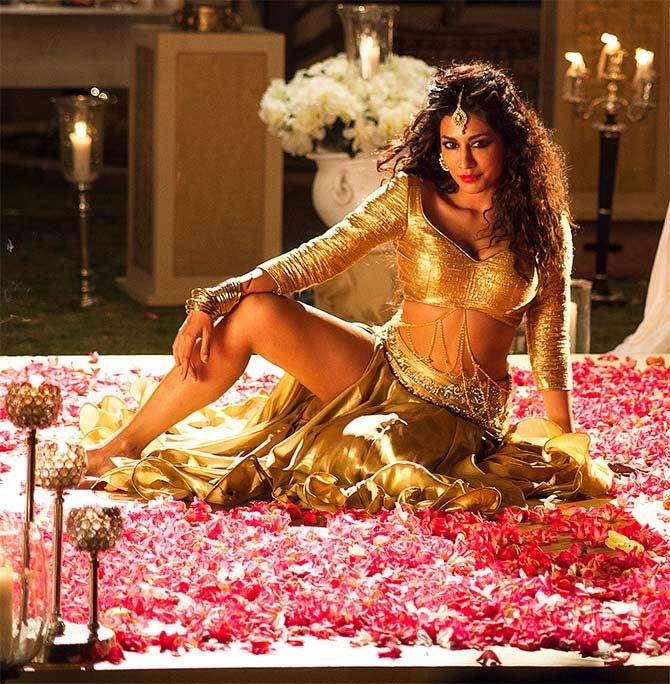 But so is she, you remind her.
After all, not everyone gets compared to Smita Patil.
Fifteen years after her debut in the superlative Hazaaron Khwaishein Aisi, Chitrangada is still compared to the legendary movie icon.
Does she ever get tired of it?
"No, you can never get tired of that comparison," Chitrangada says. "But it's too high a bar to set. Sometimes, when you choose the kind of films those fans don't want you to choose... like if you choose to do a song in Gabbar or a Desi Boys, some people say, 'Oh, but we thought you were like Smitaji'."
"So the fear is that you disappoint people. And that's not something an artist would ever want," she says.
"Sometimes people send me her pictures where we look so similar that it's amazing! I wish I got more films where I could play the parts she did. Like Arth, Mirch Masala. I wish I got those parts," Chitrangada says, almost longingly.
Yet, she adds she's not unhappy about the work she has been getting.
"But there's a greed about wanting the perfect part. Like, in Inkaar, Maya's part was fabulous. It was very layered. She was not perfect, she was more real," she explains, referring to her film with Director Sudhir Mishra and Arjun Rampal.
Chitrangada admits she became a fan of Smita Patil only after she started working in the movies.
Her mother loved to watch films starring Smita Patil and Shabana Azmi, but Chitrangada says sheepishly, "We didn't understand them at that point."
"Now, when you can understand and study an actress, you see how amazing she was. Like Waaris, She was so amazing in that..."
Item numbers may not suit the image she has, but the trained Kathak dancer has no problem doing them.
"I want to try!" she exclaims. "I want to see if I can do it. I enjoy regular masala films. I love Dabangg. Or DDLJ. As an actor, you want to try, even though people may see you in a certain way."
"I'm not always Chitrangada, sometimes, I'm just Tina," she says, referring to her nickname.
"And Tina, that girl inside that woman, wants to try different things."
"If I can make you believe that I'm an item girl and if I'm hot enough, I think I'm doing my job as a performer," she says.
***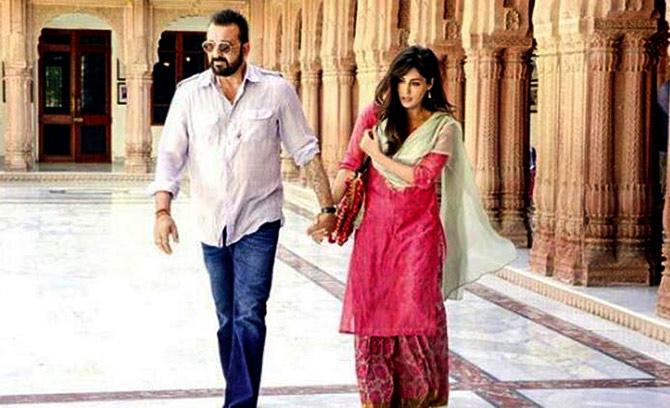 Chitrangada will be seen next in Saheb Biwi Aur Gangster 3, and Bazaar.
She plays a naach gharane ki ladki in the first, where she comes from a family of dancers who perform for an aristocratic family.
"I play a girl who has always been in love with this man from royalty. He carries a lot of pain inside him. That's Sanju's character," she says.
Since we are on the country's favourite topic, Sanju, is Sanjay Dutt really everything Rajkumar Hirani's film claims he is?
"I have not seen Sanju," Chitrangada starts off with a disclaimer. "Working with him has been a delight. He is a very good human being. Very disciplined as opposed to a lot of things that we have heard."
"We were shooting outdoors in Jodhpur, and he was on time every day. There were no late nights. No matter how many retakes Tigmanshu (Dhulia, director) wanted, he was like a student and would do exactly what was needed of him."
In Bazaar, Chitrangada plays Saif Ali Khan's wife.
"It's a very urban film about the stock market. It's about the wheeling dealing, the murkiness about how these things are run. Saif's character is pretty much the kingpin running the whole thing while my character is a misfit because she's too much of an idealist and moralist," she says.
When Chitrangada is not shooting a film, she travels. And watches Netflix. "I watch a lot!" she says.
She also sketches with charcoals, and enjoys that.
She stays away from cooking, but has tried her hand at skydiving and scuba diving.
"My brother is a sky diver and has done 100 plus jumps. He going to open a sky diving centre," she says.
***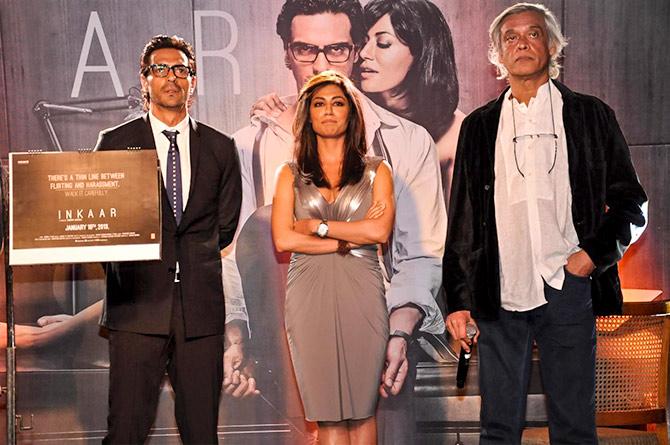 Chitrangada credits her mentor Sudhir Mishra for making her the actress she is today.
"The reason I'm sitting here today is because of him. He writes one of the best female parts. I think half the time in Hazaaron, I would tell him, I'm not an actress, I can't act. He would take me through every scene," she says, looking back at her best-reviewed film.
"The relationship is pretty much the same, except that now, it is friendlier and I can discuss a couple of things with more confidence," she says with a laugh.
Is Hazaaron Khwaishein Aisi her 11-year-old son Zorawar's favourite film?
"He's too young to understand a film like that," she replies. "He likes that title song from Desi Boys."
Then, she after a pause, she says, "He likes Jackie Chan films, so I don't think he would like anything that I do!"
But why don't we see more films from her?
She has less than 10 feature films to her credit in all these years.
After Hazaaron Khwaishein Aisi in 2003 and Kal: Yesterday And Tomorrow two years later, Chitrangada took a break for a couple of years to have her baby. She returned with Sorry Bhai! in 2008.
She took off again in 2013, during her divorce and returned only recently.
"I wasn't getting the parts that I was hoping to get. I was waiting for the right parts. Then I had my personal issues, and I wasn't here," she says.
"I was travelling quite a bit, and not so focused on my work. Priorities change. I guess it would not be fair to blame and say that I did not get the parts since I was not even here.
"I was gone for four-and-a-half years, then again gone for two-and-a-half. The film industry has a very short memory and tends to forget you, but it's been fair to me," she says.
Is she here now?
"I am definitely here now," she announces.