'Even though Ab Tumhare Hawale Watan Sathiyon was not a hit, people still remember me. I must have done some really good acting in it.'
'I met Akshay (Kumar, her co-star) recently and he told me 'tu toh director ban gayi hai' (you've become a director). I told him you can never predict where life takes you.'
Divya Khosla Kumar prepares us for Sanam Re.
Looking at Divya Khosla Kumar's cheerful persona, it's hard to imagine that she's strict at work. But Pulkit Samrat and Yami Gautam, the actors of her latest film Sanam Re, call her Hitler.
Divya herself asserts that she's very, VERY strict when she's directing films.
In a light conversation, interspersed with a lot of giggles, Divya discusses her latest film with Jahnavi Patel/ Rediff.com.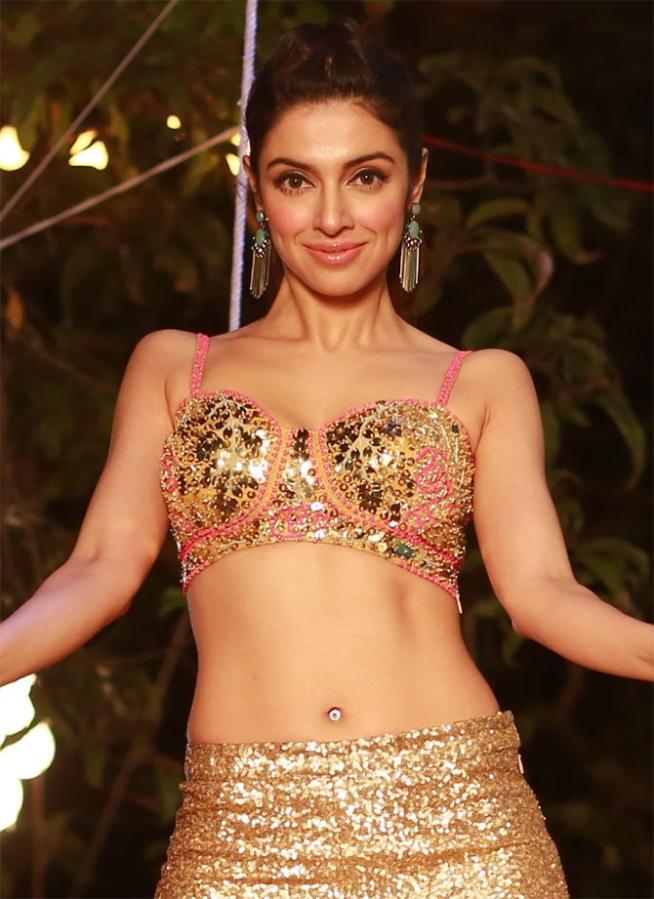 Image: Divya Khosla Kumar in the song 'Humne Pee Rakhi Hai' from Sanam Re
A common factor between your directorial debut Yaariyan and Sanam Re is great music. How creatively involved are you in music?
I think that's because we're (music company) T-Series.
I am completely involved and my husband, Bhushanji (Bhushan Kumar) has a lot of inputs. I explain the situation to the music directors and lyricists, they get a tune according to my vision and my husband guides them. That takes the tune higher. The credit goes to him.
You shared the music credit with him but the credit for cinematography goes to you for both films…
For me, making a film depends on the story and I figure the treatment and look according to that.
Yaariyan was a young film and the colours were very vibrant.
Sanam Re required a subtle tone; it's a peaceful film because it's a pure love story. It required that kind of purity and innocence, so I started researching locations that defines my colour pallet.
According to the colour scheme of the locations, I decide the colours of the costumes. It's all about balancing. I've really painted on screen, it's like painting a picture.
You've shot this film at various locations…
Yes, I've shot it in Kalpa, which is 10 hours from Shimla. Also, in Chandigarh, Ladakh, Shimla. It's a love story and I needed that riverbank, that lone tree, the lover's point... so I researched all the locations.
I feel very proud to be a part of such a beautiful country.
You'll be seen in a special song in this movie. What made you do it?
I have acted in only one film, Ab Tumhare Hawale Watan Saathiyo. Since then, every time I give an interview, I'm asked when I would be acting next.
Even my fans keep asking me.
So I think because of that pressure, I went ahead and did the song.
Also, the lead cast could not do it, as it comes right at the beginning, before they are introduced.
Pulkit's character goes to a party and I needed a girl dancing there. All the actresses have already done songs, so I thought it would be exciting to do it myself.
Do you plan to work in a Bollywood movie?
I am completely open right now, as I am an artist.
I have also done choreography in my film, I have choreographed all the songs in Sanam Re, except my own -- that was done by Ganesh Acharya. So be it direction, choreography or acting, I'm open as a creative person and as an artist. If any script is offered and id it's good, I'll take it.
Two love stories, Sanam Re and Fitoor, are releasing on the same day. Your thoughts?
My film is not a love triangle, it's a pure love story where each character is finding love. When you see the film, you will identify with that.
But as a filmmaker, the most important thing is to be confident in my ability and talent. If I'm not confident, I will not be able to take my vision forward.
Even when I made Yaariyan, I took a risk with five newcomers. There was another film (Dedh Ishqiya) coming up that time but like Arjun, I could just see the eye of the fish and nothing else. It's the same now. I can't see anything beyond Sanam Re.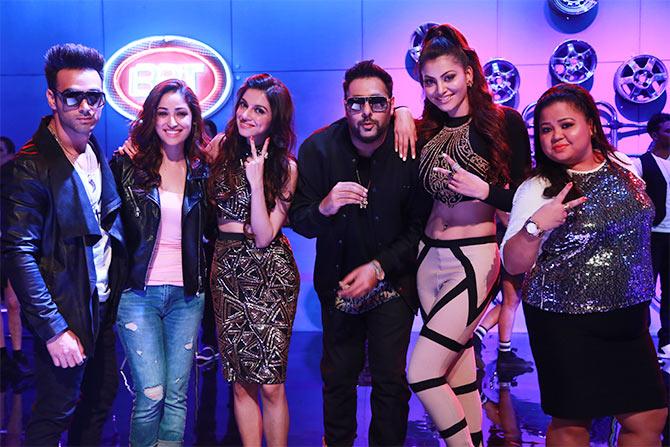 Image: Pulkit Samrat, Yami Gautam, Divya Khosla Kumar, Badhshah, Urvashi Rautela and Bharti Singh
Sanam Re is in news for link-ups between Yami-Pulkit. As a director, do you think that might shift the focus from the movie?
That is not my filmmaking philosophy.
I believe a film should only get credit because of the vision and the story. Movies made by T-Series has never used such tactics for publicity. I wouldn't like to comment to anybody's personal life but we have never pushed these stories.
Pulkit has said that the rumours were a publicity stunt. Haven't you quizzed him about it?
You should ask him because it isn't a publicity stunt from T-Series.
Of course we have asked him about it. But I would like to say that I took the biggest risk of my life when I cast five newcomers (in Yaariyan) and even then, we had no stories to bank on. Still, it was a hit.
I am completely fearless as a filmmaker. I don't think such stories will help my film.
Were you aware about their chemistry before you cast them?
No, I wasn't aware about the chemistry. I cast them individually. The chemistry is also created because of the vision, the lighting, the way you paint it... all that beauty helps.
What is Bharti Singh's role in the film?
Pulkit's character goes to a summer camp and Bharti is the leader of the camp. That's the entertaining portion of the film. The film has got that little comedy also.
Will we see bigger stars in your third film?

The story dictates what kind of actors should be cast.
In this film, I had a character for which I wanted Rishiji (Rishi Kapoor), it's a special appearance but his scenes are outstanding. I didn't feel afraid and went and spoke to him. Initially, he was reluctant but as I narrated the story, he was blown away.
If the story or characters demand that, I'll go ahead with big stars.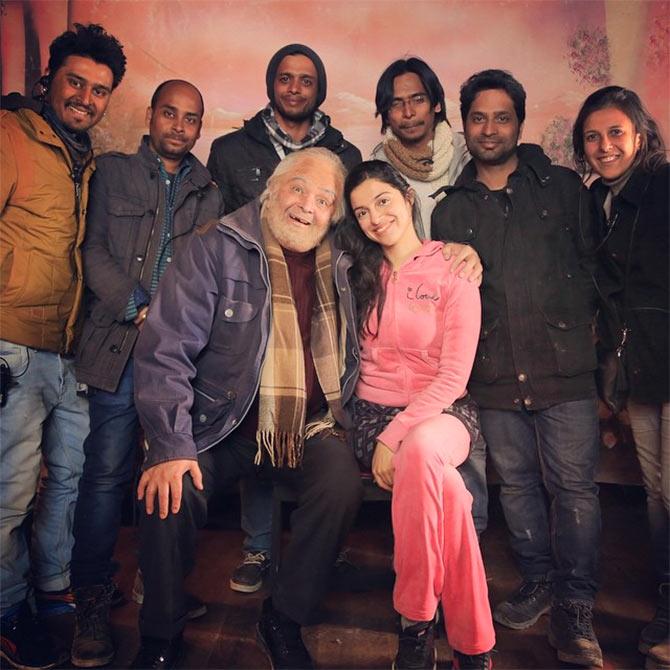 Image: Rishi Kapoor and Divya Khosla Kumar on Sanam Re set. Photograph: Divya Khosla Kumar/ Instagram
Was it easy directing Rishi Kapoor?
He is a strict person but even I'm very strict.
On the set, I am really, really strict.
I could relate to him because he is a perfectionist and so am I. When people don't perform according to your vision, you get irritated and fidgety. He questioned me a lot because he was testing me. His scenes are among the best in the film.
As a director, what changes have you seen in yourself from your first film?
Technically, I was very confident even then, as I have done a lot of music videos. I had learnt direction, edition and cinematography. But I have improved, story-wise. How a scene's treatment must be done, dialogues... that's improved.
What next after Sanam Re?
I haven't thought what I'll do next.
Do you think if Ab Tumhare Hawale Watan Saathiyo would have been a hit, your acting career would have been very different?
Not at all. My marriage got finalised before the movie came out.

But even though that film wasn't a hit, people still remember me. I must have done some really good acting in it.
I met Akshay (Kumar, her Ab Tumhare Hawale Watan Saathiyo co-star) recently and he told me 'tu toh director ban gayi hai' (you've become a director). I told him you can never predict where life takes you.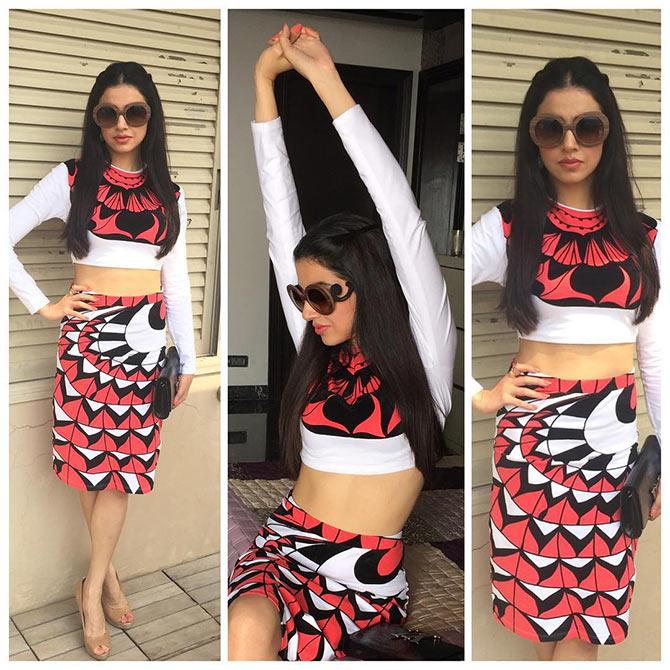 Image: Divya Khosla Kumar. Photograph: Divya Khosla Kumar/ Instagram
You're known for your fashion sense…
I'm a passionate person, I have passion for life, for work, for anything I do.
So when I go out also, I dress nicely. I dress up very hurriedly on the sets, as there's no time. As I'm a young director, people have started following my fashion sense and girls are getting attracted to what I wear.
But my husband Bhushan is more of a shopaholic than me because he's the one who shops for brands, and I'm the one who isn't into shopping at all.