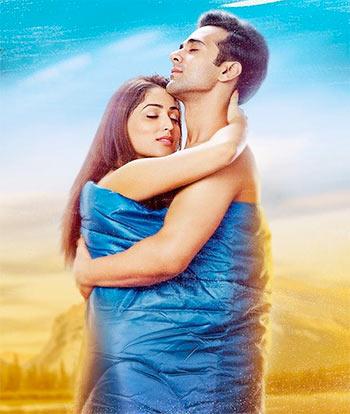 'It was a revelation for me that Yami has a great sense of humour. I really appreciate it when girls have a sense of humour. It's a rarity, so it's nice.'
'She's also a big foodie. I had to snatch the food plate from her on the set and tell her that I want to romance a thin heroine, so don't eat bread pakoda.'
Pulkit Samrat and Yami Gautam have some fun, as they promote their latest film, Sanam Re.
Yami Gautam refuses to be alone in a room full of journalists.
"Don't close the door, they'll kill us," she begs, as she gets ready for interviews for her upcoming film Sanam Re.
So her co-star Pulkit Samrat joins her for the interviews.
Yami's concerns probably stems from the controversy her statements have been making, linking her to her co-star, and making her the reason for his marital problems.
Pulkit, on the other hand, seems to be in a fun mood and can't help but pull Yami's leg through the interview.
Excerpts from a conversation, as Jahnavi Patel/ Rediff.com takes notes.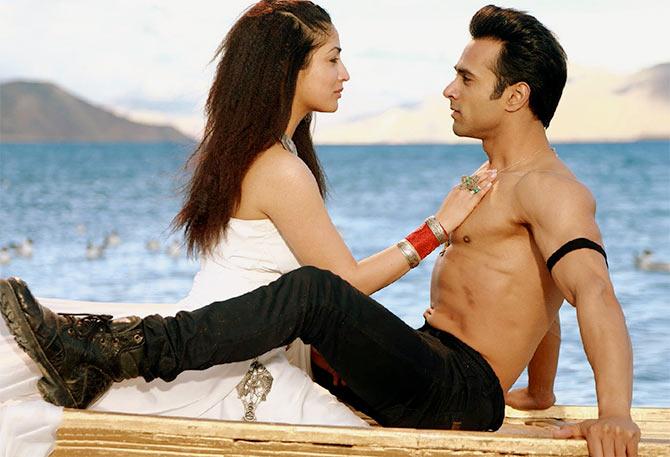 Image: Pulkit Samrat and Yami Gautam in Sanam Re
What was the best thing about shooting for Sanam Re in those beautiful locales?
Pulkit: Dekhne mein sirf nice lagte hai (it only looks nice).
Yami: This was a romantic movie and we had the most unromantic experience because they took us to stunning locations but it was freezing there! When I said 'hi' to Pulkit the first time, I was under four layers of blankets, only my hand came out. But he says I never said 'hi' to him as he was looking in a different direction and that I said 'hi' to some light man.
Pulkit: Before 12 o' clock, I see things hazy. I would sleep at 4:30 am and Divya (Khosla Kumar, director) used to call me on sets at 6 am. I didn't understand what was happening around me. I stood wherever they asked me to stand and gave whatever expression they asked me to give. So I don't know whether she said 'hi' or not.
Yami: Some places were difficult to travel to as well. There was this location called Kalpa, which is nine hours ahead of Shimla. Reaching there was a task.
Pulkit: There are two ways to reach there -- one route is 8 km and the other is 25 km. If there's a landslide on the shorter route, you have to go to the mountain by road, which isn't a concrete road yet. Our fate was great, of course, so there was a landslide at the time and we had to take the longer way.
Yami: When we reached there, there was no electricity; there was no water in the morning. In Ladak, the oxygen level is low. We also shot in Calgary, Canada. We were told that it's summer there but when we landed, it was snowing and the winds are blowing at 140 km/hr.
Pulkit: Our hotel was shaking the entire night.
Divya would actually wait for the temperature to drop till it was in minus and then ask me to remove my shirt and give the shot. It was torture!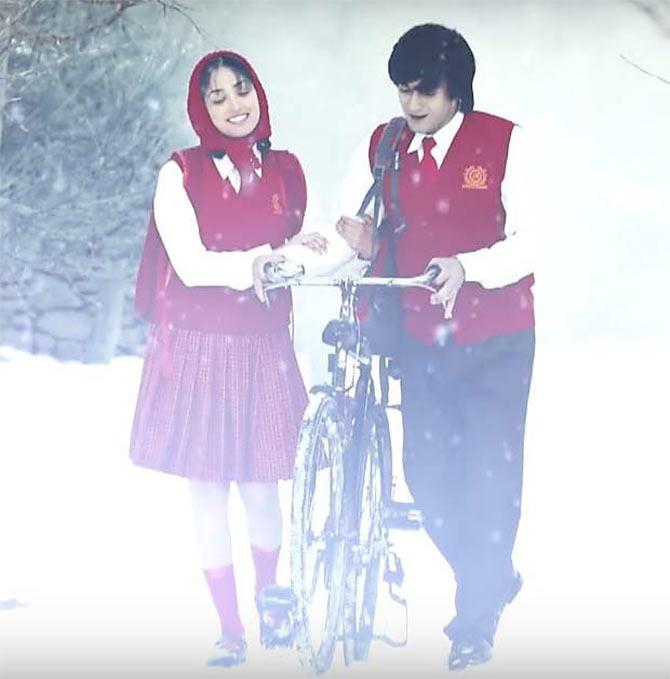 Image: Pulkit Samrat and Yami Gautam in Sanam Re
Despite all this, what made the shoot exciting?
Pulkit: The result. The moment you see how beautiful the shot looks on the monitor, it's all worth it.
How was the experience of shooting with Divya?
Yami: She's very strict.
Pulkit: Strict? She's Hitler! Everybody says we've got a lady director but on the sets, unke andar ka mard jag jaata hai (the man inside her would awaken).
Yami: Shoojit Sircar (Vicky Donor), Sriram Raghavan (Badlapur) andPrabhu Dheva (Action Jackson) are very calm in front of her. But I think she's very passionate. She just told us to trust her and she would take the story higher than the script. I think she has done that. Sanam Re is an amalgamation of an emotional love story and a visual treat. I say this with full confidence.
Pulkit: You're saying visual treat because you're there in the film.
Yami: I'm very modest.
Yami, you mentioned Prabhu Dheva and Sriram Raghavan's films, but in both films, you die. Here, you'll be seen in a full-fledged role.
Yami: You need to understand my background. I take full pride in the fact that I'm from Chandigarh.
Pulkit: Every answer of yours starts with that.
Yami: What I mean to say is I don't come from a filmi background nor am I a Bombay girl or a model. I'm learning everything on the go.
When I get to work with someone like Prabhu Dheva at the beginning on my career, why would I say no? I'm the only one responsible for the choices I make and the opportunities I get. When you read the script, you don't know how it's going to shape up. You just know what you've been narrated.
Badlapur was supposed to be a cameo; it turned out to be much more than that thanks to the director and the team. I wanted to work with Sriram. I've always said that in my career, I'll either love the character, the script or I just want to work with a certain director even if it's for a little while. I hope to do a full-fledged film with him. This is just the beginning, there's a long way to go.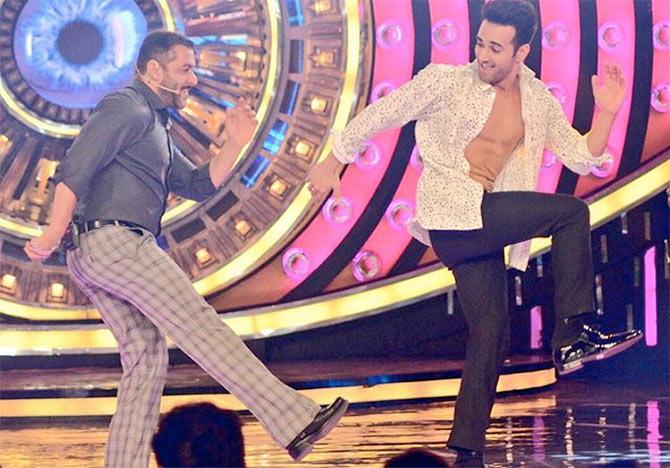 Image: Salman Khan and Pulkit Samrat on Bigg Boss set. Photograph: Pulkit Samrat/Instagram
Sanam Re is releasing with Fitoor in the Valentine weekend. Do you think that will affect your film's business?
Pulkit: No. It's very difficult to find a release given the amount of films that we make nowadays. If not this Friday, we would have clashed with another film the next Friday. We just happen to clash with Fitoor.
Yami: I think our release date was decided way before. When we had signed the film, they were clear that it had to be a Valentine's Day release since it's a love story. The audiences are very smart and clear about what they want to watch. All the best to team Fitoor as well.
What did the two of you discover about the other while shooting for the film?
Yami: I found out that he talks and talks. Not many people know that we have worked together before; we have done a music album together. But don't google it, don't even use those pictures.
Pulkit: I was looking fine in it.
Yami: I was the better one. It was a two-three day shoot in Goa and we spoke only on the last day.
Pulkit: It was a romantic song...
Yami interrupts: He said something to me and that was, 'Hi, you're very khadoos. That's it. And then cut to now.
Pulkit: I really thought that.
Yami: Secondly, he sings very well.
Pulkit: Since our first meeting was such, I never though we'd break the ice. It was a revelation for me that she has a great sense of humour and I really appreciate when girls have a sense of humour. It's a rarity, so it's nice. She's also a big foodie. I had to snatch the food plate from her on the set and tell her that I want to romance a thin heroine, so don't eat bread pakoda.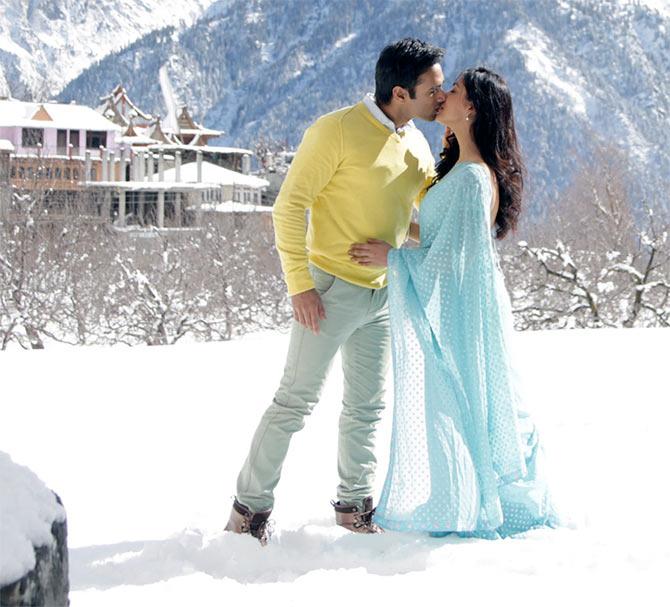 Image: Pulkit Samrat and Yami Gautam in Sanam Re
Were reports about your affair a publicity stunt?
Pulkit: We see these things happening every now and then, that people start writing about two people working together. We're working together for more than a year now. (Looking at Yami) I'm fed up of working with you now.
Yami: We're working on two films back-to-back (Sanam Re and Junooniyat). Before going on board for Sanam Re, we had finished one schedule of Junooniyat, which is also a T-Series film.
I won't take this (reports of an affair) in a positive way. This is not something I would endorse, ever, in capacity of an actor or a person.
Pulkit: Same here. Just the idea of promoting a film by connecting two names would be very wrong, so I won't do it ever.
As actors, how does it feel when a film is in the news for the wrong reasons?
Yami: So much hard work goes into making a film, it doesn't deserve to be overshadowed by a single question on something like that. Nobody wants to be questioned on something that is rubbish and doesn't deserve attention.
Have the two of you become cautious about interacting with the media?
Pulkit: Yes. A couple of misquotes have happened, so you have to be cautious. Eventually, it affects the families. If we have been misquoted, it will be published on the front page, but the publication's apology will never come on the first page.
Yami: It's happening a bit too much and the background that I come from and the person that I am, I don't believe in shouting my lungs out and saying that is not what I said. I'm not here for that.
How would you want your real life love stories to be like?
Pulkit: I would love to make my girl feel special, do anything to make her feel special. Respect her the way I respect my mother and family and really take care of her. I wouldn't do this just to make her feel special to me. I would feel happy doing that.
Yami: I want it like how they show it in the movies. That might sound a little silly and maybe it's too idealistic. I have grown up watching Rahuls, Rajs and Prems, so I want it to be like that. I haven't found anyone yet.
Is it difficult to find one in the industry?
Yami: I don't think that way. When it's a serious relationship, it's about the person more than the profession. I think every job is difficult and you need an understanding person, it doesn't matter what profession they come from.
I haven't got a single rose ever. I don't know why guys are so scared of me. That's why I'm so enamoured by this whole filmi thing.
Image: Pulkit Samrat and Yami Gautam. Photograph: Pulkit Samrat/Instagram
Pulkit, your last two films -- Bangistan and O Teri -- did not do well at the box office. What do you think went wrong?
Pulkit: You never know what works and what doesn't. It's only about the effort. That is what is making me grow in the industry.
They may not have worked commercially, but for me, personally or creatively, everything has given me a push and taken me many steps forward. I'm happy with the way things have shaped up.
I have reached a place where somebody thinks I can carry a full-fledged love story on my shoulders. That's a great compliment for me, and a challenge too.
Fukrey 2 is happening. How different will it be this time?
Pulkit: Yes, it starts in August. Honey (Pulkit's character in the film) and Chucha (Varun Sharma's character in the film) are going to take it to another level, and it will be crazy!
This will be my third outing with Excel Entertainment (producers of the Fukrey movies and Bangistan), and I love working with them. A lot of people loved Fukrey and everyone is waiting for the sequel. We've been waiting for three long years and finally we've managed to crack a really crazy story.
Yami, what next after Junooniyat?
After Junooniyat, something exciting is coming up. I'm waiting for the announcement.
Your song with rapper Badshah is coming out soon, tell us more about it.
Pulkit: Badshah has made an amazing song for us. Its called Akkad Bakkad. It's a quirky track. People loved Paani Paani when it came out. This song will break that.
Yami: It's a fun song, what energy! We were tired of promoting the film during the day, and then shooting the song at night. I don't know how we were looking but we had a great time shooting with him.
Pulkit: Badshah is crazy...
Yami: Because he's from Chandigarh.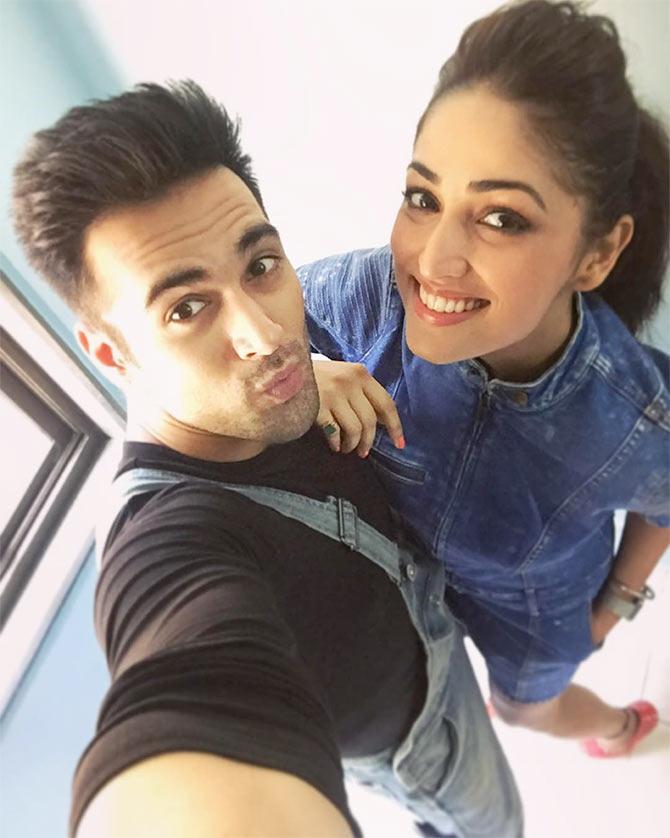 Image: Pulkit Samrat and Yami Gautam. Photograph: Pulkit Samrat/Instagram
How will you take a break after this film?
Pulkit: I'll go on a holiday with my family.
Yami: I will go back to Chandigarh, and play with my pet.