'For the past year, people have been asking me about my wife Sonali, who suffered from cancer.'
'It was a tough year but I have seen worse in my life.'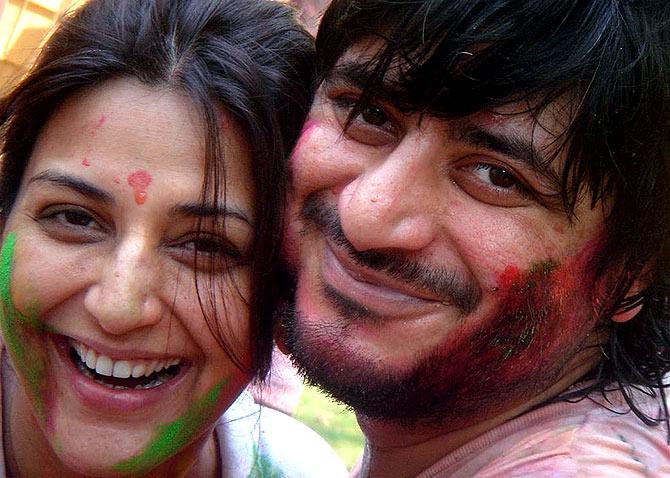 Everyone has had to face rejection in life.
Director-producer Goldie Behl explores this theme in his new web series, RejctX.
Though the show focuses on students, Behl seems have dipped into his own life for inspiration.
From losing his father at a young age to providing support to his wife, actress Sonali Bendre, in her fight against cancer, Behl's life has seen its share of ups and downs.
"If you don't face rejection in life and come out of it, the story of your life will never start," he tells Rediff.com Contributor Divya Solgama.
What made you bring such a concept to the web platform?
This concept came into my mind because, for a long time, such kind of young shows haven't been seen on screen.
Also, I wanted to make sure it wasn't a replica of some American show or film.
It's a completely fresh idea of a college-based musical thriller.
The story is set in an international school in Singapore and is about the issues of seven Indian students studying there -- issues like how they face rejection in their life. That brings them together to form a band.
Several issues are highlighted like porn addiction, body shaming, sexual preferences...
There is a Thai villain who speaks in English with an accent, and even that brings a freshness to the show.
Campus dramas are always great; in the process of finding out who you really are, you face rejection and turmoil at a tender age.
I would like to tell all the young kids out there that rejection is not the end of the road. It's the beginning of your journey.
If you don't face rejection in life and come out of it, the story of your life will never start.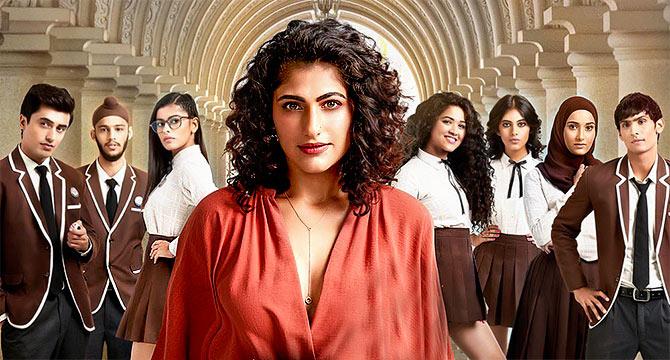 How important is rejection in your life?
For the past year, people have been asking me about my wife, Sonali, who suffered from cancer.
It was a tough year but I have seen worse in my life. I was 15 years old when I lost my father.
But that's what life is all about.
You cannot sit and talk about your problems all day because, then, you will be depressed and will not be able to do anything.
I think rejection is a very important part of your life because only then will you move on and start anew.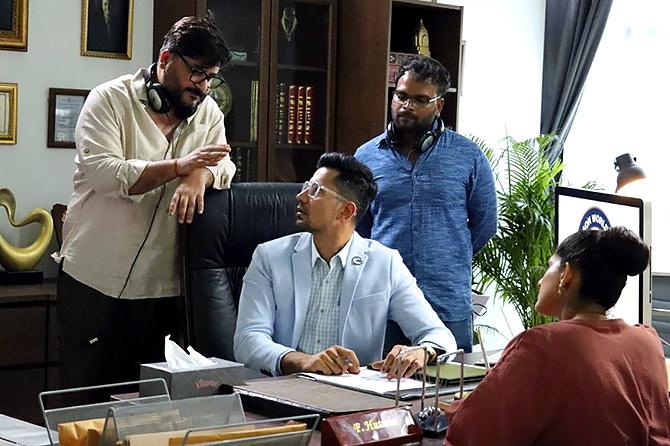 Your father Ramesh Behl's last film, Indrajeet, was completed by your family. How tough was that phase?
I have never really spoken about this.
Everybody believes that I come from a privileged background but things were completely different then.
It was very tough for my family and me.
I did not have my father's guidance like Aditya (Chopra), Karan (Johar) and Farhan (Akhtar) did, so I made mistakes and learnt from that.
My mother was a homemaker.
My elder sister (Srishty) joined me in the business and we put our naive intelligence together at the time.
Jaya aunty (Jaya Bachchan) was a big support for us.
You are very close to Abhishek Bachchan.
Abhishek is like a brother to me, so I used to imagine stories for him.
We grew up as brothers with the same dreams and always wanted to do movies together.
I don't know life without him.
If my father was making something with his father in it, we would definitely be together.
We have a lot of memories from Pukar because it was shot in Goa and we had summer vacations then.
Abhishek had a crush on Zeenat Aman while I had one on Tina Munim (the film's lead actresses)!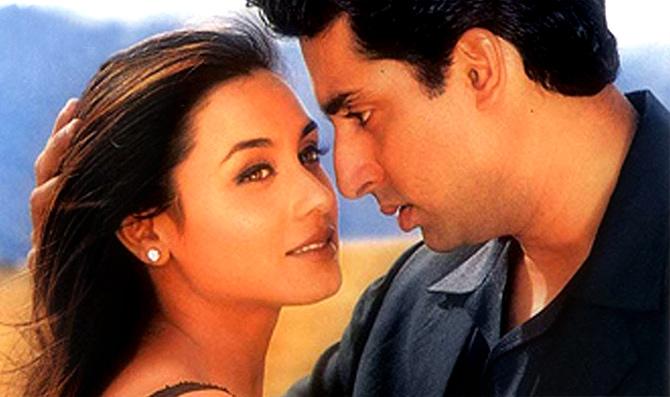 Pukar was Amitabh Bachchan's first film after his near-fatal accident on the sets of Coolie in 1983. Do you have any memories of that time?
We were very young and did not know what was going on.
We just knew something had happened to uncle (Amitabh Bachchan).
There was some chaos and we knew something wrong had happened.
We actually came to know what happened when it came in the news and people were crying and praying for him.
Some of your father's films did not work at the time but, today, they are considered cult cinema, especially 1982's Yeh Vaada Raha. What is your take on that?
Yes. I think that was meant for a younger generation.
Also, a similar movie was made -- Khoon Bhari Maang (in 1988) -- and that worked very well commercially, as it had more masala.
We have always been associated with a certain amount of sophistication in our work.
Even if it is a television series, we have never done the typical saas-bahu kind of shows.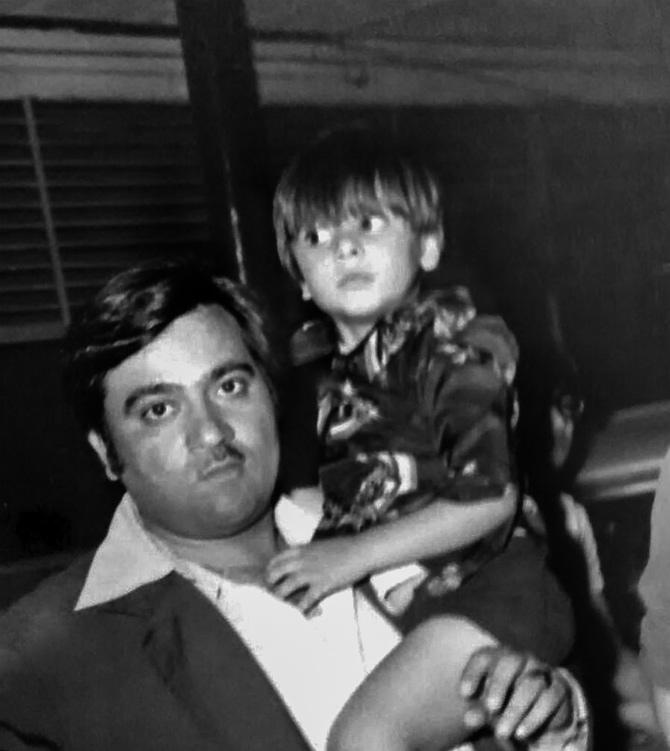 Can you talk about your association with R D Burman?
Our families were very close to each other; we had an emotional connect with him.
When Panchamda passed away, the first call came to us. We were the first to reach his house.
His death anniversary is on January 4 (1994) while my father's death anniversary is January 5 (in 1990).
I still remember playing with pillows while he composed songs.
I used to play the harmonium with him, sing and make songs with him.
Let me tell you some trivia. Most of the songs composed by Panchamda were rejected by (filmmaker) Nasir Hussain. So every time my father would meet him, Panchamda would request him to hear the rejected songs.
Then, Nasirsaab would fight with Panchamda, saying he never sang these songs to him but would sing them first to Ramesh Behl.
Why do you take such long gaps between projects?
There are no gaps as such.
I did a television series called Aarambh in 2017.
Though it did not work, it was appreciated for its look and feel.
Now, you will see a lot more of me.
After RejctX, I will start on something in September-October and it will be out in January.
I have decided to do at least two-three projects a year.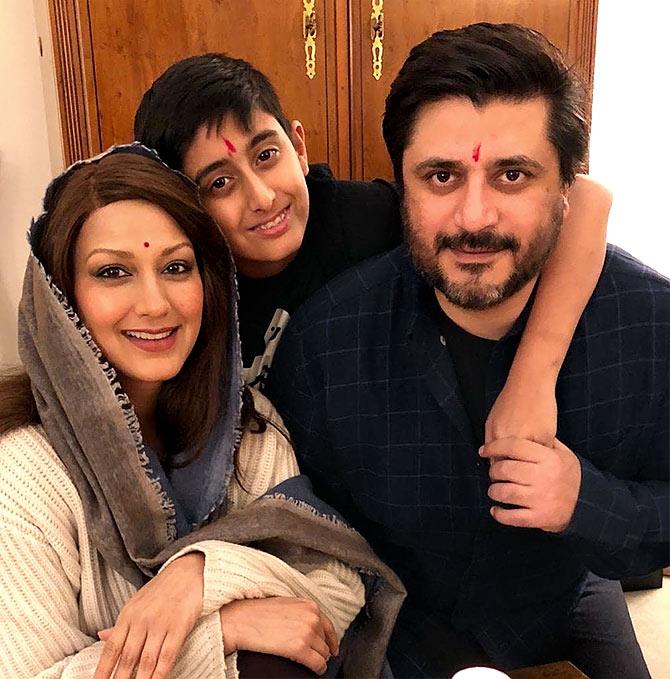 How tough has it been since Sonali got detected with cancer?
When you face a problem, you think of how to resolve it.
More than anything else, we are just happy that we resolved this situation.
We are thankful to God that we had the resources to do it.
Sonali is a very strong lady and I am a big fan of her strength and positivity.
We were very transparent with our son. He used to accompany us to the doctors and chemotherapy sessions.
He is a resilient child and understands things far more than we give him credit for.
He had read about cancer, so he knew the procedures.
Everybody goes through something or the other in life and he went through this. It will help him grow and fight in tough times.