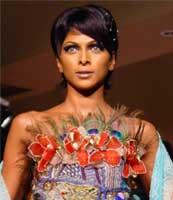 She takes the ramp the way others can only dream of. One of India's hottest models, Nina Manuel is a favourite at every India Fashion Week.
Here, Nina talks about what it takes to be an India Fashion Week model:
Height: 5 ft 9 inches
Years on the ramp: 4-5 years. Does not like being called a veteran ("Call me a pro, will you?")
Mantras before the fashion week:
1 Go to the gym regularly at least one month before the show to get rid of a few grams here and there.
2 Drink plenty of water.
3 Hates vegetarian food but tries to stick to eating vegetables in the run-up to the show. Especially the green leafy kind. Eat wheat flakes.
Her schedule this week: Has to do fittings for up to five designers every day. The fittings begin at 8am and go on till 9pm. Each fitting takes approximately two-three hours. She will lead the collection for two or three designers.
What is a fitting: Designers or their assistants try clothes on the models. Alterations are done accordingly. Sometimes, models swap dresses that suit them better. The names of the models are tagged on the garment along with the sequence of appearance on the ramp.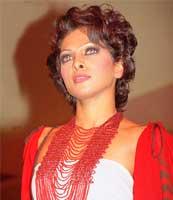 What does she do in-between fittings: Sleep. Chat. In that order. She was discussing Brazilian waxing, followed by discussions on a new place to hang out at 16th Road in Khar, Mumbai, where wearing shorts is almost like a dress code.
Advise to new models: Don't get disappointed if you do not get the opportunity to work with big designers. Show your worth and show you have the ability to become great models.
Life beyond modelling: Has been learning to play the violin for the past year-and-a-half. Surfs the net. Loves being lazy. Has mastered the art of being which, when explained, means, 'Can sit/sleep/stay in a bed and just 'be' there!'