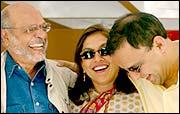 The heady Goan cocktail of the sun, sand, sea and cinema seems to have given the delegates at the International Film Festival of India a buzz they are thoroughly enjoying. 
While Kerala and West Bengal are lobbying for the permanent venue slot, Goa seems to be everyone's favourite for now. 
Here's what some of our leading film personalities have to say about making Goa the permanent IFFI venue.
Ismail Darbar: How could anybody think of any other place as the permanent venue?
Mira Nair: It has all the features a film festival of international repute requires.


Yash Chopra: What a place! Not just me, the entire Mumbai film industry feels that this is the right location for such a festival.
Subhash Ghai: It's jungle mein mangal [far from the madding crowd] -- away from politics and politicians. But there are too many authorities. Keep them away.
Shyam Benegal: I shot my films Bhumika and Trikal in Goa. Its peaceful environment and hospitable people have made the state so attractive for the film industry.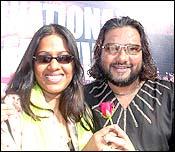 Shabana Azmi [who has also appeared in Goa government advertisements, praising the excellent infrastructure built for the festival within a short span]: Goa has proved that it is the right choice for the permanent venue.
E Thanagaraj, director, Chennai International Film Festival: There cannot be a better place than Goa to hold the festival permanently. No place -- not even Delhi, Mumbai, Hyderabad, Bangalore or Trivandrum -- has such hi-tech infrastructure blended with an equally cool and cultural atmosphere.
Dr Jabbar Patel: Goa should also organise other festivals of dance, music, painting, visual art, sculptures, literature and even information technology. Make Goa the multimedia centre, not just film festival venue. 
The only person who was silent on the issue, despite repeated questions from the media, was Information and Broadcasting Minister Jaipal Reddy.