'It would give people renewed confidence in me as the industry goes by general opinion and consensus.'
'Even if Jagga gets critically acclaimed, it will do a lot for me.'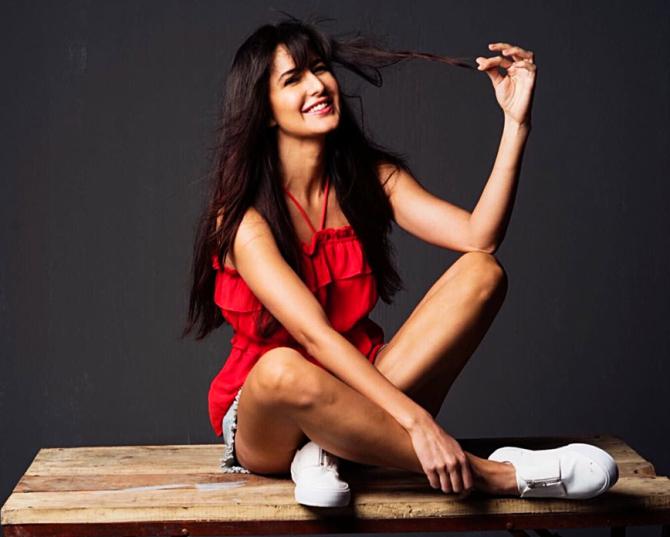 IMAGE: Katrina Kaif. Photograph: Kind Courtesy Katrina Kaif/Facebook
"It is too hot, AC ko thoda theek karo," Katrina Kaif complains.
The actress is promoting Jagga Jasoos on a Saturday evening at the Mehboob Studios, Bandra, north-west Mumbai, and she's clearly having a tough time.
"It's too hot, I can't breathe," she says again, in her accented Hindi.
As the temperature is adjusted to her comfort levels, Kat settles down to chat with the media.
Rediff.com's Patcy N turns her recorder on.
Jagga Jasoos took years to release. It's believed that films that get delayed don't do well at the box office.
I have to disagree. As an actress who knows the process of film making, I don't think how long a film takes to get made matters to the end product.
There are many films that take a long time. Avatar took 10 years to make, not that we have made Avatar.
Every film has its own journey, its own process.
The kind of vision that Dada (director Anurag Basu) has for Jagga Jasoos is big and complex as well as new and unusual.
It takes time to tell a story like this.
There is a lot of trial and error, a lot of work goes behind constructing the film's narrative because it is through music.
You have to make songs flow into a scene.
There must be breaks because it shouldn't look like you are watching one long song.
Then, there is the background score and traditional songs that we have in films like Galti Se Mistake.
(Music composer) Pritamda is a genius, and so is Dada, but they take their own time.
Some artists don't work according to timelines and schedules, they work at odd hours and have a creative process.
That's why the film took the time it did.
What made you take on a musical?
From Day One, the idea was to make a musical.
I knew what Dada meant by 'musical' -- he meant it in the traditional form, where your scenes are sung. Like Mary Poppins.
I thought it was a great idea.
I love music; I am driven by musical films. I grew up watching them.
If there is one thing I could change is add more dance to it.
But then, it would be a wrong vision because Dada has kept the emotion and story strong -- it's about a boy in search of his father.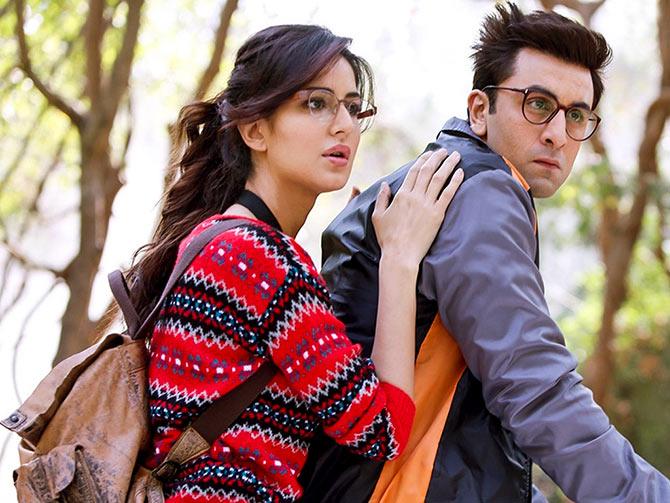 IMAGE: Katrina Kaif and Ranbir Kapoor in Jagga Jasoos.
Since the genre is new, are you worried if people will accept it?
Every film is a risk.
You can have the most tried and tested formula like an action-adventure film, but even that may not work.
One cannot predict films (how they will do at the box office).
It's a risky business with no definite outcome.
It is not that I feel Jagga is riskier than say, Tiger Zinda Hai (her film with Salman Khan).
Some people may say that is safer, but you never know.
If a story is good, it will work. It will find its audience.
People should watch this film with an open mind to see something new.
As long as people come to watch a musical, they will not be disappointed.
My biggest concern for Jagga is that because 90 percent of our films have 4, 5 songs inter-spaced into a story, I'm not sure whether the audience understand that here, the song will continue into the scene.
What appeals to you most about Anurag Basu?
His vision.
A director has to have an incredibly imaginative mind, and then have the ability to execute that imagination.
I have a very imaginative mind too, but I think I lack the ability to express it.
Dada is always in search of something -- it doesn't mean all his films have worked and are flawless -- but he is always in search of something unique.
He is always in search of a connect with his audience, whether through his characters, his stories or scenes.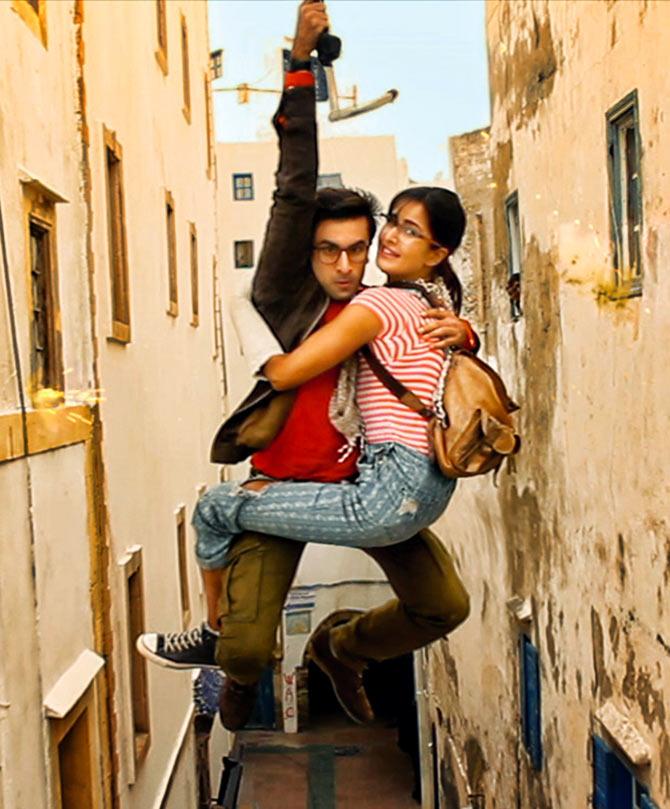 IMAGE: Ranbir and Katrina in Jagga Jasoos.
Did you have to do any special preparation for your role?
No. My process of being in character is just to be next to the director and go on the journey with him.
I always follow the director.
If a director wants me to do a workshop, I will.
If a director wants me to sit in a room and do character building exercises, I will.
Dada constructs what he wants on the sets, and will talk to you a lot.
You will find the character in the conversations.
You need to sit next to him in the nashta (snack) break or when the shots are being set up.
I would not go back to my van in between shots.
I would sit there to see what Dada is doing.
I would talk to him.
Sometimes, he would ignore me or brush me off, but other times, he would give me details about the character.
Making films is a risky business, you say, yet you are keen to produce one.
I think it will be a nice, learning experience.
If I find anyone with a good story which I like on a personal level, I would like to partner with them because I don't know the technicalities or the execution part of production.
I thought of production many years ago.
I was planning a film called He Loves Me He Loves Me Not.
I really liked the script and was trying to put it together, but it never happened.
But if I find an exciting story, and if I can have a partnership with the person helming the story, I would like to go ahead.
I see me producing a film with Ali Abbas Zafar (who directs Katrina and Salman in Tiger Zinda Hai). We are very good friends.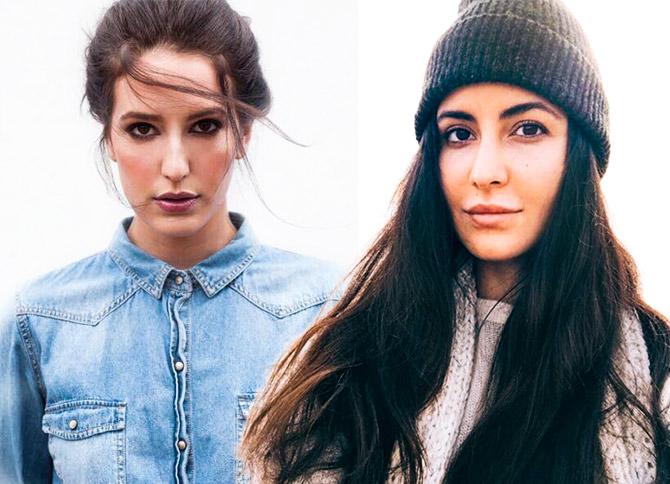 IMAGE: Katrina and her sister Isabel. Photograph: Kind Courtesy Katrina Kaif/Facebook
There were rumours that you want to produce a film for your sister Isabel?
No. It will be the worst thing to do because there would be no credibility in that.
Firstly, I am not a producer.
Secondly, if I make a film for my sister, it will make people think that there is nobody else, that's why I have to do it, which is not right.
I don't have the experience to do it better than say, Karan Johar or Ramesh Taurani or Yash Raj Films.
These are the connections I have, the people I have had conversations with.
I sent Adi (Aditya Chopra) my sister's audition tapes.
I am constantly in touch with him and Shanoo Sharma, who is the casting director. That's the right way to go.
You need to help people in the right way or you are settling them up for failure.
Unfortunately, she has to face the same battle as me -- the language -- because she is not from here.
She's studying acting at New York's Lee Strasberg Theatre and Film Institute.
Let me also clarify that no other sister of mine is an actor.
They get very irritated when the media says that.
My sister Sonia was visiting a few months ago. Someone asked if she wants to become an actress and she got very irritated.
She's a graphic designer, and works for the government.
One of my sisters will be joining me for the IIFA (International Indian Film Academy) awards.
She does not want to be an actress; she's into real estate.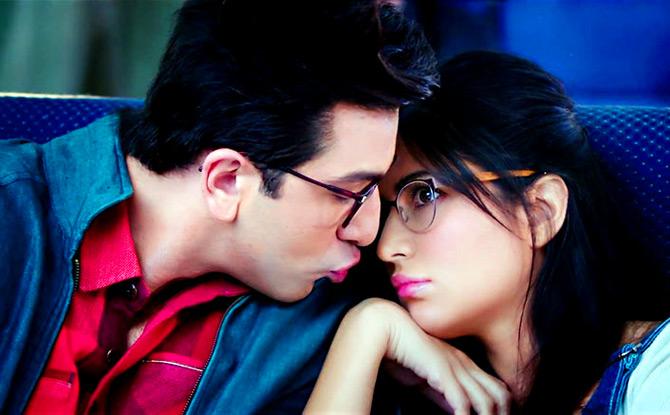 IMAGE: Ranbir and Katrina in Jagga Jasoos.
Do you think there is lack of content in the movies?
I don't think so.
Sometimes, there may be a lack of vision and a lack of willingness to accept new things. But there is content.
People are doing new things.
This year itself, there are films like Hindi Medium, Baahubali and Jagga Jasoos.
Plus, biopics are being accepted by the audience because they want to see something they can relate to.
Are you interested in doing a biopic?
I would like to do something where the characters are unusual, like Silver Linings Playbook where the girl is unusual.
I have done enough traditional love interest films.
But I cannot create a film.
Sometimes, actors do put together projects from scratch, but for the most part, a director has to be associated with it and see me in it.
If Jagga works, that would help me a lot.
It would give people renewed confidence in me as the industry goes by general opinion and consensus.
Even if Jagga gets critically acclaimed, it will do a lot for me.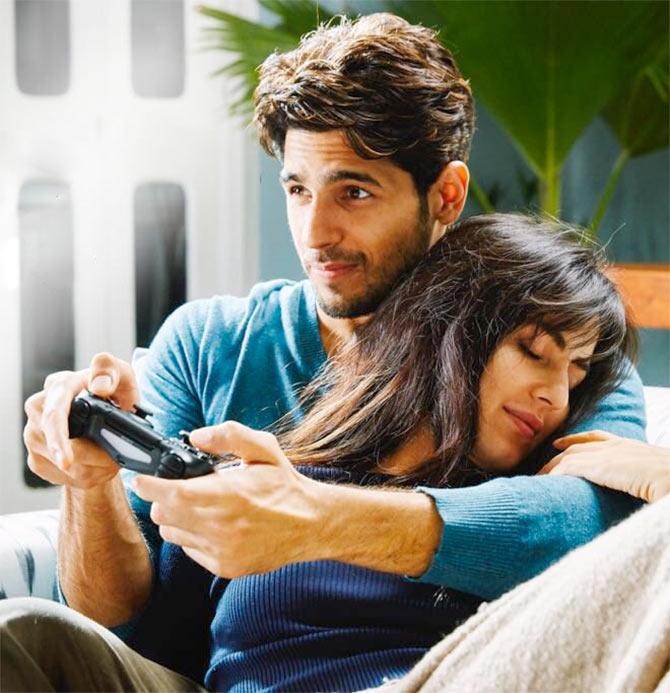 IMAGE: Siddharth Malhotra and Katrina in Baar Baar Dekho.
Your last few film choices have been very different, like Baar Baar Dekho.
Is there an urge for creative satisfaction despite the risk that it may not work?
I think so, otherwise you will get bored, right?
I remember when Farah ma'am (Khan) came to me with Sheila Ki Jawani, it was a huge challenge to execute her vision.
Today, if someone comes with a similar song, we may find a new style or technique with a new choreographer and that would be an amazing process.
Like, we did in Dhoom 3. But it may not hold the same level of excitement because it is not novel for me anymore.
I like to do things that challenge me.
But I am also not willing to do random female-oriented characters that don't speak to me.
If it is not a film that I would watch with friends, then I wouldn't want to put my audience through it, just for the experience to make myself feel important.
Do you enjoy social media?
Instagram is super fun, but the day I don't have fun, I move away from it.
I have no idea what people are saying about me on Instagram.
I don't even know how to say things on Instagram.
I am not worried about what people say.