'This was a story waiting to be told and we were the people telling it.'
Rana Daggubati on The Ghazi Attack and Baahubali: The Conclusion.
Rana Daggubati, the flavour of the season, is one down-to-earth star.
He apologises when he has to take a call in the middle of the interview, apologises again at the end of the call. Unlike some moody Bollywood stars, he smiles throughout the conversation as he speaks at length about The Ghazi Attack and Baahubali: The Conclusion.
"We had to make the submarine bigger because I wouldn't fit in it," the hunky actor says, referring to The Ghazi Attack.
"Usually, the height is about six feet. We made it a seven feet submarine because I am 6'3". Kay Kay (Menon, co-star) is also a tall man," he says.
Rana Daggubati tells Rediff.com's Jahnavi Patel about the making of The Ghazi Attack, the curiosity around Baahubali and his star cousin Naga Chaitanya's wedding.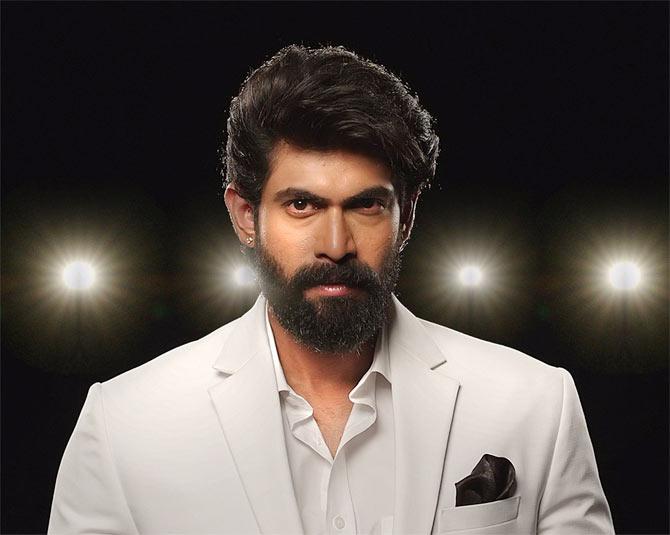 Photograph: Kind courtesy Rana Daggubati/Twitter
You have made a film on an incident that most Indians know nothing about. To what extent have you used cinematic liberty?
I'm not making a historic documentary. It is an inspired tale, yes, a hundred percent inspired.
What is the truth? The truth is that the PNS Ghazi is 11 kilometres away from Vishakhapatnam port even today. You can take a speed boat and see it.
This incident happened in 1971 -- on the midnight of December 3.
On December 11, it was announced that the INS Rajput hit the Ghazi. So the basic facts are all over the place.
It's a classified file which is shut on both sides, India and Pakistan, so you'll never know what the real story is.
Sankalp (Reddy, director) has written a book, The Blue Fish. We also spoke to people from the navy (from the INS Vikrant, INS Gomati, INS Rajput).
We found a lot of missing links; it wasn't falling in together as a full piece. So it's a largely fictionalised part because we had to put it together.
For example, in a submarine, people don't shave, don't shower every day and wear use-and-throw clothes.
The problem is, if I show you this -- wearing disposable shorts or a t-shirt which is disposable -- you will not get it.
So we took the liberty of wearing uniforms that are usually worn on deck on the submarine.
Your friend Ram Mohan saw Sankalp Reddy build a submarine set on top of a building. That's how you met Reddy and realised there was a story waiting to be told. Please tell us more.
Sitting in Hyderabad, we constantly look for new content.
A friend of mine, Ram Mohan, told me that he saw a filmmaker build a set of a submarine and sent me a piece of the material.
Sankalp was making a short film and had spent Rs 15 to Rs 20 lakh. He just wanted to tell a story independently.
When I read it, I knew there was a very solid tale inside if we sat and put it together.
So we met Sankalp and were more than happy to make it into a feature film.
We padded him up with the first round of writers, who understood this kind of cinema.
Once we agreed on that part, we started figuring out the best possible way to make it because I don't know anyone who has made these kinds of films to take advice from.
We got permission from the navy, some reference footage, some references from Hollywood movies like Crimson Tide and The Hunt for Red October...
To understand the technicalities of a submarine, a lot of research was done.
We took around four-and-a-half months to build the sets.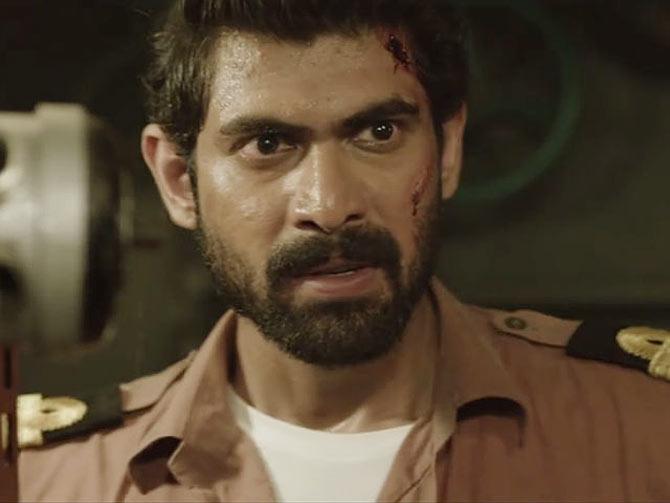 IMAGE: Rana Daggubati in The Ghazi Attack.
Sankalp Reddy wanted to release his original short film on YouTube. How did you convince him to make it into a full-fledged commercial film?
That's a stepping stone for a filmmaker.
He's lucky that we found him; we're lucky that we found him!
There are many stories like this floating around with filmmakers who do not have access to film studios and film studios, who do not have access to them.
We just found things at the right time.
This was a story waiting to be told and we were the people telling it.
After you showed the movie to Karan Johar, Dharma Productions came on board to distribute it.
Yes, I had spoken about the film during Baahubali. I showed it to him (Karan) and got him on board.
It's a great partnership between Dharma and us.
We are constantly on the look out for new content and making as correct a film as possible.
When we want to present it on a larger platform, we look for a distributor as well as someone who has a creative voice on the film.
Whether it's Baahubali or another film, we screen the film constantly to them to see what's right or wrong.
We believe in showing the film to as many people as we can to make the product better.
I guess this was the right partnership in Mumbai with Dharma Productions and Anil Thadani (who is, interestingly, Raveena Tandon's husband).
Do you think it's a risk doing a film like The Ghazi Attack?
If it was a risk, I wouldn't have done Baahubali.
If you want to tell a new story, it is a risk.
But then you have to do it in the best financial way as possible.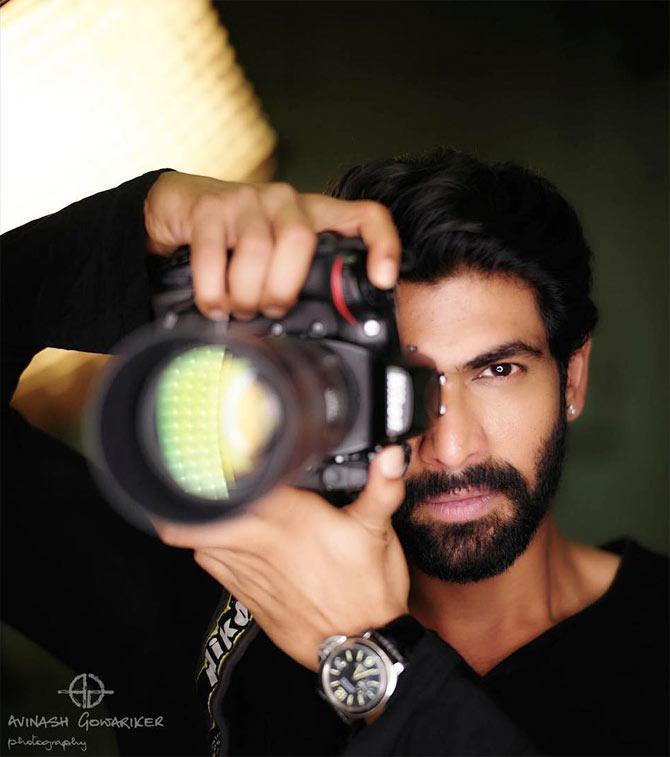 Photograph: Kind courtesy Rana Daggubati/Instagram
Does a film like The Ghazi Attack require a lot of mental and emotional training?
Yes, Hundred percent!
You are trying to play something which you are not and haven't experienced in real life.
Being a person of the armed forces is not easy. Performing it is also not easy.
There is a sense of discipline and body language that you need to have throughout.
I came from doing a period war film. I was Bhalladeva (his Baahubali character) for about four or five years of my life.
Then, suddenly to get back into this, using that sense of discipline, was not easy.
My character Arjun is patriotic, not emotional. He is a leader.
Any decision, whether good or bad, has to have a rational conclusion.
When you are doing a film for so long, you become that character for a bit.
Do your films leave a lasting effect on you?
Most of my films have been very character driven.
If you see my films like Leader in Telugu or Baahubali and Ghazi, they are all different.
I don't look or talk the same, it's very different.
All these films take a very long time to get done.
Some of those personalities or traits will stick to you and you will start using them in daily life.
Do you feel a void after a film that takes so many months of your life gets made?
I am worried if I don't find anything after that. That's the only worry I have.
When I am in the film, I have no issues at all.
Once it's done, I have to figure out new things.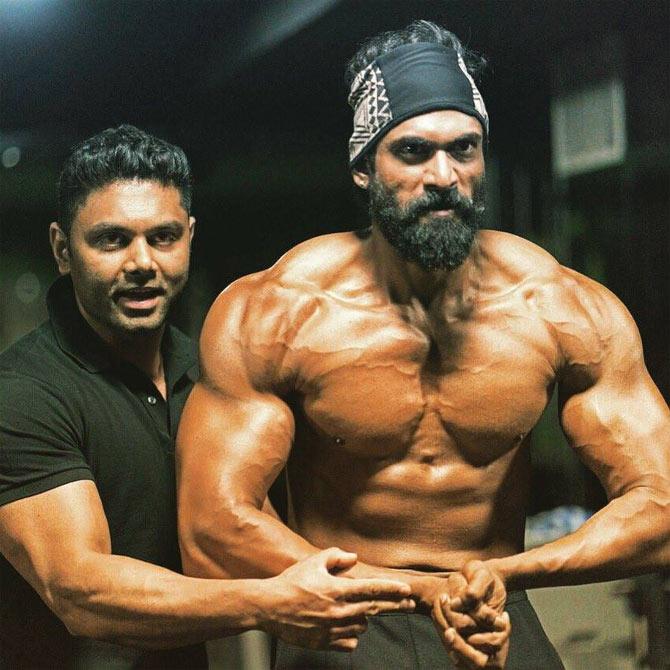 Photograph: Kind courtesy Rana Daggubati/Instagram
From Baahubali to Ghazi, you have had to make physical transformations. Can you talk about your process?
In Baahubali, I had to be a war lord, killing with my bare hands.
When I came to Ghazi, I was in the armed forces where I had to be much lighter than what I was.
I had to shoot Ghazi in the middle of Baahubali because that was the only time I had.
We kind of redesigned the body structure and the workout programme with my trainer.
How gruelling was shooting underwater? You are a deep-sea diver. Did that help?
Yes. But deep sea diving for recreation is different from shooting.
In India, we still don't have too many people who have done this before.
We tried to choreograph most of it on land.
The process took longer than it should have -- a seven, eight day shoot went on for 16, 17 days because we were doing trial and error.
The first time we tried it in the submarine, things did not go right. The water was getting dirty, there was no visual contact...
We took stuff from the oceans, then we went back to the swimming pool for the clarity and depth of field.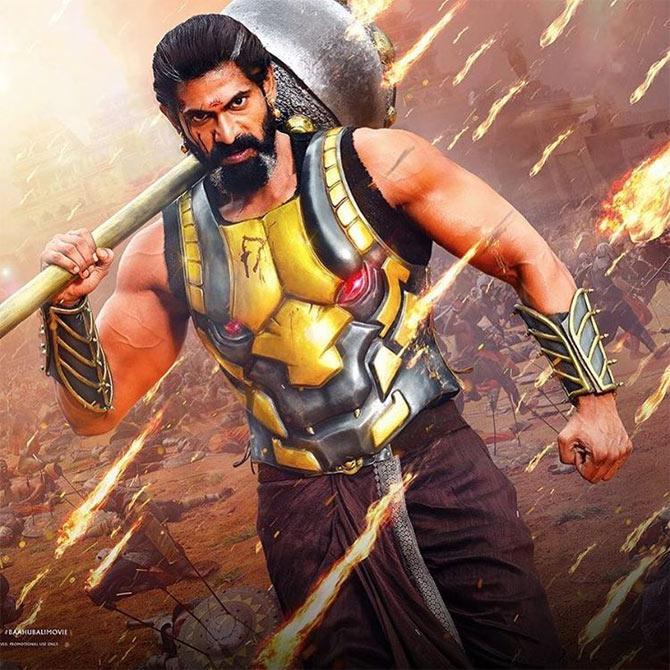 IMAGE: Rana Daggubati in Baahubali: The Conclusion
The curiosity around 'Kattapa ne Baahubali ko kyun maara' is immense. People have huge expectations from Bahubali 2. Are you feeling the pressure?
There is a lot of curiosity, but I don't feel any pressure at all.
We have built a brand which is very solid and big.
Right from making Part One, most of the people inside the film say that Part Two is cooler.
Part Two is where the drama is, the larger war is, where you see both brothers in that format, you get the answer to why Katappa killed Baahubali... a combination of all this will be a great film./p>
Bollywood and the film industries of the South have functioned differently. As someone who straddles both worlds, how different are they?
That's a myth. I am the only guy who works in both places and it isn't very different.
People here they are different, but hell no, it's the exact same thing.
The language is different, but as an industry, we have different genres and filmmakers.
The madness of making movies is pretty much the same, wherever you are in the world.
What kind of movies would you want to do next?
Right now I am doing a political drama in Telugu and that is not light at all.
Trust me, politics is more difficult than war.
I don't know what is going to happen after these two.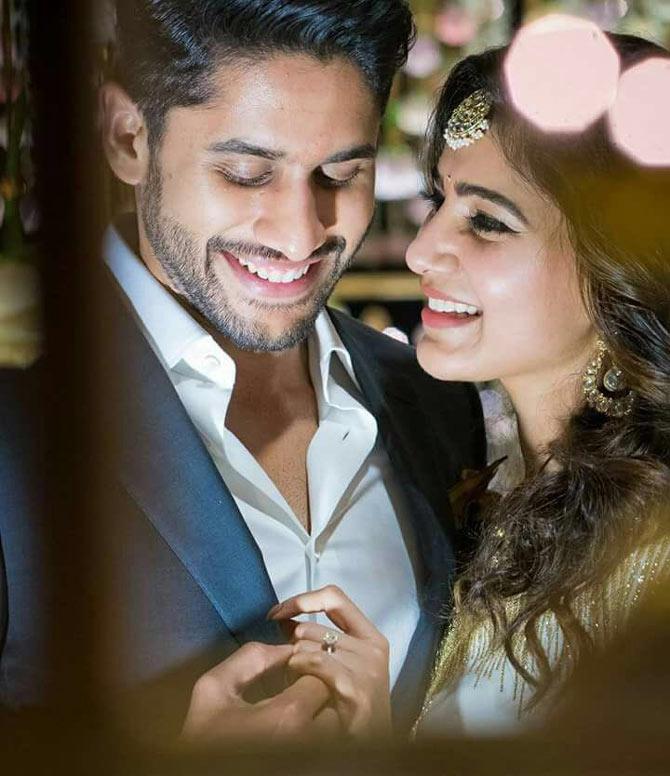 IMAGE: Naga Chaitanya and Samantha Prabhu. Photograph: Kind courtesy Rana Daggubati/Twitter
One of the biggest weddings of the year is coming up: Your cousin Naga Chaitanya's wedding to Samantha. How much excitement is there at home?
He was born and grew up right in front of my eyes!
We spent most of our childhood together.
Suddenly, it feels he is more grown up than me because he is getting married. A wedding in the family is always exciting.
Check out the MUST SEE Movie Features in the RELATED LINKS below.