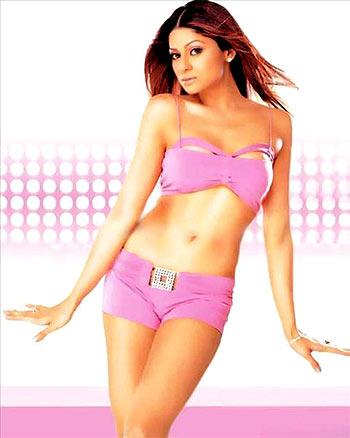 'Acting is my first passion and it will always be.'
'The wait for good work kept getting longer so I chose to learn something new. Maybe after this show, some offers may come my way.'
Shamita Shetty gets ready for television, and Jhalak Dhikhhla Jaa.
Shamita Shetty is all set to dance into our lives, with the eighth season of television dance reality show, Jhalak Dhikhhla Jaa, coming to our screens on July 11.
The Mohabbatein actress, who has been seen in many item numbers, has been keeping herself busy with her interior designing career recently.
She tells Rediff.com contributor Rajul Hegde what to expect from her new show.
This is your second reality show after Bigg Boss. What's the attraction of Jhalak Dikhhla Jaa?
I was offered Jhalak earlier too but I couldn't take it up because I was busy with (designing) interiors at that time.
I was also injured and not ready to take on a show like this.
My injuries are under control now, so I took it up.
Bigg Boss was more of a mind game; this is a dance based show. How do you see both?
I never want to be a part of Bigg Boss again.
Jhalak is great. I am enjoying it so far.
Bigg Boss is a very challenging game mentally and Jhalak is physically challenging.
How have you been preparing for Jhalak Dikhhla Jaa?
There is a lot of preparation. Deepak (her choreographer) is teaching me different dance forms. We rehearse for several hours every day. He is a very good teacher. He emotionally blackmails me and makes me do very difficult steps. My first reaction is always no! But I end up doing it.
I have a history of injuries to my body so that blocks me because I am scared to make it worse.
I know Deepak will take care of me but still there is a small mental block.
Madhuri Dixit has been part of Jhalak for four seasons, but she won't be there this season.
I'm a big fan of Madhuri Dixit. It would have been nice to have her on the show.
Shilpa (sister Shilpa Shetty) and I used to dance to her numbers Ek Do Teen and Tamma Tamma from Thanedar.
It would have been great to have her on the show, but it's okay.
How do you find the judges, Shahid Kapoor, Karan Johar, Ganesh Hegde and Lauren Gottlieb?
I know the judges from before. All of them are very fair.
Lauren Gottlieb and Ganesh Hegde are technically very sound so to get good marks from them will be very difficult.
Karan Johar and Shahid Kapoor bring a certain kind of attitude which is different.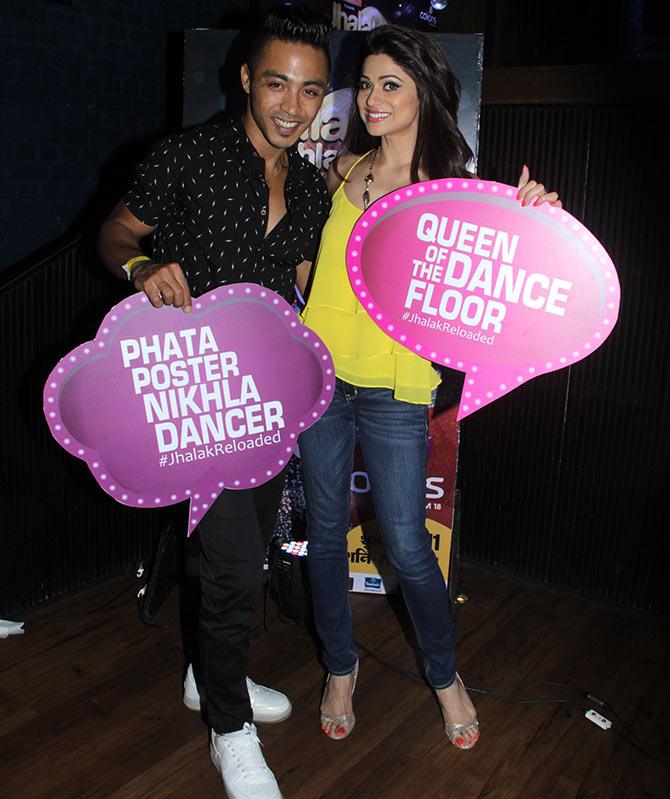 Image: Shamita Shetty with her choreographer Deepak. Photograph: Pradeep Bandekar
You have done many dance numbers in your films. This should be a cake walk for you.
Dance is my passion but the journey won't be easy because we will be judged minutely.
During rehearsals something or other keeps breaking of mine (laughs).
I have kind of got used to it now because everyone is facing it.
What is important for you, winning or taking part in a show?
If I am part of a competition, I want to win.
Any tips from your elder sister, Shilpa Shetty?
No tips. She knows how much I like music and dancing so she just told me to enjoy myself.
I want to enjoy this show because this is one journey which I will never experience again.
We are sisters first and then actors, so there is a lot of co-operation between us.
How do you take criticism?
Criticism is healthy in a show like this; it makes us perform better.
Deepak and I are both open to criticism.
There are many TV actors in the show who already have a huge fan following. Do you think that will make it difficult for you?
Of course, they have the upper hand because they are loved and already accepted by so many.
All we can do is put in hard work, give our best and most sincere performance and hope for the best.
Are you doing any films?
Not yet. Acting is my first passion and it will always be.
I am looking to do something that challenges me as an actor.
Maybe after this show, some offers may come my way.
What about your interior design work?
The wait for good work kept getting longer so I chose to learn something new.
I studied interiors for six months in London and then came back, interned with an architect for a year and then I started my own company.
For now, I have stopped taking up projects as I am doing Jhalak.