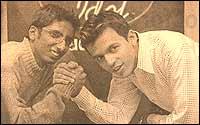 For some he was just another gawky-looking guy, others believed he was not up to the mark. Today he is the finalist of Indian Idol, the number one programme on Indian television.
He's Amit Sana, the simple, klutzy 21-year-old who was initially written off by everyone including some of his fellow contestants, one of whom even said, "Iss ladke mein dum nahin hai."

Judge Farah Khan had cribbed to the other two judges Sonu Nigam and Anu Malik that the lad had no charisma, no face and no power to pull the audience. That's all changed now -- she was directing a commercial in a multiplex in New Delhi and told the onlookers to "please vote for Sana" as their Indian Idol.
But Sana has worked hard to earn that respect. The bespectacled boy has been consistently improving on his dancing and overall performance skills to match his singing talent and is proving everyone wrong.
Tonight, nearly 48 million viewers will tune in to Sony Television at 8 pm, and watch Sana strain his vocal chords to give shape to his destiny -- a destiny that could be worth Rs 1 crore and see him croon lilting melodies (through an album contract with Sony Music) in every nook and corner, lane and by-lane, in the metros, towns and villages of India.
But he won't have it easy. Not when the other finalist is Abhijeet Sawant. Coming from a traditional Maharashtrian family and settled in Mumbai's Dadar area, Sawant got a dose of stardom when he performed at a mall in Mumbai; a stampede resulted as people inched closer for a glimpse of him. It's a long way from the days when he used to ride his "Rampyari" bike or play cricket in the nukkad of his colony.
"My parents had given up on me," he jokes as we settle down to chat in New Delhi's The Park. Not very serious about studying, Sawant joined his uncle's orchestra troupe as lead vocalist and travelled in and around Mumbai for shows. Corporate shows? "No, no," he laughs, "those were very small shows for, say, shaadi parties."
Ironically, when Sawant came for the audition in October 2004, he lacked confidence and stayed away from the camera lights.
He sang well but didn't have screen presence. Even in the crucial gala rounds, he faced flak from the judges (who thought he was so-so), was in the three least preferred contestants after public voting and in one word was unnoticeable; a lost face in the crowd. It was only in the fifth gala round, when he sang a patriotic song, that Farah exclaimed, "You have sung the song with so much feeling that I'm in tears."
They may be the current flavour for Indian viewers, but both Sana and Sawant have had their share of struggles, especially as they are from middle-class families where even dreaming big is a big deal. Take Sana for instance.
When he first read about the Indian Idol contest, he reached Kolkata -- the first city where the auditions were being held -- from Bhilai where he was studying engineering. "I reached at 4 am and was the first contestant," he remembers. Mini Mathur, anchor of the show, says, "He was the first contestant to enter the gates. Today, he's the last one to leave."
Sana also tried his luck last year with Channel V Popstars. "I was chucked out in the very first round," he laughs. Even with Indian Idol, he was voted out after he reached the final 30. He got in after the judges chose him as a wild-card entry.
Sawant, on the other hand, remembers the days when he used to call up music directors in the hope of becoming a playback singer. He approached Shankar Mahadevan who asked him to drop his demo at the studio.
"I didn't have money to make a demo so I was becoming disillusioned," he says. Almost a year later he bumped into Mahadevan who was standing outside a recording studio.
"I simply approached him and asked him to hear my voice and ended up forcing him to listen to me on the road," says Sawant. Today, he's getting used to the luxuries of living in five-star hotels, travelling by air and getting all the attention.
On his flight from Mumbai to New Delhi -- when he travelled by air for the first time -- Sawant was so excited that he wanted to keep the boarding pass. He couldn't, as he had to autograph it for a female fan who didn't have any paper but wanted his autograph desperately.
Today, both these youngsters are still reeling under the success and accolades showered upon them courtesy Indian reality television. For Indian Idol the stakes were high too. Each episode cost Rs 60 lakh, while the advertisement rates were Rs 1.25 lakh/10 seconds. Though the show started with a bang, somewhere along the line the TRP ratings started dipping.
The ratings leapt to an all-time high - 7.1 on Thursday and 9.6 on Friday - when the final three contestants performed. Sawant, Sana, Rahul Vaidya, Prajakta Shukre and Rahul Saxena are now household names.
Week after week, people are betting their hard-earned money not only in India but also in places like Dubai and London. People are discussing these names on the Net on numerous blogs dedicated to them. For a majority of us who have been following the show, it's almost like a mania.
Sony officials refuse to comment on the nature of the contract but is is learnt that the Rs 1 crore contract that Indian Idol holds could actually be worth little over Rs 65 lakh.

Within 20 days the winner will be given Rs 15 lakh after which payments will be in regular instalments. The winner also gets a Honda City. The album will be released within three months and in all probability the music director will be Biddu.

The contract can extend to three years or can be terminated within a year if the album doesn't do too well. The top five contestants have received a debit card worth Rs 60,000 from ICICI Bank besides Nokia mobile phones.

Perhaps that's also the reason why the show is shrouded by numerous rumours. Some of the participants who lost out blame the voting technique, others say the organisers couldn't handle their attitude and confidence; some say the show failed to showcase what it had initially set out to achieve and concentrated on just classical singing instead of an overall package of decent singing skills and good looks.
Even the plum Rs 1 crore contract came under scrutiny when a girl participant walked out despite having been selected among the top 11 contestants.
Though the girl claimed she dropped out of the show because of her studies, it is believed her father was not too pleased with the contract, especially after his daughter received offers to act in south Indian films.
Tarun Katial, executive vice president, Sony Entertainment Television confirms, "A lot of music directors have been approaching us. However, the contestants are under a contract with Sony and cannot sign any contract post-Indian Idol for three months."
He also confirms that the third finalist Rahul Vaidya has bagged a Rs 20 lakh contract with Sony Entertainment Television while Amit Tandon, another finalist, is being cast in a new Balaji Telefilms show Kaisa Yeh Pyaar Hai. And, though they refuse to divulge more details, sources confirm there just might be a record deal for the runner-up for Rs 20 lakh.
As the show draws to a close tonight, it's clear that there are no losers. All the 11 contestants have gained something substantial from the show.
In tinsel town, where it takes years to be noticed, professionals in the music industry have noticed the potential of all the contestants. Both Sana and Sawant already have a tremendous fan following. However, only one will be crowned tonight. Do we really need to tell you to tune in and find out who he'll be?
The other 9:

They'll get to sing once more tonight, but already have their hands full courtesy the exposure they got on Indian Idol:

Vishal Kothari: He says Anu Malik has promised to introduce him to music companies.

Amit Tandon: Is an actor with Balaji television.

Rahul Saxena: Making his debut as a playback singer in Farah Khan's forthcoming film Happy New Year. Music by Anu Malik.

Harish Moyal: Has shifted to Mumbai. Admits to have missed out on recordings because of the contract. Is doing live shows.

Mukesh Pancholi: Is being felicitated in smaller towns and has started doing live shows.

Aditi Paul: Has shifted to Mumbai. Is being approached by music directors. Has started doing live shows.

Ravinder Ravi: Has been attending receptions organised by socialites and cultural organisations in leading clubs of Ludhiana. Has been approached by a local audio company that will release his album after the contract is over.

Prajakta Shukre: Has received offers from leading music directors from Bollywood. Might sing for Karan Johar's next film.

Rahul Vaidya: Has a Rs 20 lakh contract with Sony Television. Will make appearances in serials and sing for albums. Has been approached by music directors. Is doing numerous live shows.

Powered by