'A lot of what I am was determined by what he was.'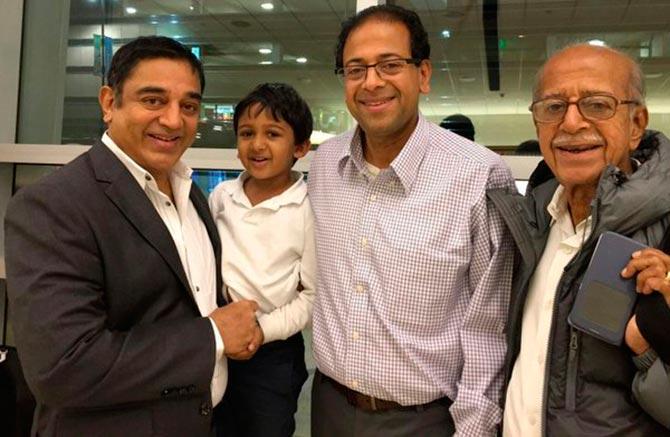 IMAGE: Kamal Haasan with his brother Chandrahasan, nephew Nirmal and grand nephew Siddharth. Photograph: Kamal Haasan/Facebook
Kamal Haasan's elder brother Chandrahasan passed away on Saturday, March 19.
This is the second tragedy in the family this year.
In January, Chandrahasan's wife passed away.
"My brother was on the way back from the US where he had gone to be with his son after my bhabhi (Chandrahasan's wife) passed away," Kamal Haasan says. "We wanted him to get a change of environment. He was with his son for a few months. On the way back, he took a break in London so that he wouldn't have to travel for 23 hours at a stretch. He was in London with my niece, his daughter, when the heart attack happened."
The family now waits for the body to be released.
"In the UK, even a minor heart attack is cause for a post mortem," the actor continues. "We are waiting for the coroner's report before we decide what is to be done. In any case, we Haasans are not much into rituals, so it would be a quiet family funeral service. We would request all friends and well-wishers to respect the family's privacy."
Recalling his good times with his brother Kamal Haasan says, "He was 20 years older than me, and almost a father figure. A lot of what I am was determined by what he was. My brother was self-made. Do you know he washed his own clothes till the very last day of his life? When my bhabhi died, it somewhere broke him from inside. It was the only time I have seen him break down. His eyes would well up during emotional scenes in films but the first and only time he cried in real life was when he lost his wife. He played a very important role in the running of my production house. When Vishwaroopam was in a controversy, he mediated and held peace talks with the protesters. Will I miss him? I suppose I will. He lived a full life. I'd like to live the way he did."