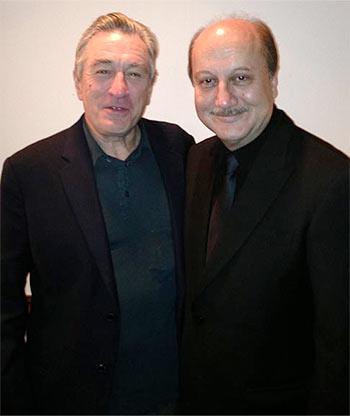 'My acting idol Robert De Niro is also my friend. There are many brilliant actors but it's a huge deal for me to have Robert De Niro in my mail contacts.'
Anupam Kher revisits the prominent Kuch Bhi Ho Sakta Hai moments in his life.
Anupam Kher returns to television with the second season of his chat show Kucch Bhi Ho Sakta Hai.

Scheduled to premiere August 2 on Colors, the show will feature Madhuri Dixit, Anil Kapoor, Waheeda Rehman, Priyanka Chopra, Gulzar, Rishi Kapoor, Tabu, among others, who will share their inspiring life stories.
The veteran actor/host speaks to Rediff.com's Rajul Hegde about the show and the many interesting Bollywood projects he is currently involved in.
What has been the most striking Kuch Bhi Ho Sakta Hain moment in your life?
There are plenty of them.

One was when I had facial paralysis during Hum Aapke Hai Koun...!

Doctors advised me to stay home for two months but I decided to work. I thought if I don't work now, I will always be a frightened man.

I placed a board, which said 'Please smile when you look at my face'.

If I can do this, then kuchh bhi ho sakta hai (anything can happen)!

If a boy from a Hindi medium school can give motivational lectures in big business schools, if an Indian actor ends up being friends with his acting idol (Robert De Niro in his case, who he costarred with in Silver Linings Playbook), then kuchh bhi ho sakta hai.
You have done a short film on Robert De Niro. Are you in touch with the Hollywood star?
Yes. I am going to the US next month for my play Mera Woh Matlab Nahi Tha.

I mailed him saying I'd like to meet him for lunch when I am in New York, and he replied positively.

There are many brilliant actors but it's a huge deal for me to have Robert De Niro in my mail contacts.
Has there ever been a celebrity who you didn't like but had to interview for this show?
If I don't like someone, we don't call them. If we call a person on our show, it means I respect them and want to know more about them.

I think everyone has good qualities in them.

People I have never worked with -- Gulzarsaab, Sania Mirza, Sonu Nigam and Suresh Raina -- have come on the show and chatting with them has been amazing.

I felt very fortunate and lucky to share the platform with Gulzarsaab. I told him how, in my early days as a struggling actor, I would sing two of his songs composed by RD Burman and he told me to sing them.

I don't know if I was good or bad at singing but it was an achievement for me.
Do the invited celebrities ever ask to be informed about the questions they will be asked on the show?
The USP of this show is honesty from both sides, that is why it works.

No celebrity has asked me what questions I'm going to ask them before the shoot began.
There was buzz during the first season of the show that Prime Minister Narendra Modi may make an appearance, but it never happened. Will he be on the show?
He was on my wish list and still remains on it.

I think the Prime Minister we have today is one of the most inspirational people. He has great qualities. I would like to interview him, but it depends entirely on his schedule.
When will your wife Kirron Kher appear on the show?
I am very keen to interview Kirron. She had commitments in the Parliament during this season. There are so many things that I can discuss with her because we don't pretend to be a typical couple.

Maybe for the next season, I will work it out in such a manner that she can shoot for the show.
You've worked extensively in theatre, films and chat shows. What next?
My dream is to open an orphanage.

I had bought land for a farm house in the outskirts of Mumbai but I never visited that place in the last 25 years.

After I started working for orphanages in India I realised that they are not in a good condition compared to other countries.

Ultimately, when I have enough money, I want to build an ideal orphanage on that land where children feel like they are in Disneyland.
Your play Mera Woh Matlab Nahi Tha -- written and directed by Rakesh Bedi -- has been appreciated by the film fraternity and the audience.
My play is theatre's Baahubali and Bajrangi Bhaijaan (smiles).

It's a big tribute to theatre because our show is running to packed houses even before the booking windows are opened. We have a show next week in Kolkata and it's already full. We are doing 25 shows in the US next month and I heard even they are filling up fast.
Upcoming projects?
I am a part of Sooraj Barjatya's Prem Ratan Dhan Payo and Neeraj Pandey's upcoming biopic on cricketer MS Dhoni (Kher will play Dhoni's father).

Image: Anupam Kher with Robert De Niro. Photograph: Anupam Kher/ Twitter