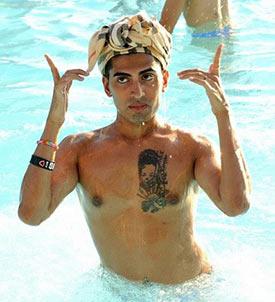 'I would be content if my presence on the show inspires someone to come out of the closet.'
Sushant Divgikar tells Rajul Hegde.
Mr Gay India 2014 Sushant Divgikar, 24, is one of the contestants on television reality show Big Boss.
"I am going inside the house without any expectations. I'm looking forward to having a good time. It's going to be a completely new experience for me," he says.
He wants to be the voice of the marginalised gay community in India. "I am going there to represent the LGBT community," he explains.
"I want to be a role model for our community. I would be content if my presence on the show inspires someone to come out of the closet," he adds.
He says he is a huge fan of Salman Khan, the host of the show.
Sushant, a double graduate in Psychology, says, "I like it when people let me be myself and not get into my space.
"I think I can control the situation if a fight breaks out or when there is lot of stress in the house. I can keep calm and keep others calm as well."
Won't it be difficult to live without a phone and newspaper in the Bigg Boss house?
"I don't have any problems leaving my phone outside. It doesn't immobilise me in any way," he replies, but adds that he is worried about not knowing what is happening around the world.
"My dad was completely against me participating in the show but my mom was excited. They are the two important people in my life and their opinion matters the most to me. My mom watches the show and she told me to have fun," Sushant says.
Sushant knows he will have to hear some nasty comments when he is inside the house and he says, "I am ready to hear all the nasty comments. But I will not tolerate any comments about my family. No one should drag my family into any argument. I am a psychologist, so I am very patient. I won't tolerate wrong thinking of anyone about my sexuality. I am gay and lovely."
"If someone says anything about me and my appearance, I will forgive them and wish them well. I am a very emotional person. I think I will end up breaking down when I will miss my parents. I will miss them the most," he says.
Rohit Verma, Bobby Darling, Laxmi Narayan Tripathi and Begum Nawazish Ali from the LGBT community were participants in the earlier seasons of Bigg Boss.