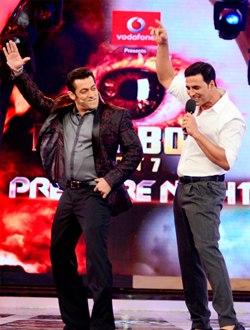 In the past five years, Colors didn't make any money on its flagship show Bigg Boss, though it had a huge impact on the popularity of the channel (in terms of overall viewership), putting it among the top three.

With record sponsorship deals, the channel aims to break-even this year.

The only competition for Bigg Boss, it seems, is itself.

Colors has upped the ante and is set to spend Rs 140-150 crore to air what will be the most expensive show on TV, surpassing its last year's record.

At that time, it had forked out Rs 110-120 crore for the 90-day extravaganza.
This year, Bigg Boss will be aired from September-end or the first week of October. It will retain its daily primetime slot of 9:00 pm-10:00 pm.
Presented by Bollywood actor Salman Khan, the show will also command the highest sponsorship and spot advertising rates for any entertainment programme on television so far.

Colors is selling ad rates for a 10-second spot on Bigg Boss for Rs 3.5-4 lakh.

Sony Entertainment Television's fiction show, Yudh, which premiered in July and starred Amitabh Bachchan, another Bollywood star, held the record in the daily entertainment space, with spot rates of Rs 3 lakh for 10 seconds.
The rates being sought for Bigg Boss are second only to this year's Indian Premier League (IPL) cricket tournament (Rs 4-4.5 lakh). The average ad rate for the top daily shows is Rs 1.5 lakh for 10 seconds.
Bigg Boss has also broken its own record for the most expensive title sponsorship deal for an entertainment programme.

For title sponsorship, e-commerce site SnapDeal is forking out Rs 35 crore for this season, much more than the Rs 25 crore telecom operator Vodafone had paid for the show last year. The channel's five-year contract with Vodafone for presenting sponsorship ended this year.
The highest TV sponsorship deal across all genres is Pepsi's Rs 80 crore a year for securing the IPL title sponsorship, though in that case, the money went to the organiser, not the broadcaster.
If all these record amounts aren't enough, Colors is also paying the highest amount for an anchor, Salman Khan.
He is set to get Rs 5-6 crore a week, against Rs 3.5-4 crore last year, according to analysts.
This means Khan might pocket Rs 60-65 crore for this season of Bigg Boss.
This time, Khan's appearance might not be on weekend episodes, a departure from the past.
While Amitabh Bachchan, who hosts Kaun Banega Crorepati on SET, gets an estimated Rs 4 crore a week, Karan Johar had received Rs 1.5 crore for Koffee With Karan on STAR World.
Colors didn't specify Khan's fees for Bigg Boss.
In the past five years, Colors didn't make any money on the show, though it had a huge impact on the popularity of the channel (in terms of overall viewership), putting it among the top three.

This year, the channel aims to break-even.

The Colors team is targeting 10-11 sponsors for the show. Apart from the sponsorship, brands can associate themselves with the show through a powered-by sponsorship, two-three category sponsorships and four-six associate sponsorships, too.

Sources in the know say mobile brand Oppo is forking out Rs 22 crore for the powered-by sponsorship; this will be the first time the Chinese mobile company will advertise in a general entertainment channel.
Colors has also tied up with Maruti Suzuki (car sponsor) and TVS Motors (associate sponsor). The associate sponsors will spend Rs 8-10 crore, while Maruti is set to spend Rs 15 crore.

For sponsorships, advanced talks with six-seven other companies are underway. The channel hopes to secure Rs 140-145 crore from the sponsors alone.
Raj Nayak, chief executive of Colors, refused to comment on the financials.

He said this season, his team had been aggressive in marketing the show to commercial partners. "Now, the name Bigg Boss is synonymous with Colors. This time, we have marketed the show to our clients and partners differently. We have created categories of sponsorships beyond the usual, presenting, powered-by and associate sponsorships.

"We have also introduced car and telecom sponsorships. Maruti is on board as the car sponsor and for the telecom sponsorship, we are in talks with two brands. We are looking at adding another category, but it will be too premature to discuss that right now," he says.