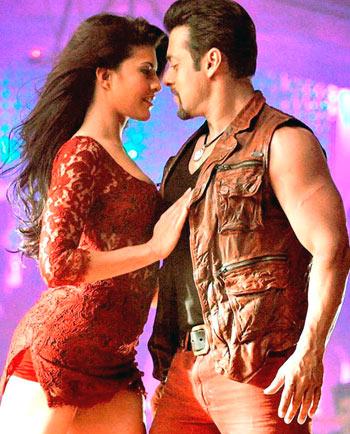 'Salman Khan means a lot to me, he holds a lot of importance in my life. Whatever he says is the final word, even in my personal life.'
'He recommended me to his producers as well as other producers. He told me whom to meet, who is right, who is wrong... He tells me not to be satisfied, one must have that restlessness and hunger to do more work.'
Jumme Ki Raat singer Palak Muchhal tells us how she found fame.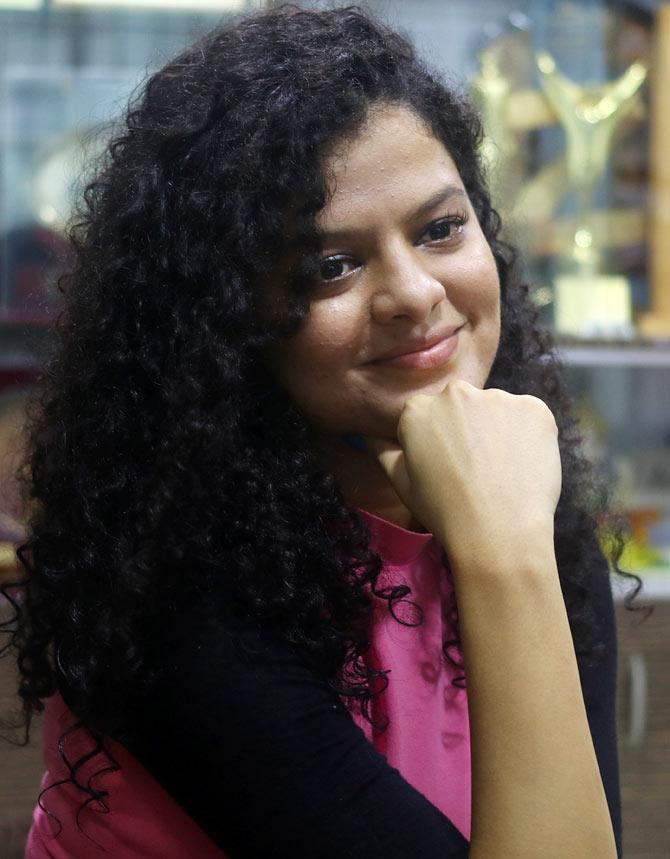 IMAGE: Palak listens to the questions patiently with a smile. Photograph: Hitesh Harisinghani/Rediff.com
Palak Muchhal's studio has neatly-placed awards and trophies on three sides.
As she sits down on a sofa, she tells me with a smile, "I had done an interview with Rediff when I was eight years old."
Since then, the singer, who will turn 25 in March, has come a long way.
She has a successful Bollywood career now and has sung over 200 songs.
Palak started singing when she was only two and a half years old. She had attempted the Lata Mangeshkar song, Chal Ri Sajni, and had taken took her entire family by surprise. That marked the beginning of her passion for singing and there was no looking back.
From the title track of Prem Ratan Dhan Payo, Aashiqui 2's Chahun Main Ya Na, Gabbar Is Back's Teri Meri Kahaani, Kick's Jumme Ki Raat, Rustom's Dekha Hazaro Dafaa to M S Dhoni: The Untold Story's Kaun Tujhe, she has been ruling the charts.
She tells Jahnavi Patel/ Rediff.com more about her Bollywood journey, her mentor Salman Khan and why she will never sing an item song.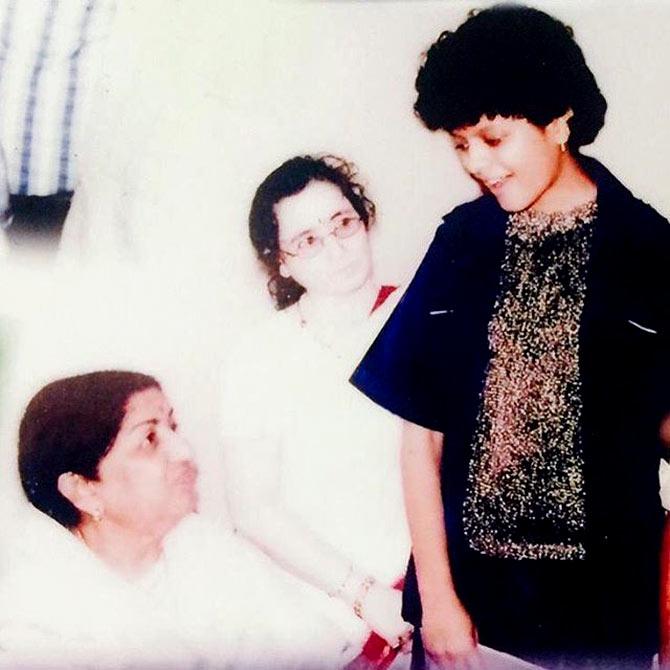 IMAGE: Palak with her inspiration, Lata Mangeshkar. Photograph: Palak Muchhal/Instagram
You took your mother by surprise with your interest in singing when you were barely three. How did that happen?
I really have no idea.
To sing one of Lataji's songs at age two and a half was obviously not normal. I am happy that mom took it seriously; she could have just taken it as a performance or hobby.
She got me trained in classical music, voice culture and Urdu... whatever was required to become a playback singer.
How much is your parents' contribution to your career?
A lot. They shifted from Indore to Mumbai just for my career, supported me in my mission to help heart patients, allowed me to donate my income... it's a very big thing.
Whatever I am is because of them.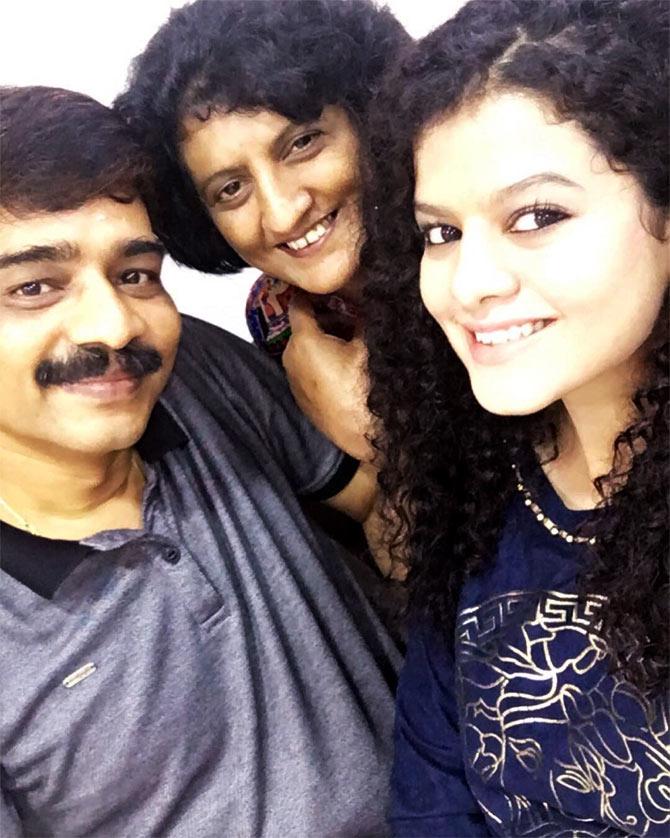 IMAGE: Palak's selfie with her parents. Photograph: Palak Muchhal/Instagram
Tell us about your journey in Bollywood.
My life has been a rollercoaster ride since the last three-four years, ever since I started working in the industry.

The first thing that happened to me was a meeting with Salman Khan sir. He means a lot to me, he holds a lot of importance in my life. Whatever he says is the final word, even in my personal life.
He recommended me to his producers as well as other producers. He told me whom to meet, who is right, who is wrong...
He is the biggest blessing in my life because koi kisi ke liye nahi karta hai jitna unhone mere liye kiya hai (nobody does the amount that he has done for me), selflessly. He is truly a man with a golden heart.
I speak to him regularly. When I get an award or a new song, I go to him for guidance. He tells me not to be satisfied, one must have that restlessness and hunger to do more work.
I got my break in Ek Tha Tiger because of him. After that, things get easier.
Aashiqui 2 was a landmark in my career, followed by Teri Meri Kahaani, Jumme Ki Raat Hai... I have recorded 208 songs. I am really happy with my journey.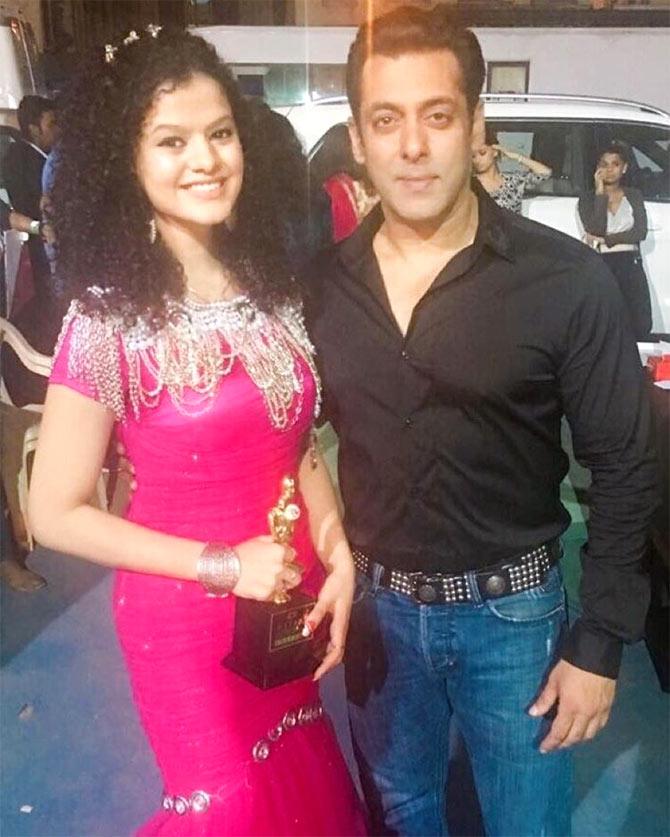 IMAGE: Palak poses with Salman Khan. Photograph: Palak Muchhal/Instagram
How did you meet Salman?
I knew two-three people in Mumbai, including writer-director Rumi Jaffrey.
I think on the sixth day of coming here, he asked me to meet him at R K Studios, as he wanted me to meet someone. That 'someone' was Salman Khan sir.
What was it like recording your first song?

Let's talk about Ek Tha Tiger's Lapata... that was my first official playback song.
When I recorded that song, I didn't know it was for Ek Tha Tiger.
Salman sir had recommended my name to Aditya Chopra sir but I didn't know anything about it. Yash Raj Films called me and I was clueless about how they called me and how everything happened.
Sohail Sen sir, the music composer of Ek Tha Tiger, called me up and asked me to come to Yash Raj studio because he wanted to record a song. I went there and recorded the song in 17 minutes, without any pressure. I didn't know it was for such a big film.

Then I met Salman sir a few weeks later and he told me that the song I recently recorded at Yash Raj was for his film. I thought it was amazing!
I was just 17 years old then and to do playback for a Salman-Katrina film, a Yash Raj production meant a lot.
Most of your songs have been well received. Does that add to the pressure to deliver better performances in your next?

I keep on getting tweets and messages on Facebook that people are waiting for my next song. Whatever little fan following I have has some expectations from me.
I work even harder to match up those expectations.
My competition is with my previous work and I have to get better and better because if I am on that constant level, there's no progress. For me, developing myself is very important.


Palak sings Kaun Tujhe from M S Dhoni: The Untold Story. Video: Hitesh Harisinghani/Rediff.com
Tell us something about the Kaun Tujhe song.
I was closely associated with the making of this song. I knew the story of the MS Dhoni film because (director) Neeraj Pandey sir narrated the story and situation to me clearly.
Amaal (Malik, music composer) was very clear about what he wanted me to deliver. I had got a clear brief, so it was easy for me.
I am a big fan of (lyricist) Manoj Muntashir. He is an amazing writer.

When I read the song, I was like 'wow'! They are so meaningful and well written. It is about a girl, who is madly in love. I loved the composition too.This is one of Amaal's best works so far.

Usually, as a singer, I try to be the character I am singing for but this time, I felt, 'what if I fall in love with someone someday?' My love will be this kind.
But lyrics are not the same any more.
I keep hearing that we don't have good lyrics nowadays. I don't agree with it.
We have some amazing writers like Manoj Muntashir, Rashmi Virag, Kumaar, Irshad Kamil... I love each and every song -- romantic, peppy, commercial numbers...
Rap is the audience's choice; we make what people like. I enjoy rap also, especially Honey Singh's songs.
Do you need to connect to a song to do justice to it?
Yes. Be it an Aashiqui 2 song or even if it's Jumme Ki Raat Hai, it is very important for me to connect with the song.
I have never sung an item song, and I never will, because I cannot connect to that genre.
I have a lot of respect for singers, who sing this kind of songs. I cannot connect to something I don't believe in.
It's very important for me to connect with the words and melody.
What kind of songs do you like to listen to?
I like my own songs and the songs my contemporaries sing.
I also like Lataji's old songs and romantic numbers.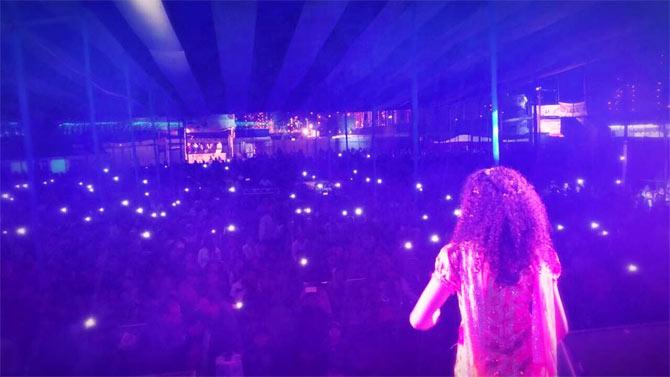 IMAGE: During one of her concerts in Odisha. Photograph: Palak Muchhal/Instagram
You have raised a lot of money for heart patients, who need financial assistance, by doing live shows. How did that thought come to you?
I think everyone has that intention. I am lucky that I was able to implement it. I started doing charity when I was four.
There was this function for blind kids and I took part in that.
During the Kargil War in 1998, a newspaper was collecting donations for soldiers. I told my mother that I wanted to contribute. I was six years old then.
I went from shop to shop and told the shopkeepers that I will sing Aye Mere Watan Ke Logon, please donate whatever you can. I collected Rs 25,000 for the Kargil soldiers. It was a huge amount for a six year old girl.
There is a kid called Lokesh, who has two holes in his heart. His parents approached mine and asked if we could contribute something for the operation. My brother and I started singing on the road. We made a basic stage and just started singing with that boy beside us.
I clearly remember the surgery would cost Rs 55,000. I got such a huge response from the people of Indore! There a thelewale uncle, who didn't have any money. He gave his tambe (copper) ring as donation.
A doctor named Devi Shetty told me that if I could get the kid to Bangalore, he would operate him free of cost.
I gave an article in the newspaper saying that whoever needed money could approach me. Seven heart patients came on the first day itself, all below 17 years of age.
I kept doing concerts, the waiting list became longer... I have done 916 concerts so far and Rs 3.86 crore has been donated. I still have 419 patients in my waiting list.
The difference is that earlier, I used to sing for three hours and get donation for one child only. Now that my songs are getting popular, my concert rates are getting higher. So I get donations for 15-16 patients in a single concert.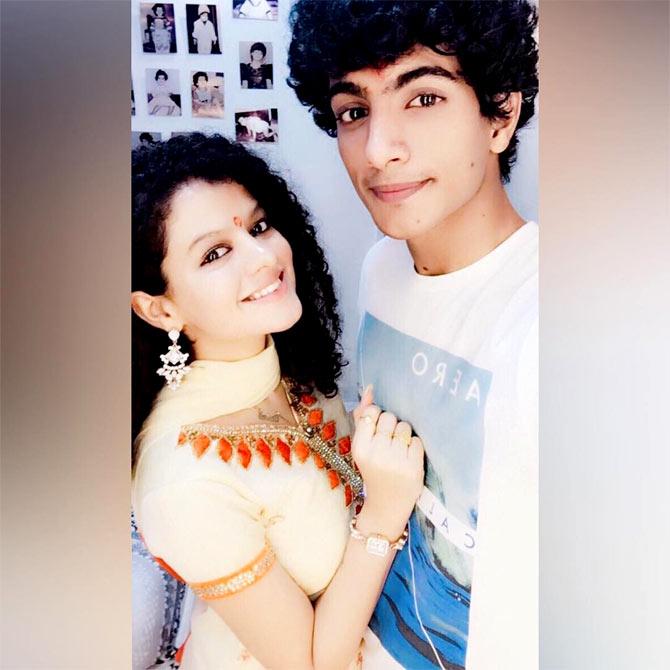 IMAGE: Palak with her brother Palash. Photograph: Palak Muchhal/Instagram
You have performed with your brother Palash. Is the work environment more comfortable?
When we work, we aren't brother and sister. We are professionals and we try to maintain that.
Disagreements happen between professionals too, so they do happen.
We avoid jamming together and avoid discussing each other's work, since we are in the same industry. We keep our identities separate, so we don't mix our work.
But yes, we do concerts together. I always perform with Palash. I haven't done a single concert without him so far.
I am happy that he is expanding as a professional -- he has become a director. He has made a film, which will be shot on an iPhone.


Watch: Palak sings a medley of her songs. Video: Hitesh Harisinghani/Rediff.com
Has there been a recording experience that you will never forget?
Each and every experience has been special.
Prem Ratan Dhan Payo was a very delightful experience. I have worked the most with Himeshji (Reshammiya). He always has a plan for me.
If I have sung a lot of romantic songs, he will make me sing a club song to break the monotony.
He called me to the studio and I saw the entire Rajshri team there. I was fascinated because I am a big Sooraj Barjatya fan.
Sooraj sir started narrating the story of Prem Ratan Dhan Payo me and I was clueless about what was going on. Then he told me that I am the lead voice for Salman Khan's next film and that I have to record all the female songs.
Prem Ratan Dhan Payo will always be a very special song in my life.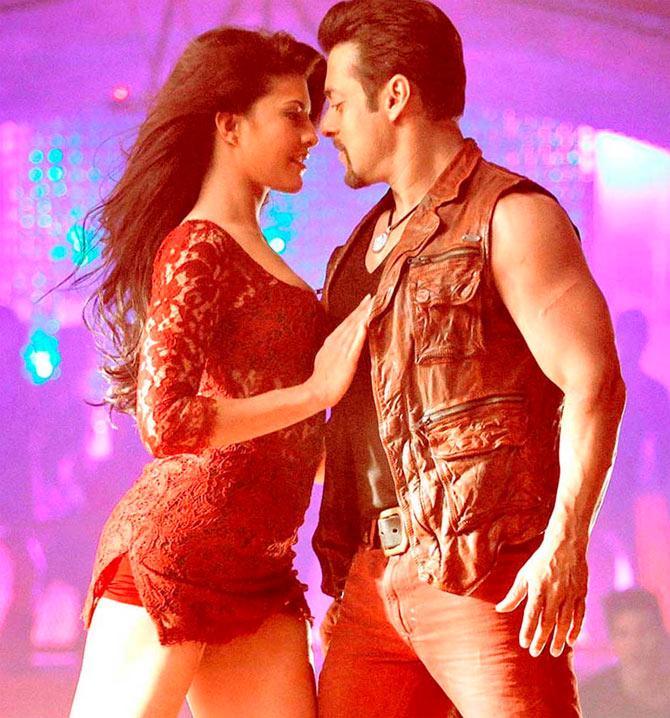 IMAGE: Jacqueline Fernandez and Salman Khan in Jumme Ki Raat Hai from Kick
Which is your toughest song till date?
Jumme Ki Raat Hai was the most difficult song for me. It was not my typical genre. They wanted me to sing like an intoxicated girl (laughs) and I am far away from intoxication.
It is not an item song; it is a commercial song with decent lyrics. They wanted the feel that Asha Bhosle used to give in her songs.
So it was difficult for me to get in that character but then, whenever I record with Himeshji, the amount of energy I give on the mike, he doubles it.