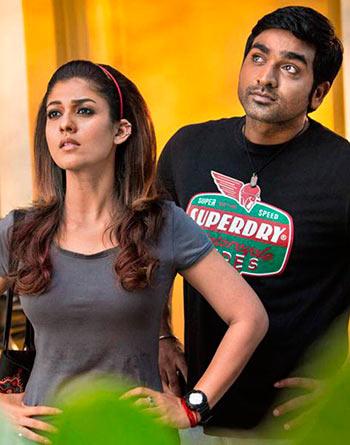 'A good entertaining story is the key to any successful film.'
Director Vignesh Shivan reveals the secret of his Naanum Rowdy Dhaan success.
Vignesh Shivan's recent release Naanum Rowdy Dhaan stands out from the regular fare in Tamil cinema.
Starring Vijay Sethupathi and Nayanthara, the film is produced by Dhanush's 'Wunderbar Films.
Stunning music by Anirudh Ravichander and fantastic performances from the lead actors make the film one of the best in the year so far.
Vignesh Shivan discusses his struggles and his determination to succeed with Rediff.com contributor S Saraswathi.
Your film has opened to rave reviews. How does it feel?
It feels good to hear the positive response from the audience. It has come together with the blessings of God.
I had the opportunity to work with wonderful artists and technicians, who remained true to the script. It was perhaps this faith in me and my story that was reflected in the film.
Naanum Rowdy Dhaan is an experimental film and I am glad the audience enjoyed it.
What is the inspiration behind this story?
A good entertaining story is the key to any successful film.
But I did not want to follow any set pattern, focusing on just comedy or romance, and no emotions.
I wanted the right balance, an entertaining mix that everyone would enjoy.
Characterisation is also very important to me. I spend a lot of time defining my characters, detailing the finer nuances, creating the qualities that make them who or what they are.
Nayanthara's hearing impairment in the film was not a random decision. It was born out of the bomb explosion that destroys her world. This I felt fitted well with her character.
Every character has a backstory. I work a lot on the characterisation.
But despite all the planning, it is only the artists and their conviction that eventually makes the difference. And I have been fortunate to work with the best of them.
There seems to have been several changes in the cast and the production house in the initial days. Were you planning to make the film with music composer Anirudh Ravichander?
In the initial days, we did have trouble with the cast.
Anirudh is a very close friend and I was quite keen on doing a film with him. Later, I decided against it. He is a brilliant musician and did not think it would be right to distract him from his greatest passion.
I've known Vijay Sethupathi since my first film. I was going through a rough phase in my life and things were not working out as planned.
One day, I called Vijay and asked him if he would do this for me. Even without hearing the script, he agreed.
He will never refuse anyone who comes to him for help. It is not just me; he has done it for so many others.
It was the same with Nayanthara. She had been very supportive from the beginning. She accepted the film even before we had finalised the hero.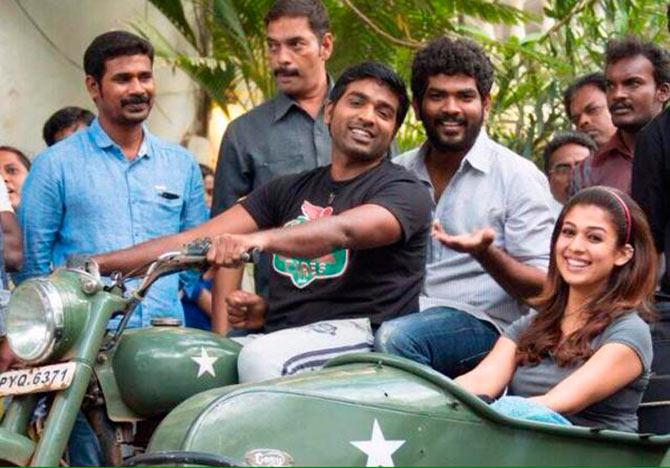 Image: Vijay Sethupathi, director Vignesh Sivan and Nayanthara on the sets of Naanum Rowdy Dhaan
Did you have to alter the script to suit Vijay Sethupathi?
The underlying mood or emotion of the film remained the same. I just tweaked the script to suit his style.
You mentioned your struggle. Was this because your first film, Podaa Podi did not do so well?
Everyone wants to associate themselves with successful people. I would not call my film a total disaster, a certain segment of the audience did enjoy it. The film was delayed by nearly two years. That may have been one of the reasons why it did not do as well.
I realised at the time that it would take more effort to realise my dream of a second film.
You know, when you succeed, it is a completely different story. But when you fail to deliver something, it teaches you a lot of things. It makes you understand life. It motivates you to work even harder.
It is very difficult to overcome that feeling of self-doubt, but giving up is not the answer.
How did you get Dhanush interested in your project?
I got in touch with Dhanush through Anirudh.
Like I mentioned, Anirudh has always been my biggest support; he is like my brother.
After Podaa Podi, not many people stood by me. Anirudh was the only person who has always been there for me.
He is so young but shows the maturity that is beyond his years. He introduced me to a number of production houses. Finally, it was Dhanush, who got interested in my work and agreed to produce the film.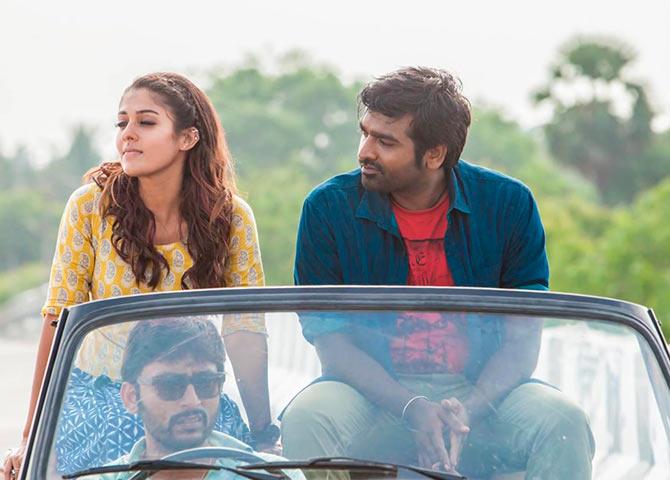 Image: Vijay Sethupathi and Nayanthara in Naanum Rowdy Dhaan

What is it like working with Nayanthara?
Her dedication, hard work and sincerity towards her work are truly inspiring. Despite all the success she has seen in her career, she is not complacent.
The kind of concentration she gives every script is incredible. Today, she may be one of the leading actors of commercial cinema but there is a wonderful actor within her.
If she gets the right script, she will take it to a whole different level.
When I narrated the script to her, she got really excited. From that day on, she worked on her looks, costumes and mannerisms. She wanted videos of deaf people, how they moved, acted, spoke, their body language...
This is the first film she agreed to dub. She understood why it was important for her to do so. She devised her own formula for it. She would recreate the scene and mimic the same gestures she used on the sets. For a crying scene, she used glycerin. This helped her intensify the quality of dubbing.
And Vijay Sethupathi?
Vijay Sethupathi is a born actor, a talent par excellence. As a director, one cannot ask for anyone better than Vijay Sethupathi.
Once he does something, it is so perfect that you are happy with it. His understanding of the script, the sequencing and character, is simply amazing.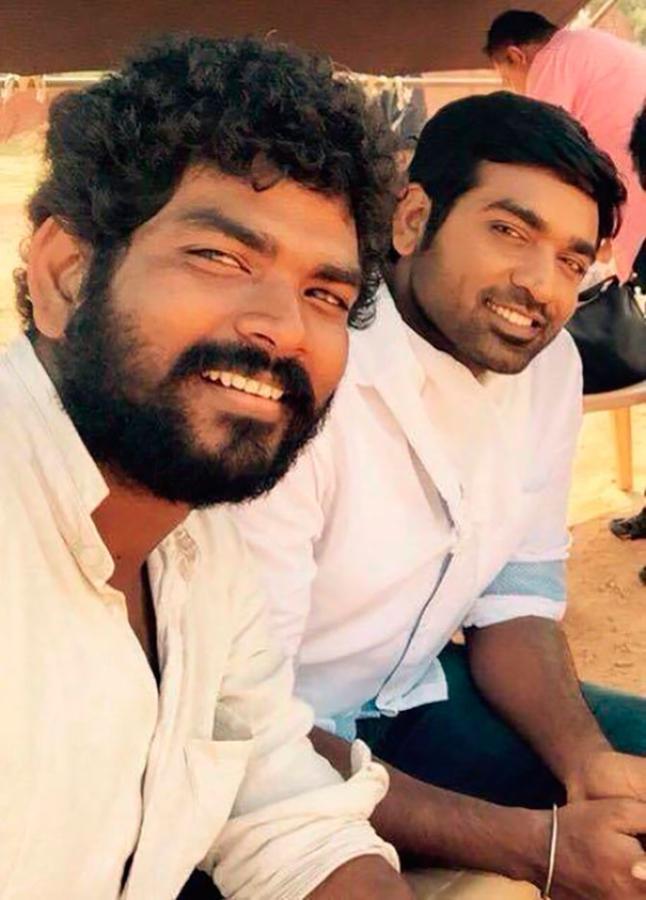 Image: Vijay Sethupathi, director Vignesh Sivan on the sets of Naanum Rowdy Dhaan

Tell us about Anirudh's music.
Anirudh is an amazing musician, and an even better human being. When you are around him, you feel a certain vibe, a certain positive energy that reflects in his music.
He worked so hard for the film, especially the background score. For several days he went without sleep and eventually fell sick.
What is fascinating is that I wanted him as the hero of my film, but today his music has turned out to be the biggest draw. With the kind of hard work he puts in, he deserves his success.
Why did you pick Parthiban to play the antagonist?
Initially, we were very apprehensive about approaching Parthiban for the role. He is not somebody who accepts everything that comes his way. But when I narrated the script, he really liked it and immediately said yes.
Later, he fell in love with the character and started giving his inputs. The kind of conviction he brought to the role was phenomenal.
Tell us about yourself.
My parents are police officers. No one in my family belongs to the film industry. But they were extremely supportive of my decision, especially my mom. She is one of the coolest persons ever.
It was actor Simbu, who gave me my first opportunity. He trusted my ability and agreed to star in my debut film Podaa Podi.
I enjoy writing lyrics. I worked with Anirudh in Vanakkam Chennai for the song, Engadi Porandha, which became very popular and more recently in the film, Maari (Thappa Dhaan Theriyum). I have also penned the lyrics for Enakenna Yaarum Illaye and Adharru Adharru, the hit song from Gautham Menon's Yennai Arindhal.
I make a brief appearance in Dhanush's Velai Illa Pattathari.