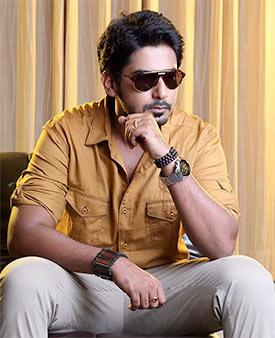 Young Kannada actor Prajwal Devaraj is betting on his home production Neenaade Naa that released on October 17.
The actor, who is called 'Dynamic Prince', being the son of 'Dynamic Hero Devaraj', is hoping that this family venture will take him into the big league.
Prajwal Devaraj started his career with Sixer, and forged ahead in his career with films like Meravanige (procession), Gulama (slave) and Sagar.
His performance in both Murali Meets Meera and Bhadra was appreciated by audiences and the latter film became a hit.
Then Prajwal had a string of box-office failures.
As he inches towards the 25th film in his seven-year career, Prajwal Devaraj shares his excitement about working in his home production and puts his career in perspective.
Why did you choose to play a character from the film industry?
I play an assistant director in the film. It gave me a lot of happiness because we rarely get an opportunity to portray characters that are close to our profession.
Young guys who work as assistant directors work so hard that they don't get a chance to come to the forefront until they turn directors themselves.
Your character goes through different ages…
The age span is from 16-year-old school boy to 26-year-old man. I had to shed 10 kilos to become a 16-year-old.
I had to be clean shaven and had to sport a new hairstyle. I found it a bit hard to carry out the variations in body language.
All that I can say is that I based my performance on observation. I have to thank my stylist Prashanth for giving me a new look and my make-up man Nanda Kumar.
Besides the look, I had to act differently. Dubbing was very tough for the younger role. I had to increase my energy level as the role got younger and the body language had to be suitably altered.
How did you happen to act in the first film from your production house?
We were looking for stories to launch our family production. When Kandas narrated the story, he had already decided to cast me in that role.
My father also said that he chose to back me and cast me in the film because I fitted the role.
How did you zero in on this title? Is it because that these are the first lines of the song of your earlier film that became a hit?
One day when I came home from the gym after a workout, my people at home were looking worried because they had not found a suitable title for the film.
I suggested this title. My father teased me saying that I was suggesting the name because the song in my movie was a big hit.
I explained why this was an apt title for our movie. When we understand our loved and dear ones we become them and get into their hearts.
What was your involvement in the production?
I was just an actor on the sets. I had three others -- my mother, father and brother - to look after the production requirements.
If I heard about some issues that also affected me, then I alerted them. I was quite involved at the pre-production stage.
On the floor, we made it a point to serve the same food to all the people in the unit. There was no discrimination because I had seen how these boys toiled so hard.
We wanted to treat everyone equally. Daily wagers were paid their dues on the same day.
Did you enjoy more creative freedom because it was your own production banner?
Yes, I did enjoy a lot of creative freedom. As an actor there are always some shortcomings and we are not able to exploit the situation or perform to our potential.
I am not saying I am very good, but we need that space which we cannot demand or get, to do full justice to things that suit our strengths.
I got a lot of time to slim down. I took a break of 30-40 days to maintain my weight and go slim.
I followed a high protein diet with small portions of food every two hours to help increase my metabolism rate.
There were no late nights. I had to sleep early to look fresh as a school boy!
Your recent films haven't done well. What went wrong?
I have openly admitted that my films have not done well.
Some films weren't promoted at all. I compromised on the quality of these films as I wanted to help and encourage newcomers.
I should have been adamant and stuck to my guns.
All these days I have done films for others. Now, I want to do films for myself.
Are you tense about Neenaade Naa's release?
I am not tense because I know my work will speak for itself.
I am confident that this film will take me to a higher plane.