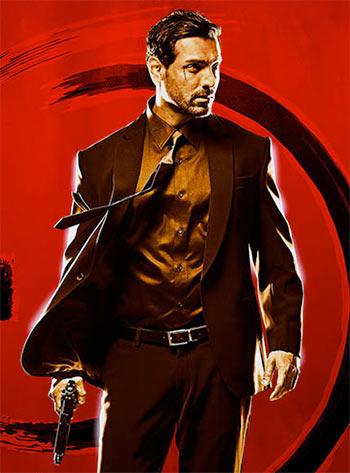 'I compare Rocky Handsome to Bajrangi Bhaijaan. Bajrangi (trailer) did not tell you much but when you came out of the theatre, you said it was a beautiful film and felt that emotion.'
'What's different in the two films is that Bajrangi did not have action.'
'Rocky Handsome has action that hasn't been seen before.'
John Abraham munches on a protein bar, as he gets ready to talk about his new film, Rocky Handsome.
The actor is very confident about his action film, and expects audiences to like it as well.
He tells Jahnavi Patel/ Rediff.com why.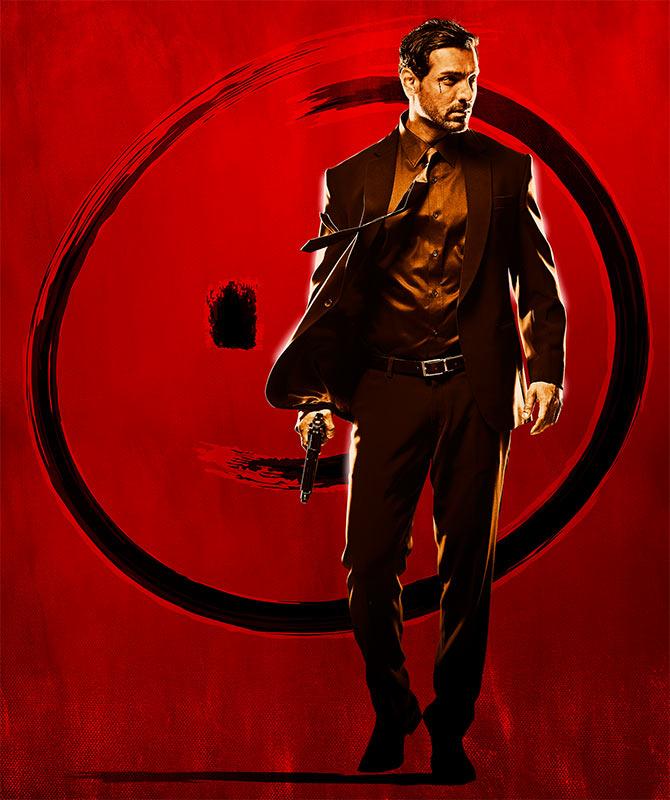 IMAGE: John Abraham in Rocky Handsome
The Rocky Handsome trailer has been received well. What are your expectations from the film?
I did not expect the trailer to receive such a response!

A big part (of the credit) goes to Nishikant (Kamat, director) and his team to cut such a brilliant trailer... but the film is way better than the trailer!
Will the great response translate into numbers? I don't know. But I can assure you that the film will grow by word-of-mouth.
Do box office collections matter to you?
Obviously, we're making a commercial film.
The film has been made in a particular budget and fortunately, I have already sold the satellite, music and overseas distribution rights. So even if Rocky Handsome opens modestly, I am safe.
Collections do matter, but I want people to appreciate it as well. I want my film to hit numbers I haven't seen before.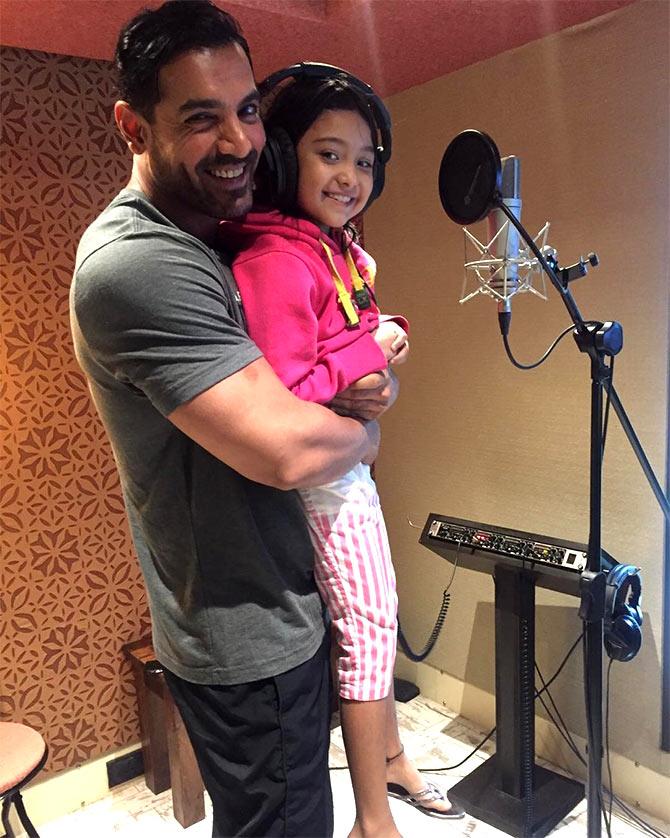 IMAGE: John Abraham and Diya Chalwad. Photograph:John Abraham/Instagram
How easy was it working with your little co-star Diya Chalwad?
I have worked with kids before and it's been tough but Diya has changed my opinion of working with kids -- she's a fantastic kid and so mature for a six-year-old.
She's a gymnast and would show me whenever she learnt something new. She is always smiling. Our relationship was built outside the shots. When we actually came to shoot, we were on autopilot.
She knew the entire script by heart. Even if someone else forgot his/her lines, she would actually stop and say, 'Aap vo line bhul gaye' (you forgot that line).
Why are you doing fewer films?
I became a producer because I wanted to act in films I wasn't getting. I wanted the audiences to watch films they have not seen before, like Vicky Donor.

Now that I have become a producer, it has become very difficult for me to start creating content that appeals to audiences. I am a very young producer and I could make mistakes.
I don't see myself as an actor in most of films I like, that's why I approach others.
I have two scripts now, but I don't see myself doing them. That's why I don't do as many films.
Am I secure in that space? Yes, I am fantastically secure!
I had an interesting conversation with Varun Dhawan on how best I could project him. Now tell me, which actor will have such a conversation with another actor? But I enjoy it. Somewhere down the line, the younger brigade feels safe with me because they see the sense of security I come with.
What are the two scripts you're working on?
The first is in the space of Madras Café and the other is in the space of Vicky Donor.
I feel excited working with younger actor, as all of them are very talented.
Apart from the younger lot of actors, I really like Akshay Kumar. He surprised me recently by suddenly sitting on my lap during an interview!
You had earlier that Rocky Handsome is an emotional film but we've only seen action in the trailer.
We're unfolding a little bit of Rocky Handsome in the songs.
If you see the song Aye Khuda, sung by Rahat Fateh Ali Khan, you will realise that the film has action as its USP but there is a lot of emotion at heart.
We want to surprise the audience when they watch the film, When they walk out of the theatre, they will have tears. They will say it's a beautiful film but the action was intense.
We have made the action palatable to the female audience as well.
In a way, I compare Rocky Handsome to Bajrangi Bhaijaan. Bajrangi (trailer) did not tell you much but when you came out of the theatre, you said it was a beautiful film and felt that emotion.
What's different in the two films is that Bajrangi did not have action.
Rocky Handsome has action that hasn't been seen before. It's real action. I have trained months for it.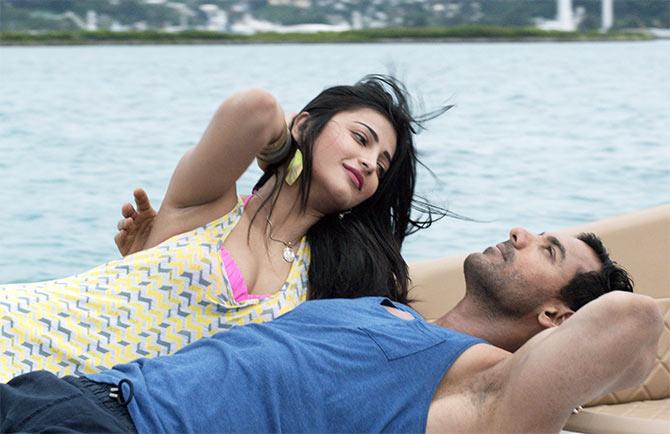 IMAGE: John Abraham and Shruti Haasan in Rocky Handsome
The film has been give an 'A' certificate. Will they limit the audience?
Yes, as we will get a 16 plus audience coming in but we're not worried about that.
The 'A' certificate surprised us but we respect the decision of the Censor Board; they are going by the rule book.
My film does not have nudity, exposure, double meanings or adult-rated stuff but it violence and violence can be rated differently. There is violence in all superhero films. So we were surprised.
In Hollywood, heroes take pride in being action or romantic heroes but in India, it's a stereotype. Do you think we should do away with that?
An actor should not be apologetic about being slotted.
Actors like Sylvester Stallone, Bruce Willis, The Rock are action stars but more than the body, it is the attitude that works big time.
Here, we get worried because we get ruthlessly slotted at a particular spectrum.
Stallone will do films like Creed, Rocky, Rambo and Expendables and be secure in that space but here, we want to experiment with a lot more.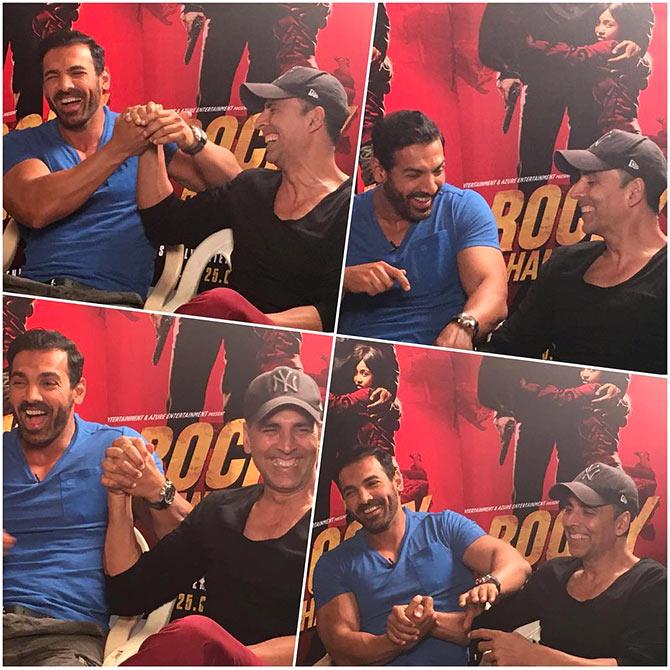 IMAGE: John Abraham and Akshay Kumar. Photograph:John Abraham/Instagram
Batman vs Superman is releasing on the same day as Rocky Handsome. Are you worried?
We thought about that before we decided to release the film on that day. We respect the fact that we have another film releasing alongside us, but will that affect our collections? I don't think so.
If my film is good, it will get collections. We're getting audiences who are 16 plus; Batman vs Superman will look at a completely different audience.
I'd like to wear my underwear inside my pants, let them wear it outside.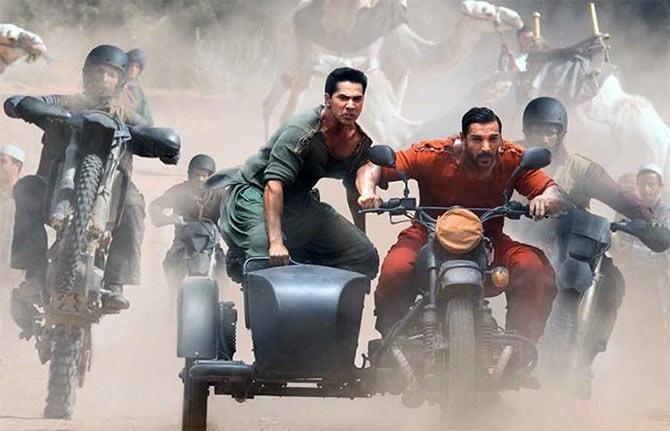 IMAGE: Varun Dhawan and John Abraham. Photograph:John Abraham/Instagram
How is Dishoom shaping up?
I can guarantee that there will be a Dishoom 8 and Dishoom 10.
The other franchises have aged but Dishoom is a very young franchise, and it's all because of Varun Dhawan.
How different is the action in your forthcoming films, Rocky Handsome, Dishoom and Force 2?
It's completely different.
I call Rohit Dhawan (director, Dishoom) the Michael Bay of India. He makes everything look larger than life. Dishoom is going to have choppers and speed boats flying.
In Force 2, we will be like the guys of Mad Max: Fury Road. We have used bikes, cars, guns, hand-to-hand fight sequences.
Rocky Handsome is completely raw and real.
I am a very non-violent person and I don't fight.
But I want the level of action to go up. I would like to do a film like Expendables. It would be fun to blow up buildings and cars.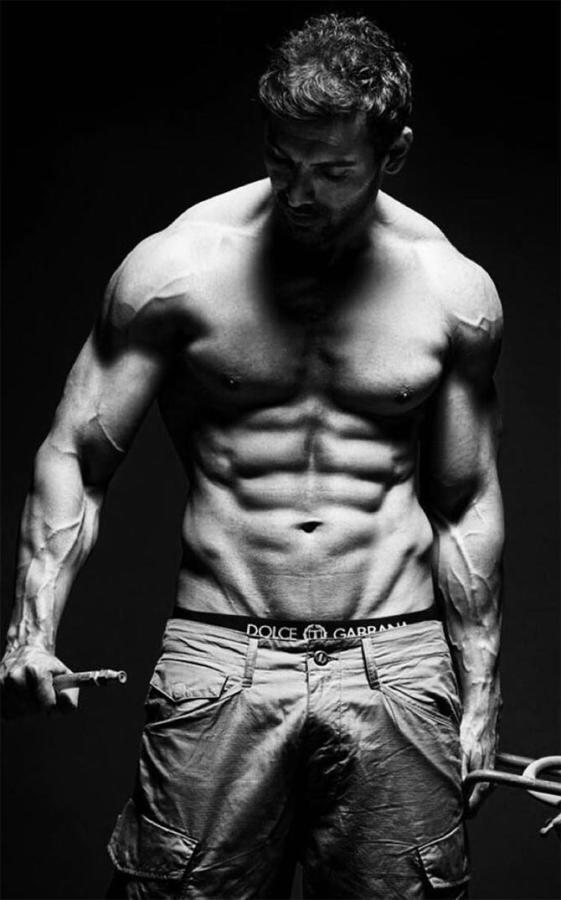 IMAGE: John Abraham. Photograph:John Abraham/Instagram
What's happening to your films Hera Pheri 3 and Hamara Bajaj?
I called up (producer) Firoz Nadiadwala before leaving for the schedule of Dishoom and told him that I can give him dates from May 15 to July 15 but he has not got back to me. No one knows anything about Hera Pheri 3 except Firoz Nadiadwala.
I think Shoojit Sircar isn't convinced about the Hamara Bajaj script so I don't think that will happen.