'Salman Khan has the fittest body for the last 25 years. He looks younger each passing year. He inspires me a lot,' Himesh Reshammiya gushes about his mentor.
Musician-actor Himesh Reshammiya has signed up to become a coach in the upcoming reality show The Voice, on &TV channel.
Himesh is sporting a very slim figure these days, and he gives credit to his mentor Salman Khan.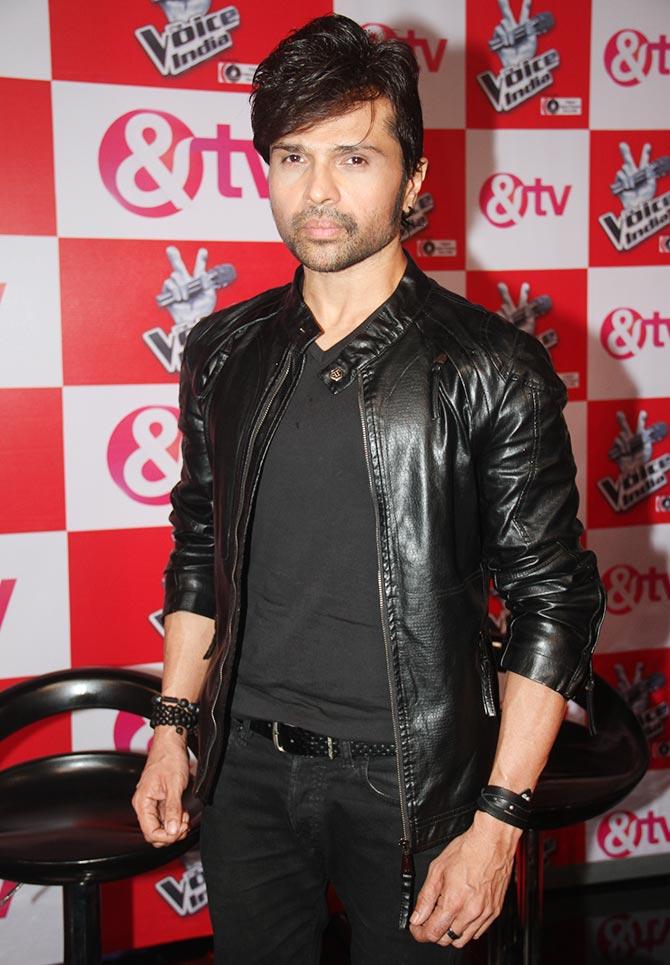 Image: Himesh Reshammiya
"Salman Khan has the fittest body for the last 25 years. He looks younger each passing year. He inspires me a lot," Himesh says. "I take tips from him. He is my mentor, brother and family. He is the backbone of my success and I owe my career to him."
Himesh got his big break when Khan asked him to compose music for his film, Pyaar Kiya Toh Darna Kya in 1998.
The singer-composer-actor says he is getting many compliments for his toned body.
"This new look is for my film Guns and Roses where I play a gangster," Himesh explains. "I acted in Aap Kaa Surroor which did well. But after that, films didn't work for me. It made me wonder why."
He came to the conclusion that he was not looking right.
"This was not the way the conventional actor is. So I worked on my physique and lost 20 kilos. I did workshops and then did the film The Xpose. It got good reviews and did well commercially too," he adds.
Himesh works out and keeps an eye on his diet.
"I am following the Jain pattern of not eating anything between sunset and sunrise, from 8:30 pm to 8:30 am. I eat light after 7 pm.
"Now fitness has become a nasha (intoxication). I do heavy workout for one-and-a-half hours every day. Although I miss ice cream, it's fine as it is showing results," he smiles.
The makeover will help him get better films, he hopes, "but I have to select good films and a good director too. I have to see that I don't go wrong."
Himesh will start shooting for Guns and Roses in September, in Greece, and for Heeriye in October.
"Both are sensible films. I am giving my cent per cent to the music, look, physique and the script," he says.
The Indian version of the internationally-acclaimed TV show, The Voice, will be aired from June 6.
The coaches of the various teams are Himesh, Sunidhi Chauhan, Shaan and Mika Singh. There will be three phases of auditions: Blinds, Battles and Live.
"The concept of The Voice has received acclamation worldwide. There will be blind auditions where the coaches will pick contestants without seeing them. It will be a unique concept for the Indian audience," says Himesh.
He says as a composer, he is looking out for unconventional voices.
He cautions that while singers get a platform and success through reality shows, if they are not competitive, the success can be short-lived.
"The singer can become a star overnight, but it's important to sustain that," he explains.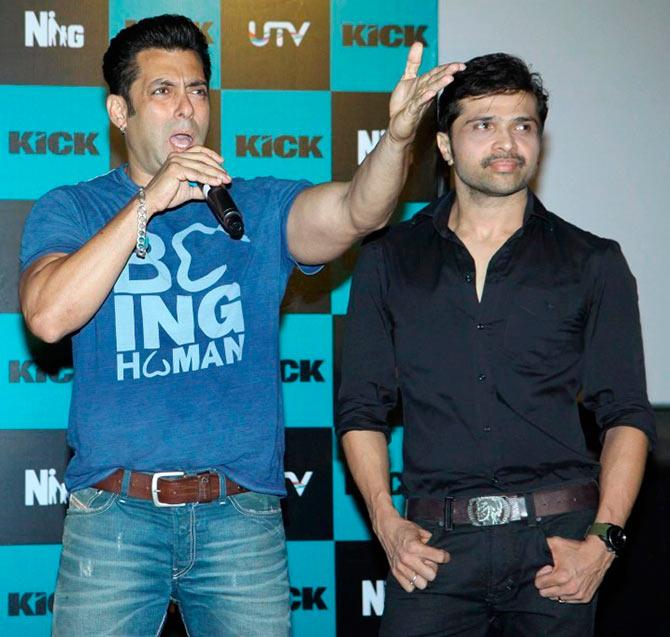 Image: Salman Khan and Himesh Reshammiya. Photograph: Abhijit Mhamunkar
Himesh is working with Sooraj Barjatya for the first time in Prem Ratan Dhan Payo, starring Salman Khan and Sonam Kapoor.
"There is solid music in the film. I have composed nine romantic songs. I can't reveal much about the singing because the announcement will be made later. Sooraj is a great director to work with and a good human being too. The film is going to be a bit hit," Himesh predicts.
He is the guest composer for All Is well too.
As a Salman fan and friend, what did he think of the actor getting a five year sentence (currently suspended till July) in the hit-and-run case?
"Salman is a generous person and has the blessings of the entire nation. Everyone is with him. He is bound to come out of this crisis because people love him. The stories about his help to people anonymously are much more than what we hear. He is the best human being, what more can I say?" Himesh asks.