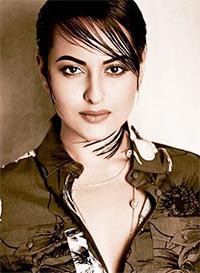 'People think it's okay to poke fun at people who are overweight but I never took it lying down. I made sure I stood up for myself.'
Sonakshi Sinha, in fighting form.
Sonakshi Sinha returns in an all-new avatar in Akira.
The actress was last seen in Tevar, which released in January 2015, and promises the wait will be well worth it.
"It takes a while to make good things. Akira took a little longer than expected but it's finally here," she announces.
Besides all the cool action that the film promises, we will also see more of Sonakshi's best assets -- her eyes!
"I am really thankful to my parents that they've given me big eyes. Half the work is done there," she says with a grin.
Sonakshi talks to Jahnavi Patel/ Rediff.com about her new film, and says 'koi tension nahin' about playing the solo lead.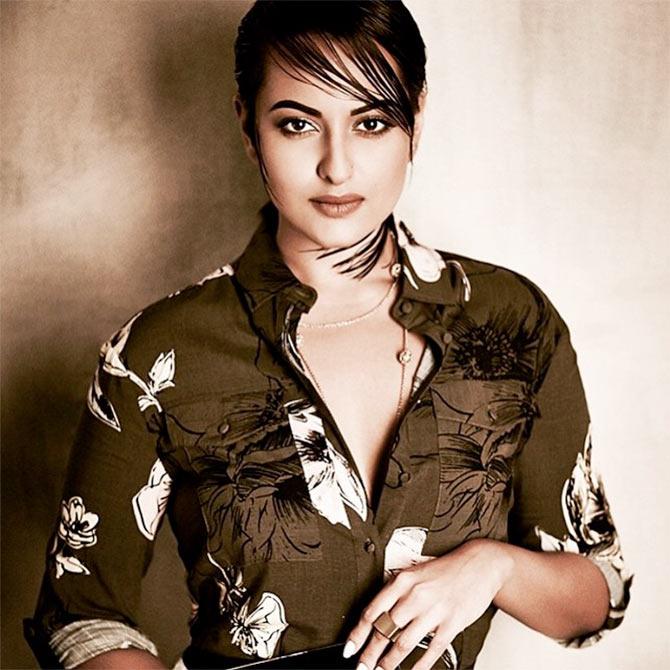 Photograph: Sonakshi Sinha/Instagram
You're being called the new action heroine of Bollywood. How are you dealing with that pressure?
It's been a very positive experience.
The film shooting has taught me a lot about how much I can push myself to play a character.
The response to the trailer has been fantastic, and that gives me a lot of encouragement.
We have all worked really hard for this film and we hope the audience sees that effort.
Did you miss romance in this film?
I have done that so much in other films that I really enjoyed doing something different here.
It was not required in this film.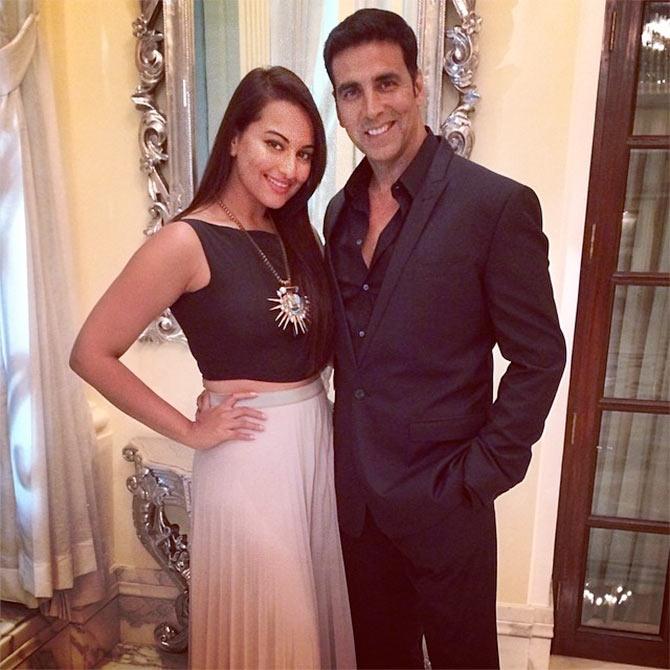 IMAGE: Sonakshi Sinha and Akshay Kumar. Photograph: Sonakshi Sinha/Instagram
You've been a part of action movies with Salman Khan (Dabangg) and Akshay Kumar (Rowdy Rathore and Holiday). Did observing them help you?
Observing the actors in all the films that I have done has really helped me.
I used to watch them doing their action scenes and wonder when would I get a chance to do it.
These people having been doing action for so many years, and such good action, that it is a treat to watch them.
Did Akshay Kumar or Salman Khan say anything about the trailer?
Akshay called me and said the trailer was looking really good and that it would be a game-changer for me. That's a huge compliment coming from an action star of his calibre.
Ajay (Devgn) tweeted to me saying that if you start doing all this, what will we do? That's also a compliment coming from somebody like him.
It's pretty encouraging when people, who are known to be action heroes of our country, compliment you like that.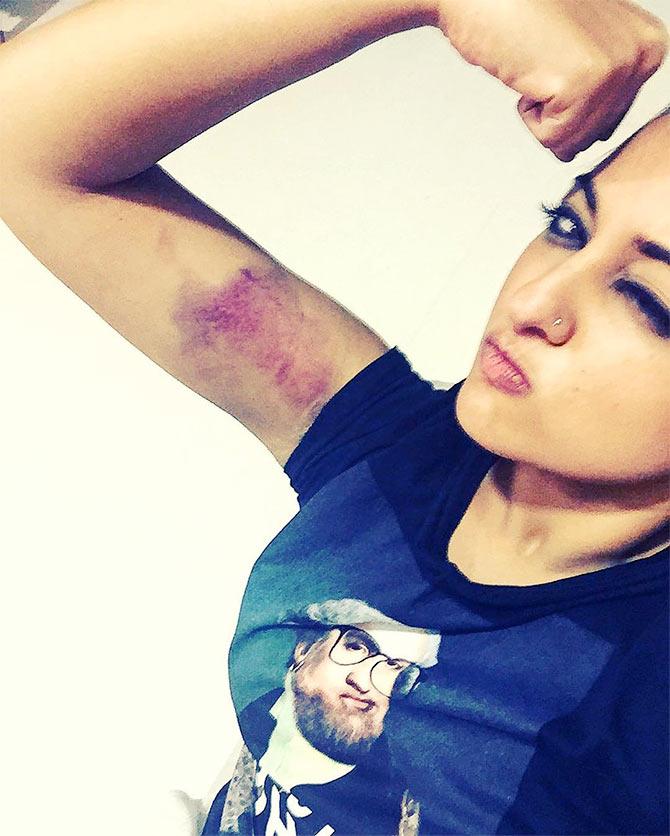 Photograph: Sonakshi Sinha/Instagram
Were there any injuries while filming?
Yes. It is very strenuous. What you see on screen is not even five percent of the effort that goes into putting that out.
It's a three-four minute action sequence in the film but it takes days to shoot.
A lot of blood, sweat and tears go into it.
I injured myself a couple of times while shooting and training but it's about how you bounce back. I didn't let it come in my way during the shooting schedule.
Have you done all the action scenes yourself?
Yes. There was a lot of cable work involved, which I had to be taught on set.
I had a trainer named Kuldeep Singh Sashi, who taught me mixed martial arts, and trained me in flexibility.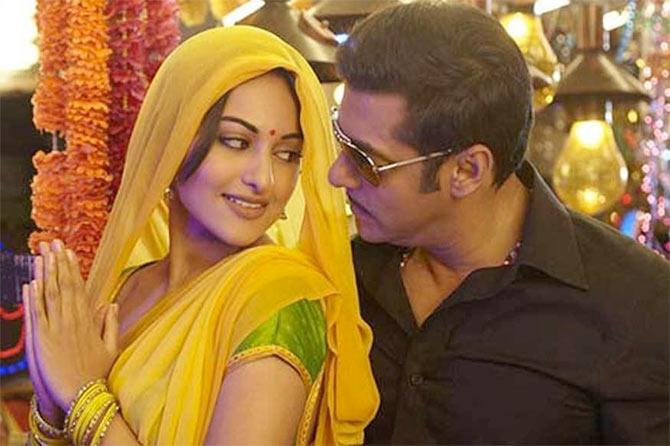 IMAGE: Sonakshi Sinha and Salman Khan in Dabangg
You have different kind of films in the pipeline – from action like Akira and Force 2 to drama like Noor. How did you plan that?
I have not planned anything in my life. Destiny has planned for me.
I never intended on becoming an actor.
I got Dabangg, and when I did that, I didn't know what I'd do next, whether or not I'd be accepted. Then I did get accepted and the rest is history.
I just kept doing the films that I got and finally when Akira happened, I made a decision to do something different.
I want to do roles that push me to my limit and can extract something that the audience has not seen of me as an actor. That's how Akira happened.
In Force 2, I play a RAW agent. That's also exciting for me.
In Noor, I play a journalist. It's about her ups and downs, and is a quirky character.
After having these films, do you feel the need to do a Dabangg where the hero will be highlighted?
I am what I am because of Dabangg. I was noticed in it.
I will always be grateful, thankful and loyal to that film. Even if they need me for a guest appearance, I'll do it.
Right now, the script (of Dabangg 3) is not in place. My character Rajjo will always be Rajjo irrespective of hoe they take the story forward. You cannot change the character suddenly. She hasn't died.
Have you ever been bullied?
People would try to bully me when I was a child because I was on the heavier side. People think it's okay to poke fun at people who are overweight but I never took it lying down. I made sure I stood up for myself.
Ragging has also been touched upon in the film. I went through it in SNDT, which is an all-girls college. But it was a way of making friends. I'm still friends with the people who ragged me, or whom I ragged. I feel ragging should be an enjoyable process, and not something that traumatises a student for life.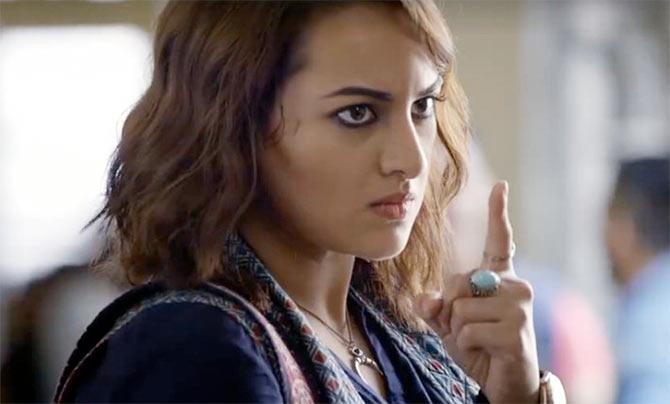 IMAGE: Sonakshi Sinha in Akira
AR Murugadoss the protagonist a female while in the original, Mouna Guru, the protagonist was a male. Why was that and why did he choose you?
He always wanted to make a film where girl power was shown, and how girls fight back.
I asked him why he chose me and he said that when he worked with me in Holiday, he felt that I was really good. He was so impressed that he felt I could carry off this role.
Honestly, hats off to Murugadoss sir because I have seen him during Holiday, directing Akshay Kumar and I have seen him direct Akira. He treated him exactly like he was directing a hero. I find that so nice and encouraging.
What do you have to say about your co-stars, Anurag Kashyap and Konkona Sen Sharma?
Anurag Kashyap has been a fantastic antagonist to my protagonist. He is a takkar ka villain, he is very good in the film.
It was so nice to see him work as an actor. He did not try to be a director at all, and let Murugadoss sir do his job.
Konkana is such an actress that I feel that when she is in the frame with you, you feel like making your performance better. She's that inspiring.
I had a good support system.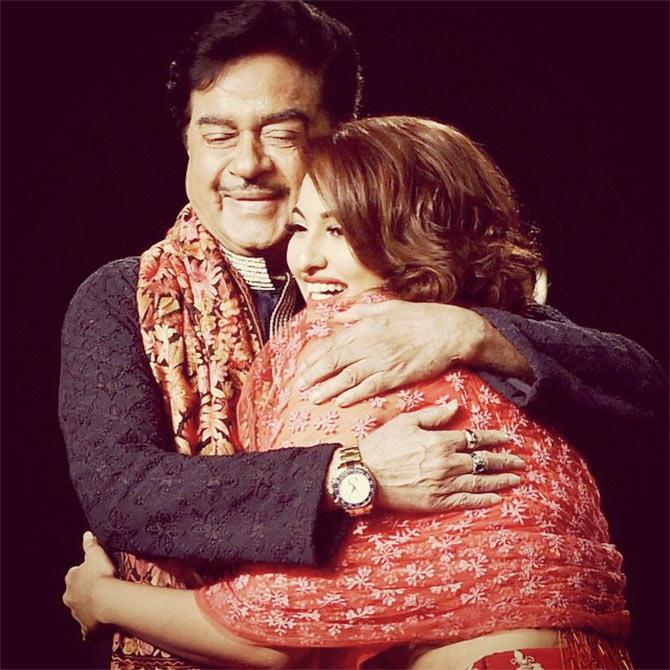 IMAGE: Shatrughan Sinha and Sonakshi. Photograph: Sonakshi Sinha/Instagram
What was your father Shatrughan Sinha's reaction to Akira?
He loved the trailer. He was very proud.
He hasn't seen the film yet but he will watch it soon.
He is very keen to see it because my mother loved it and she has told him a lot about it. So he's very excited. He could see that I have worked really hard for this.
He's my biggest fan.
Do you discuss your films with him?
Yes, when we get the opportunity. Usually, I tell him what I am going to do. He doesn't interfere.
Would you be interested in politics?
No, I don't have the aptitude for it. Just because my father happens to be a politician, that is no reason for me to jump the wagon.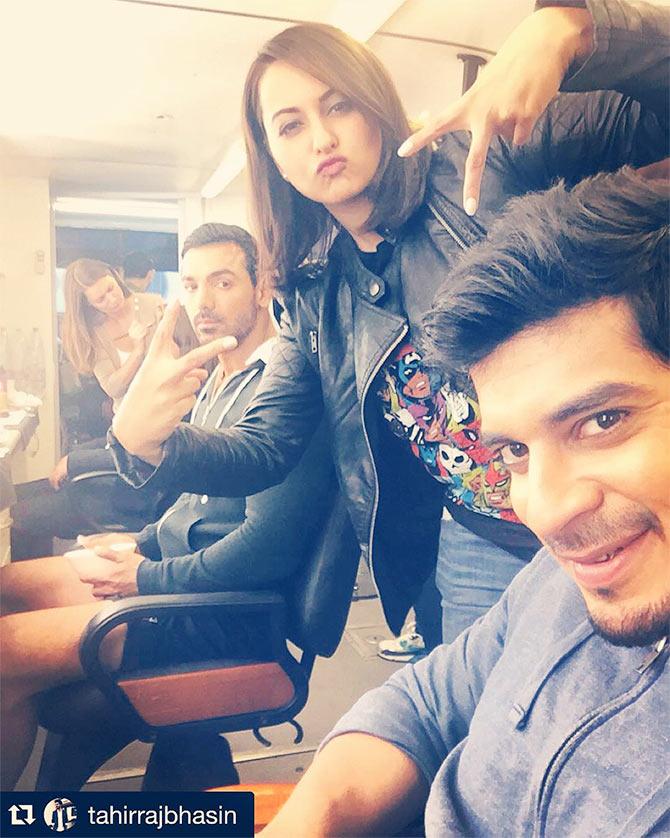 IMAGE: John Abraham, Sonakshi Sinh and Tahir Raj Bhasin. Photograph: Sonakshi Sinha/Instagram
John Abraham was really impressed with your kick in the Akira trailer, and asked you to do it for your next film with film, Force 2.
John was very impressed by my high kicks. When I showed him the trailer, he said he hasn't seen anyone kick like that!
We were shooting an action scene at that time and he asked me to do it. There is one really slick action sequence where he has made me kick a guy really high.
How much of Noor is done?
We have finished quite a bit. It's the quickest film I have done.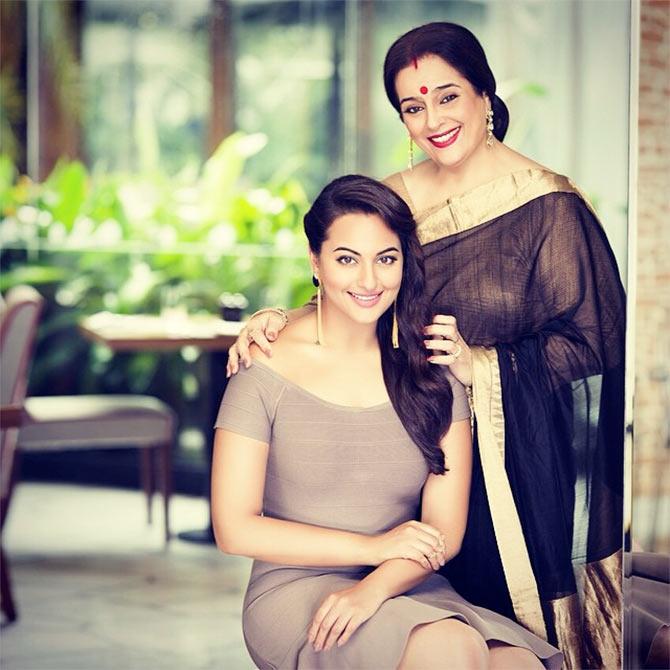 IMAGE: Poonam Sinha and Sonakshi Sinha. Photograph: Sonakshi Sinha/Instagram
How do you react to reports of your link-ups?
If it's only about me, I ignore it. But if my family and friends are dragged into it, that is not cool. That is where I feel I need to take a stand because people need to understand that along with the person you're writing about, you affect a lot more people and that's not right.
How does your family react to such reports?
My dad doesn't really get into this at all because he has been through it even more than me.
My mom, being a mom, sometimes get worried so I have to really calm her down. But at the end of the day, she understands. Obviously, she wonders why they are writing like that about her daughter, she gets protective.