'...When it comes to my work, I am extremely meticulous.'
'I go through every contract, every detail.'
'This is because of past experiences, of being, sort of, conned.'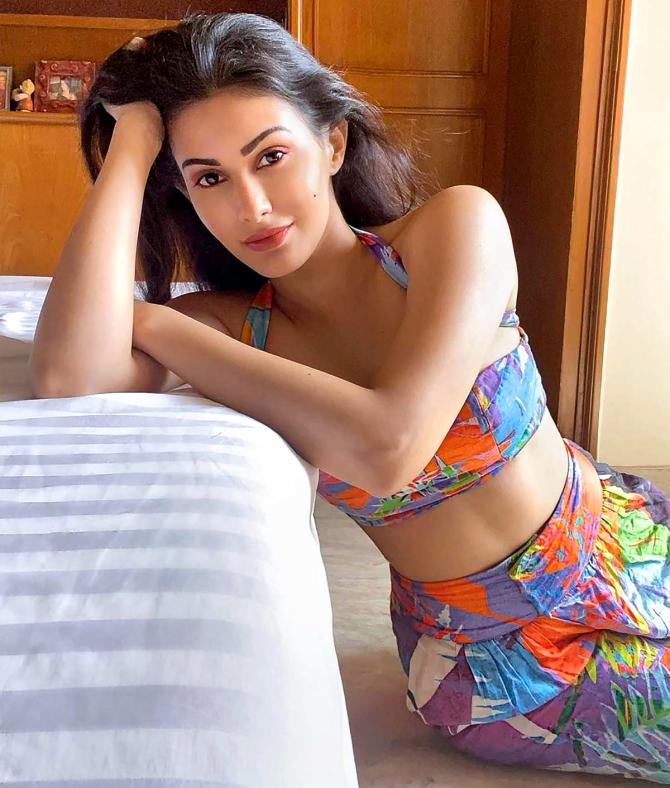 Amyra Dastur will share screen space with Kunal Kapoor in the Amin Hajee directed thriller Koi Jaane Na.
Even though Amyra did not get chance to dance with Aamir Khanm she tells Rediff.com Contributor Prateek Sur, "We have always been given feedback by Aamir sir, so it was great to receive some amazing feedback from him when he saw the film in the theatre itself during the screening."
Koi Jaane Na seems like a thriller murder mystery. Why do you think we don't have enough movies in this genre in Bollywood?
The Bollywood audience loves a good love story and I genuinely believe that this is a very hard genre to take advantage of especially because it's such a cat and mouse chase between the audience and the director of the film.
Because when you watch a thriller as an audience you feel that maybe you are one step ahead of the director. But at the end of the day, the director has to keep you engaged in the story and ensure that you really have no idea as to who the murderer is.
We have a lot of dark comedies, but we haven't really explored this thriller genre yet. I am really glad to be a part of something like this because, at the end of the day, I choose the path that isn't taken as much.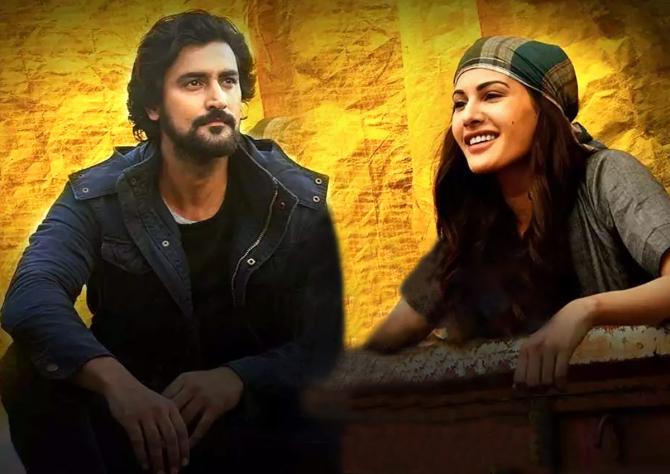 Even though it's a murder mystery and you can't spoil the plot for me, but tell me a bit about your character.
She is this carefree, free-spirited, girl. She has had a very hectic past and that's what has made her somebody who genuinely believes in going with the flow and living life with every single moment that you have.
She is somebody who is a breath of fresh air, and especially when she comes into Kabir's (Kunal Kapoor) life, which is very troubled at that moment.
She, sort of, brings this new freshness and sunshine into his dark life. And that's what I really liked about this character. She is the girl who will make you smile. She is so carefree, whose life itself is an adventure. Suhana is a sunshine child.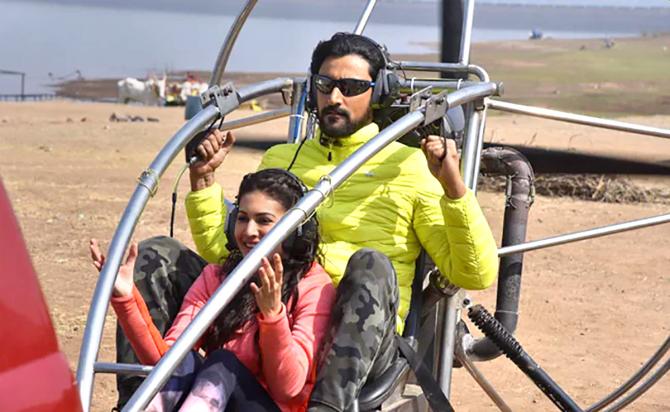 Many directors don't reveal the twists to the cast until the last moment, as they want to get some natural emotions out of the actors. Were you told the twists from beforehand while shooting?
Yeah, I am a little meticulous that way. Every time I say yes to a film or get signed on to a new project, I have to read every single word of the script.
So, Amin, our director, did try and hide it from me. He really did, but I am somebody who can't say yes to a project unless I have read every page in each draft -- backward and forward.
At the end of the day, I know how to keep a secret. As an actor, I genuinely need to know what I am getting myself into before I give a complete go-ahead for the project.
Aamir Khan did a dance number in the film.
Aamir Khan has been looking all over for this project in a big way. Every time Amin had a doubt, or every time he needed help, basically a third person perspective, Aamir sir was his go-to guy, and I don't think it was just because of their friendship.
I truly believe that Aamir sir believes in Amin's capabilities. It's really easy to be in front of the camera. But once you are behind the camera there are very few technical details and very minuscule things that really greatly affect your film.
So, I know for a fact, every time Amin had a doubt because he was so close to the film, he called up Aamir sir and would ask for help. We always knew Aamir sir would be a part of the film, in one way or another. He was already a part of it behind the scenes and it was great to have him do an amazing dance song for this film.
We have always been given feedback by Aamir sir, so it was great to receive some amazing feedback from him when he saw the film in the theatre itself during the screening.
You are a great dancer yourself. When you came to know that Elli AvrRam was doing a dance number with Aamir Khan in your film, did you kind of feel bad that you missed a chance to work or, at least, dance with Aamir Khan?
I had no issues with Elli AvrRam doing the dance number because my character itself is not a very sexy, sensuous, girl.
The dance number is not there just to create hype. It is used very well in the film because what happens before and after the song is very crucial to the film.
Elli is a phenomenal dancer. She truly is brilliant. She has really danced her heart out in the song and she looks fantastic next to Aamir sir. I'm really glad that it was her.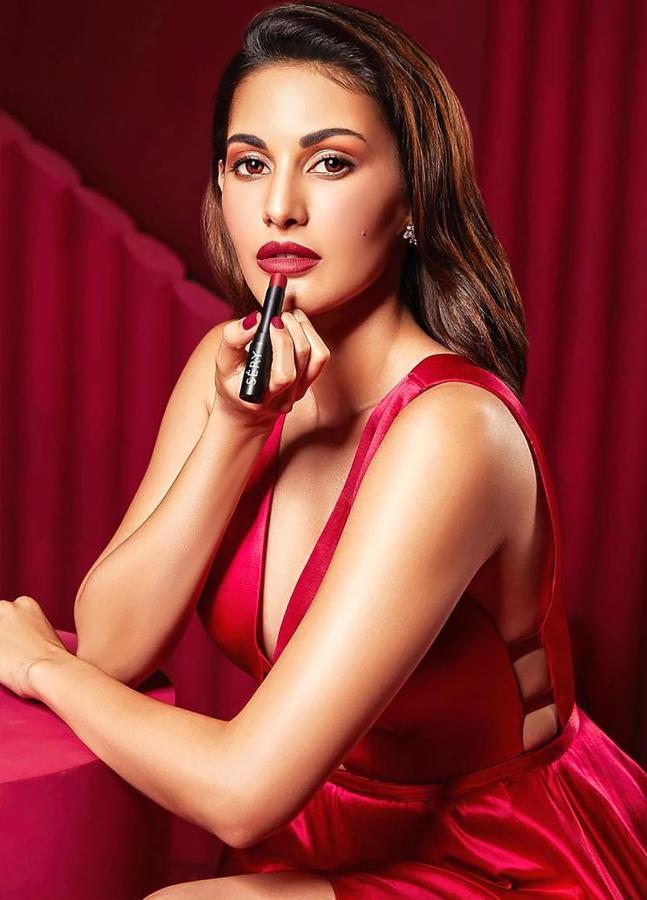 You have pretty much made it on your own in Bollywood. As an actress, is it difficult to make a name for oneself in the film industry without a godfather?
Yes, definitely more difficult in terms of getting contacts, meeting the right people, networking without a godfather because you actually have to make all of those relationships and build all of those friendships all on your own.
When I first started, I had no idea about what a casting agent was, what contracts were, etc. Now I feel like I am pretty much on the ball. By making mistakes it is easier for you to learn and it makes you actually very smart as a person.
I may seem really fun and bubbly and like a chilled-out person, but when it comes to my work, I am extremely meticulous.
I go through every contract, every detail. This is because of past experiences, of being, sort of, conned in a way. I ensure that every casting director that I meet is legit. I have my own sources to know that now.
Yes, it was definitely hard in the beginning and there were definitely days where I would just get up and think I can't make it, and I can't do it, but ultimately reaching here on my own and standing on my own two feet is something that has really encouraged me and made me proud of where I am today.
There have been a lot of people who havesaid to me that I should be at this level or that level, but honestly, I am very happy with where I am and where my career is going. All credit obviously goes to my amazing managers and my parents for helping me, emotionally supporting me.
You have worked in films abroad. When you are shooting a project in Bollywood and abroad, what sort of differences do you see in the way films are made here and abroad?
Shooting films is the same, whether it's abroad, whether it's in Bollywood, whether it's in the South.
The only thing that really matters is the budget of the film because depending on the budget it depends on whether you can have two cameras while shooting a film or three cameras while shooting a film as we had during Kung Fu Yoga.
It's the same, whether it's in Tamil, Telugu, English, Hindi or any other language. It is definitely more fun shooting abroad because you get to visit more places, but there will always be a soft spot for me in Bollywood as that is just home.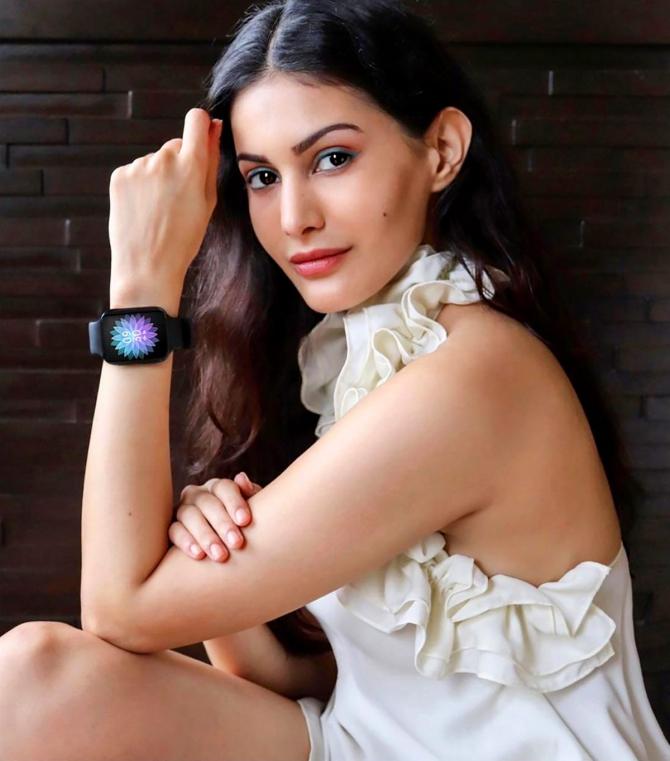 How has the pandemic changed the way you are working in this 'new normal'?
Shooting in the 'new normal' is yelling at people to wear their masks and to sanitise their hands.
It did feel different in the beginning seeing everyone in a PPE suit. It felt like walking into an ER (emergency room) in a hospital.
But now it's the necessity of the hour. We are entering a very, very, high case phase and we don't want to be there again.
My father is a doctor. So, I get very angry with people when I don't see them wearing masks and using proper protection because, at the end of the day, it's the frontline workers who are going to be put at risk.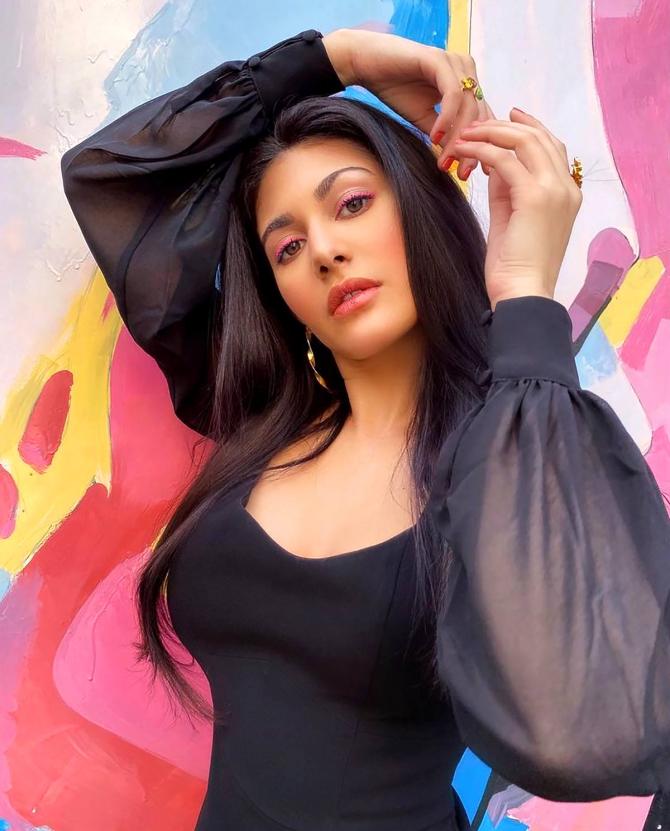 What are you working on?
I am shooting for Amazon Prime and Excel Entertainment's Dongri To Dubai.
I've also signed a very big film on another very big OTT platform. So, I will probably announce that once Koi Jaane Na releases.
Then I am shooting a Tamil film opposite Prabhudheva in Chennai. We have one song shoot left and then we will be preparing for the release.
I'm also reading some good scripts. Hopefully in the coming months I'll have some two-three projects.
Apart from that, I've been signed on by a couple of popular brands, for which I'm very grateful.
So, things are going well and looking very positive.