'Any actor who says he doesn't get disheartened probably doesn't care enough.'
'At the end of the day, the filmmaking business is about money. If the film doesn't do well, you feel dejected.'
'The films that did not work are behind me.'
Emraan Hashmi looks ahead with Raaz Reboot.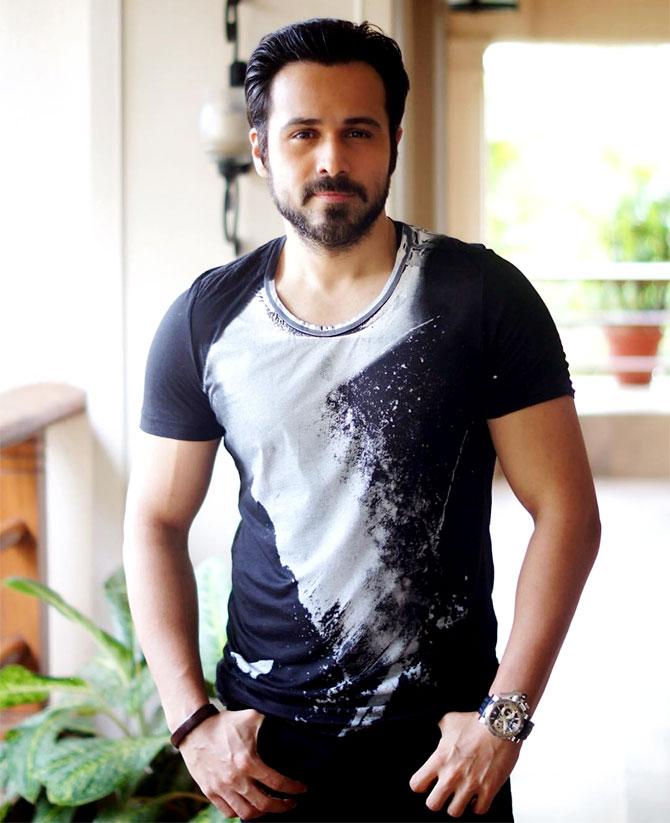 Photograph: Emraan Hashmi/Instagram
For someone who did not want to become an actor, Emraan Hashmi has lasted -- quite successfully -- for 13 years in the film industry.
The actor looked exhausted when we met him for an interview on his upcoming film Raaz Reboot.
But that did not stop him from speaking at length to Jahnavi Patel/ Rediff.com about the film, his son Ayaan and his steamy item number with Sunny Leone!
You have completed 13 years in the industry. How has your journey been?
It's been great, a huge learning experience!
There have been a lot of ups and downs. I met some wonderful people and have learnt some really nice things.
It's pretty good for a person, who didn't want to be an actor, to be around for 13 years.
I have over extended my stay in a way but yes, it has been a 13 great years.
When I look back, it feels like it happened just yesterday. I have fond memories that are still fresh in my mind, right from the first day of shoot. Most of my film shoots have been memorable.
Any regrets?
No. Whatever happens, happens for the best.
If things don't work out the way they do, in a positive way -- by that, I mean if the films don't do well -- they will still help you grow. So that helps.
People have a lot of expectations from your film music as well.
I am not complaining. There is a lot of hard work to be done with these kinds of expectations and thankfully, we have been able to match them every time. Even in a film like Raaz 4.
Due credit goes to the entire creative team. They have tried to bring out something new. Fresh talent has also helped.
This is your third film in the Raaz franchise. How do you manage to get newness in your character every time?
It's written on paper so in that department, I don't do much. I play a new character every time. I will never sign up if there's a similarity to the last part.
As far as the genre goes, it's very important to bring a newness to the way horror has been treated in the film.
It's a love story first with great music and emotions. After that, it's a horror film. That's the biggest sell to the audience. It becomes a big mainstream film only when you have a great love story, and then bring in the bonuses.
You can't expect just a horror film to work here.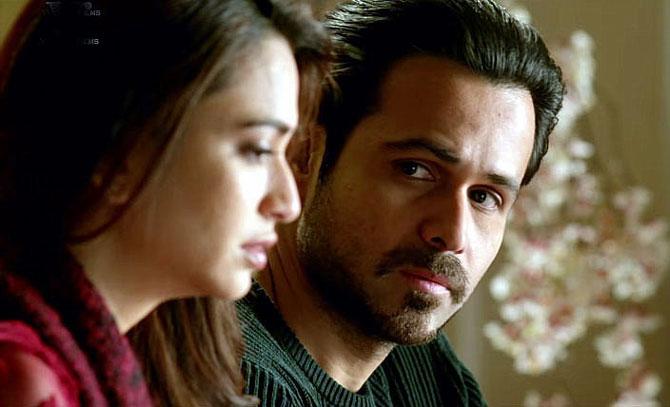 IMAGE: Emraan Hashmi with Kriti Kharbanda in Raaz Reboot
Which is your favourite horror film?
The Exorcist, Conjuring, Poltergeist, The Amityville Horror and The Shining.
What about the horror films you have done?
The Raaz films. I liked the first half of Ek Thi Daayan, I didn't like the second half.
Horror films have dance numbers in Bollywood. Do you think those are a distraction from the flow of the film?
Dance is definitely out in horror film, you shouldn't even attempt it. It would be like a big mistake.
Songs are fine because that goes with our culture. We need our songs. It might not be lip-sync but if it plays in the background, it will take the story ahead.
We tend to compare our movies with those made in Hollywood. Do you think that's fair?
You should not compare because their audience is very different.
Their audience is a global audience and our audience is confined to India and some Indians overseas.
Their budgets are bigger because their audience is bigger. And because they pitch in to so many different cultures, they have to make a certain kind of cinema which is different from ours. They can't have actors break out into a song and dance.
Do you get disheartened when a film doesn't do well?
Of course! Any actor who says he doesn't get disheartened probably doesn't care enough.
At the end of the day, the filmmaking business is about money. If the film doesn't do well, you feel dejected.
But it's sometimes about the journey too, not just the destination. If the journey has been good, if it's a film you have cherished, if you enjoyed the process (of making it), that's also enough.
During Azhar, you had said that even though your recent films haven't done well, you had hope in that film. But that didn't do well either. Is there more nervousness now?
Actually, the nervousness is lesser because now I have nothing much to lose. The films that did not work are behind me. The count is set to zero.
I think it's an attitude that takes you through. If you are willing to dust yourself from a debacle and move on to the next project with as much will, integrity and honesty, sooner or later, the success will happen.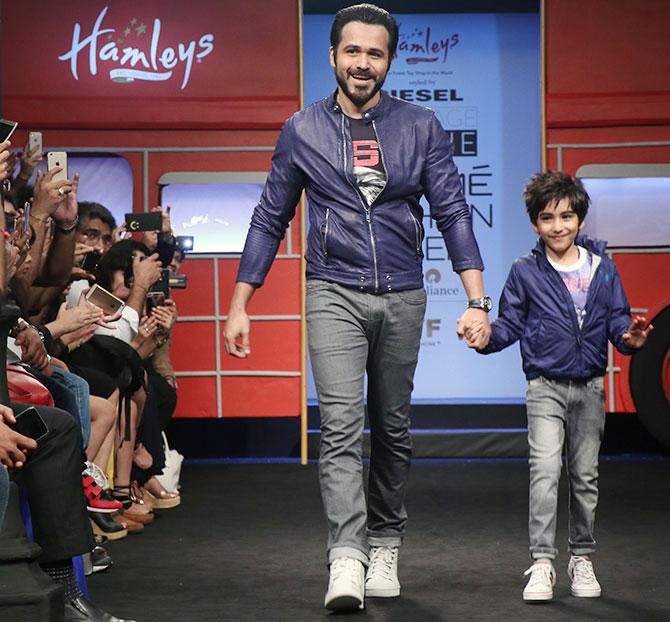 IMAGE: Emraan Hashmi with his son Ayaan at the Lakme Fashion Week 2016. Photograph: Hitesh Harisinghani/Rediff.com.
You walked the ramp recently with your son Ayaan. How special was that moment? Was he nervous?
No, he wasn't nervous. He was very excited.
He was dancing -- he was doing break dance backstage! So it was fun.
It was definitely memorable because it was my first Lakme Fashion Week ramp walk and it was with my son. So that made it even more special.
I was actually there to make sure he gets off stage because he loves it so much, he may have actually not got off!
You have mentioned about Ayaan wants to become an actor. Recently, his short film was out. What was his reaction when he saw himself in the film?
He was seeing it again and again! He's very fascinated about seeing himself on TV and online.
What's the most important thing you've learnt from Ayaan?
His optimism, and living in the present.
He doesn't remember negative emotions, even if he's had it a couple of minutes back. He switches gears and that's something you have to learn from kids.
As years go by, we start dwelling in the past, and that is the reason for our misery.
Even though he went through all of what he did, he did everything with a smile. Even if something was physically painful, he would just switch the next second and start smiling. That's something I learnt from him.
How is Baadshaho shaping up?
Good. We have shot a song. We will be shooting a major chunk of the schedule in Rajasthan in October.
How was the song shoot with Sunny Leone?
It was good, very steamy. Don't expect anything less.
You have been working on your body for your character in Baadshaho. How important do you think it is to get the perfect look for a role?
It is important. Sometimes the director says a particular body type is very important. Physically, you have to be fit for a role. You should surrender yourself and go the extra mile.
I did that for Once Upon A Time In Mumbaai, Murder 2 and Shanghai.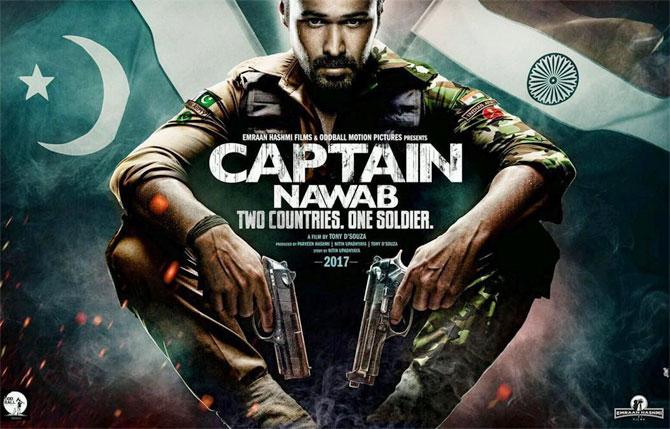 IMAGE: Captain Nawab poster
When the first look of your film Captain Nawab was out, social media claimed it was inspired from Call of Duty: Black Ops, a video game. What do you have to say about that?
There are a couple of people on the internet, who like to troll.
There is a man sitting with two guns (in the poster) and that, for some reason, becomes the patent of a video game. That's absurd.
If I would be standing with two guns, they would have found another game.
There's no copyright on holding two things in your hand, right?
You fail to see the Pakistan and the India flags, the two uniforms that have been made.
Everything seems ripped off, if you go to see. Every romantic film has the same posters, ever moment is ripped off -- boy meets girl, problems happen, boy loses the girl and then they meet again. There's no copyright in that.
These guys who troll need to get their heads checked because either they are seriously jobless or they are frustrated. I feel sorry for them more than angry.
They need to get a life.