'I do films because I want to feel proud of myself as an actor.'
'Why should I sign nonsense?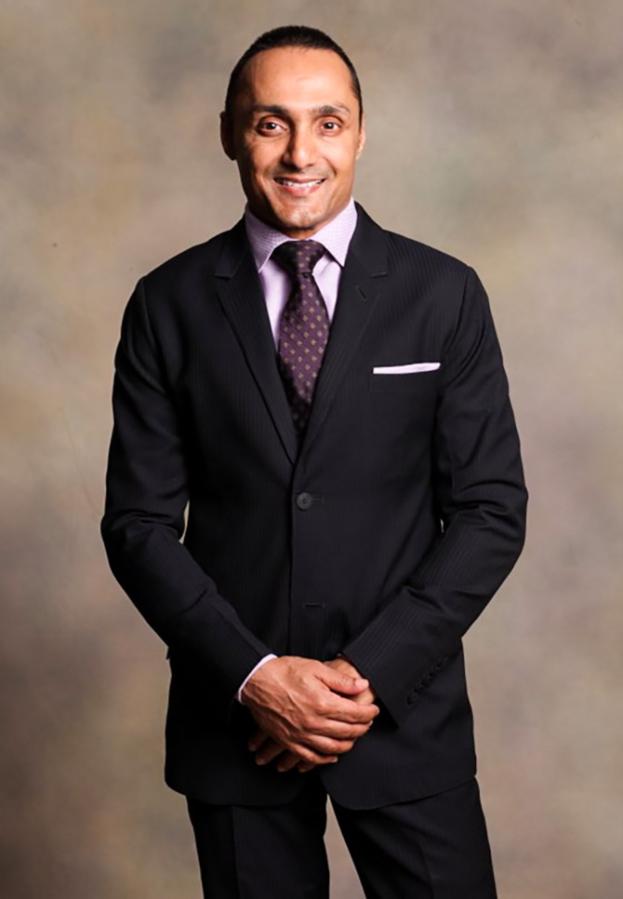 IMAGE: Rahul Bose. Photograph: Kind courtesy Rahul Bose/Twitter
Rahul Bose has made one of the toughest films of his career.
He has made a biopic on a teenage tribal girl, who scales Mount Everest, and the shoot was expectantly difficult.
He then promoted it aggressively, even making sure it was screened for the President of India.
And now, he's tired.
When Rediff.com's Patcy N met Bose, he was reclining on a mattress and could barely keep his eyes open.
He rubbed his eyes through the interview, and as soon as it was over, asked for a break to take a power nap.
The actor has directed his second film after 16 years -- Poorna, about Poorna Malavath, a girl from Telangana who scaled Mount Everest, at the age of 13. She became the youngest girl in the world to do so.
Bose explains why he chose her life for celluloid.
You made Everybody Says I'm Fine in 2001. Why did you take so long to direct your second film?
(I was) Acting. After that film, Mr and Mrs Iyer happened, then Jhankaar Beats, Chameli, Mumbai Matinee, Pyaar Ke Side Effects, Shaurya...
Then I went back to my art house phase and I had no time to even think. There's been time in the last two years.
We had a screening at Rashtrapati Bhavan on March 25 for the honourable President and I was next to him, thinking that in 16 years, I have been missing this feeling of having directed a film.
The reaction there was so special, honest and uplifting for all of us. The girls loved it.
Watching the film with the President was one of the greatest moments of my life. The highest office in the land is watching my creation! It was amazing.
How tough was the shooting this time, compared to the first?
You don't forget how to ride a cycle, so the direction was fine.
What was interesting and new was that it was digital. I had shot on film roll before.
Shooting on digital does not make you tense any more about footage being wasted.
Also, I had never done so much VFX before -- in fact, I'd hardly done any VFX before and this was three months of it!
Today, I think I have a PhD in snow VFX!
So that's what I learnt as a director, otherwise directing actors is pretty much the same.
I had great confidence and clarity, but the same amount of sensitivity that I had for Everybody Says I'm Fine.
Why did you choose such a tough film -- logistically -- as your second?
I couldn't resist it!
From one room in a hairdresser's salon into the big bad world of the unknown, it was a great story.
I cried when Aditi (Inamdar), the girl who plays Poorna, touches the summit.
I cried because we had gone through so much hardship for this film, so many physical challenges apart from the emotional ones.
We have shed blood, sweat and tears.
My tears were for India's pride, what happened on May 25, 2014, and also for ourselves, that we had finally managed it!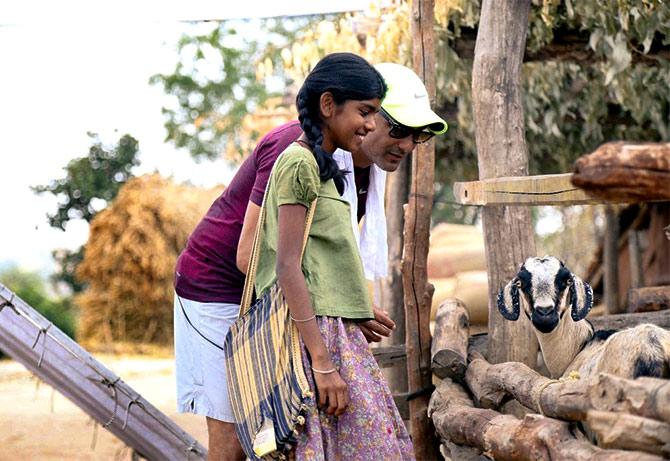 IMAGE: Rahul Bose and Aditi Inamdar on the sets of Poorna.
The shooting must have been difficult.
Yes. We shot in a tribal village in Pakal, which is six hours away from Hyderabad.
We had to trudge through forests, and then reach Bhongi Rock, which is 650 feet (above sea level).
For the top shots, the crew had to climb for two hours and then for the low angle shots, everybody had to come down two hours.
We would do three, four shots a day. The temperature would be 50 degrees in the afternoon and the rock would be burning.
Then, we went to Darjeeling in December for the snowy mountain climbing. We would be shivering from the cold.
In Sikkim, at 15,000 feet, we would be thigh deep in snow. We were going to match these shots with unreleased footage of Mount Everest from the summit.
Sikkim has been the hardest shoot of my life.
Why did you choose a biopic for your directorial comeback?
Because it has an irresistible story.
I know how people react when they come out of theatres.
The film looks simple, but it is so complex for this girl to have done what she did.
It is a simple story of a tribal girl who climbed Mount Everest.
For a tribal girl to become a school teacher is a triumph and this girl climbed Everest!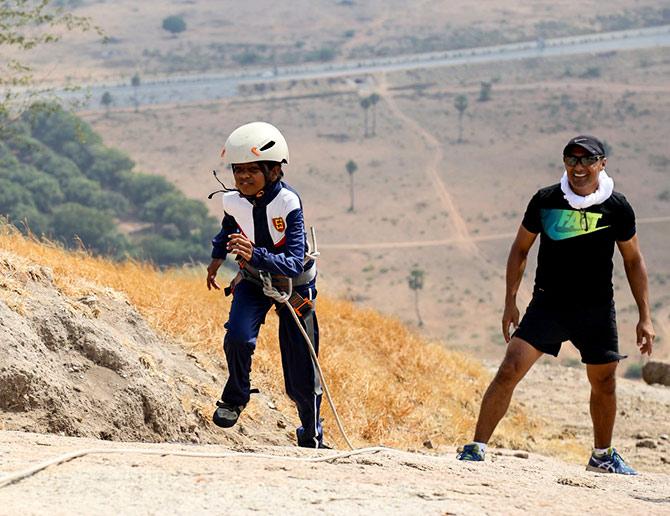 IMAGE: Rahul Bose and Aditi Inamdar on the sets of Poorna.
How did Poorna happen?
A scriptwriter approached me to act in the film.
I loved the story and asked him whether he has raised money for it. He said no.
So I told him that I would raise the money and I did that within four months.
Since I began to produce it, direction just happened organically.
What cinematic liberties have you taken while directing this film?
We have created a fictional character. Eighty-ninety percent of the film is accurate. There is lot of drama, but that's there in real life too.
In fact, in some scenes I have taken the drama out.
Like Dr R S Praveen Kumar (secretary, Telangana Social Welfare Residential Educational Institutions Society, on whom Rahul Bose's character is based) was waiting for nine hours when she was reaching the summit.
For five hours, the phone did not ring, so he thought she was dead.
I didn't use that in the film because it is Poorna's story, you can't show him worried.
Poorna's family, Praveen Kumar and other bureaucrats have seen the film.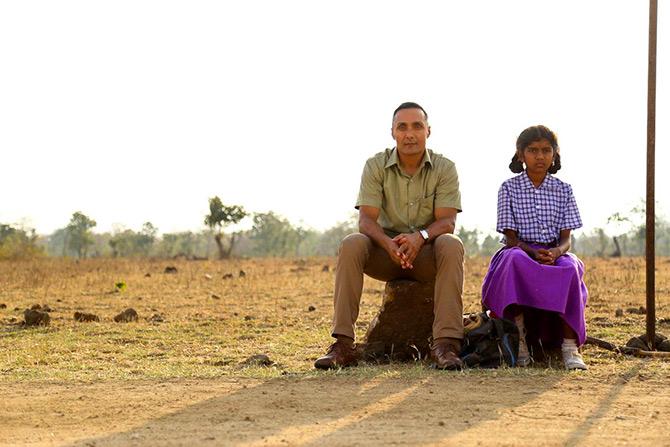 IMAGE: Rahul Bose and Aditi Inamdar in Poorna.
Why did you cast Aditi Inamdar as Poorna?
We looked at 500 girls and shortlisted 109. She was, in fact, Number 110.
She is not a tribal girl. She's from Hyderabad, from Telangana, but not from Pakal (Poorna's village).
I cast her because after an hour's audition, I saw that she had the right mix of innocence, playfulness and childishness on one hand and on the other, she had self-pride, determination and the stubbornness of a climber.
That's what I needed.
What's the best compliment you got for Poorna?
Shabana (Azmi) says it is one of the best performances of my life.
Naseer (Naseeruddin Shah) has called it a wonderful, understated performance.
People have said good things about my acting and direction.
After this, you will be seen in Vishwararoopam 2 with Kamal Haasan.
I have been told that it will release in a couple of months. I will reprise my role of (terrorist) Omar. I have already shot the film.
We don't see you in too many Hindi films.
I have never done films to feed my stomach. I do films because I want to feel proud of myself as an actor.
Why should I sign nonsense? The right roles aren't coming.
The only cameo I have done in Hindi is Zoya's Dil Dhadakne Do. She is a friend and I desperately wanted to work with her.
She casts big stars, so obviously, I couldn't be the lead. But I wanted to work with her, at least do one film with her.
I am doing films in other languages like the Kannada film Niruttara, the Bangladesh film Under Construction...
My meter is always up. I am not language specific.
I am looking at Marathi cinema next.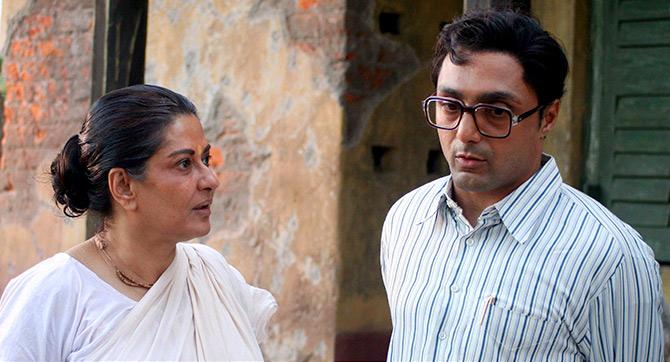 IMAGE: Moushmi Chatterjee and Rahul Bose in The Japanese Wife.
Which is your personal favourite?
The Japanese Wife is my best work. That character is so beautiful and touching.
Do you think your potential has been tapped?
Look at my face. Who would have suffered me for 23 years? But they did.
I think it is fantastic, I feel blessed.
Which contemporary films do you feel you wish you had done?
Paan Singh Tomar, Ship of Theseus, Gangs of Wasseypur...
How do you keep yourself busy when you're not doing a film?
I sleep. I play rugby and squash.
Who are your closest friends in the industry?
I have a few like Vipul Shah, Anand Gandhi and Zoya Akhtar.