'You put crores of rupees making films, so I don't think any producer or studio would back you because you know a relative in the industry.'
'They will back talent, either from within the fraternity or outside.'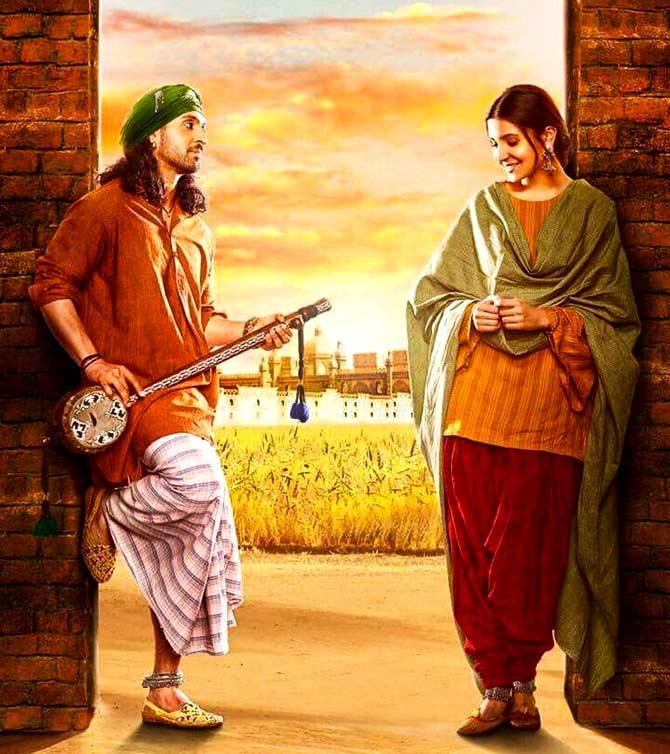 IMAGE: Diljit Dosanjh and Anushka Sharma in Phillauri.
Anshai Lal, 32, is a member of Bollywood's Bright Young Directors Brigade, that includes the likes of Shakun Batra, Abhishek Chaubey, Shashank Khaitan, Avinash Das and Ayan Mukerji among others.
His first film Phillauri, starring and produced by Anushka Sharma, may have opened to mixed reviews, but he's looking ahead.
Anshai will also direct the next film produced by Anushka's Clean Slate production house.
After working in Bollywood for 11 years, he tells Rediff.com's Patcy N how he caught Anushka's attention.
Weren't you sceptical that a film on superstition won't be accepted by the multiplex crowd?
On the contrary, I thought it was interesting to take something that is so grounded in our milieu, turn it on its head and use it as a concept for a film.
How did you think of a manglik character marrying a tree?
I have a friend who married a tree and he is very scared of ghosts.
People would tease him that what if there was a ghost in the tree, what would you do?
That funny thing stayed in my head and turned into an idea for a film.
How did you get Anushka on board?
During my journey as an assistant director, I made friends with Maneesh Sharma, who was also an assistant director at that time.
When he directed Band Bajaa Baaraat, I would visit his sets sometimes.
I met Anushka and her brother Karnesh through him. Karnesh was in the merchant navy at the time.
Over the years, Karnesh and I became close and I told them the story. That's it.
I had a 10 page concept, which I fleshed out and then met the producers.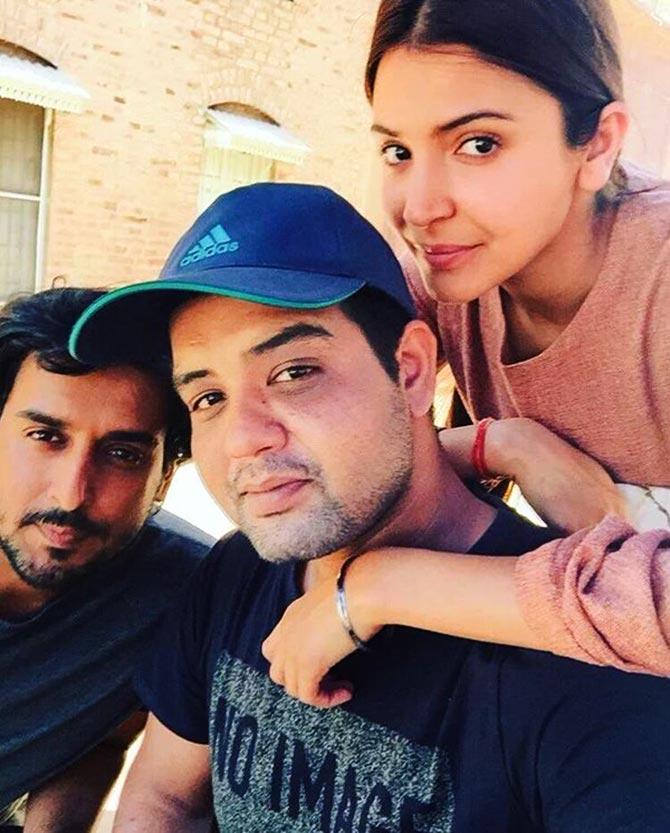 IMAGE: Anshai Lal, left, with Karnesh and Anushka Sharma. Photograph: Kind courtesy Anushka Sharma/Twitter
You cast Anushka because she was the producer. Did you have someone else in mind?
No, we had only Anushka in mind. They (Anushka's Clean Slate production house) has not worked with any other actress yet.
They have made only two films so far (NH10 and Phillauri), but they are working on another film, which will see newer actors.
How did decide on Diljit Dosanjh? You cast him even before Udta Punjab released.
He has a prolific body of work in Punjab and is a big star there. I have seen and liked his work like Jatt & Juliet, Ambarsariya, Punjab 1984...
Anushka was also familiar with his work.
During the casting, his name popped up and he was our first choice. He has a very endearing quality.
When we met him, we knew we had made the right choice.
How long did you spend on Phillauri?
The writing took a lot of time -- about two years to write it and flesh it out. (Writer) Anvita Dutt was kind enough to give us that kind of time.
How different is Anushka as an actress and producer?
Anushka is awesome.
Even though I have had 12 years in the industry, she has many film years over me.
She would pamper me and guide me as direction is a fairly stressful situation.
She is quite hands on. She takes good care of her unit.
It was fun working with her.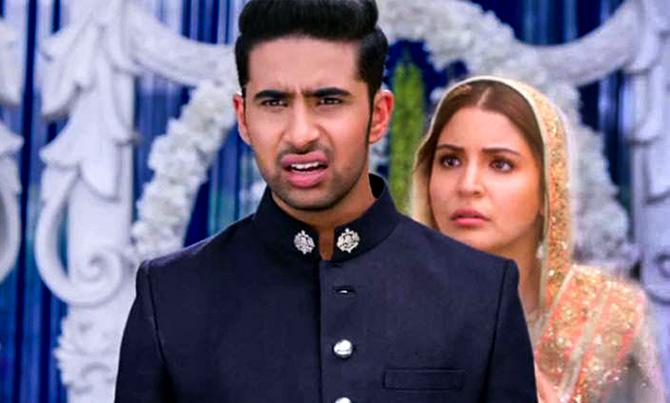 IMAGE: Anushka Sharma and Suraj Sharma in Phillauri.
Suraj Sharma has done intense films like Life of Pi and Umrika. How did you decide on him to do a lighter film like Phillauri?
(His film) Million Dollar Arm is fairly in the lighter space.
We met him and asked him to audition two scenes. He was kind enough to agree.
Once we knew where he was headed, it was great.
Tell us about yourself.
My father is an engineer with an MBA, my mother is a doctor, my brother is a software engineer.
I chose journalism and did a course in mass comm (communication).
I did modelling during my college days because I was enamoured by the Delhi fashion shows. They are very posh and you get to meet new people.
Plus, you get good pocket money and get to party a lot.
When you are in college, that is all you look forward to.
I did not plan on getting into direction at all.
In the first year of college, I had to work with a publication house, so I did a two month internship with The Statesman.
In the second year, we had to do an internship with moving pictures with a production house of our choice.
I had written an email to Red Eyes Films in Mumbai and got a chance to intern with them.
Shoojit Sircar was their main director, I assisted him on six or seven ads. I loved the experience and wanted to do it more.
When I finished my third year, I wrote back to them. They accepted me, and I started with a stipend.
I worked there for a year before I moved on to Pyaar Ke Side Effects.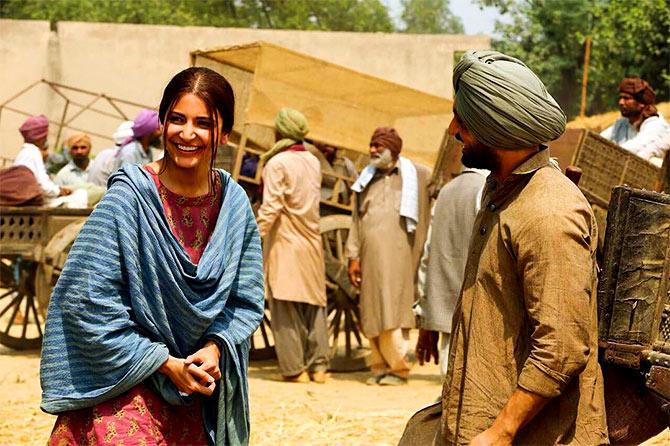 IMAGE: Anushka Sharma and Diljit Dosanjh in Phillauri.
Did you know Saket Choudhary, the director of Pyaar Ke Side Effects?
While I was working with Red Eyes Films, I met ad director Kopal Naithani. I was her junior.
She knew Saket and put me on to him.
Saket was looking for people to help him and that's how I got my first film as an assistant director.
One film led to another and that's how I assisted for almost 10 years.
Filmmaking is a lot of craft and I don't think I was ready before.
It's a fairly a daunting task to make a film and you need to be confident before you jump into it.
I know people who have done it in far lesser time, but I took my time.
You assisted Sajid Khan on the Housefull series and Tarun Mansukhani on Dostana. Whose style influences you the most?
I have learnt something from every director that I have worked with.
Saket is a good writer, Shimit Amin is technically sound, Tarun has his own flavour towards comedy, Sajid has flamboyance in his films, so I stole a little from everybody. That was my training ground.
I have been lucky to work with prolific directors and their body of work is fantastic.
Being an outsider, do you think it is difficult to get into Bollywood?
I should be the last one to complain.
It is a difficult craft and took me 10, 11 years to learn it. I think I will always be a student.
Having said that, filmmaking is an expensive medium. You put crores of rupees making films, so I don't think any producer or studio would back you because you know a relative in the industry.
They will back talent, either from within the fraternity or outside.
Did you ever think of an acting career?
Not at all. I am quite terrible at it. I am quite happy with direction.
I was never approached for films either. I realised quite early in my career that I want to move behind the camera.