'When the audience leaves the theatres (after watching Dear Dad), they will have a smile on their faces. They will not be disappointed. That's a 100 per cent guarantee.'
Dear Dad director Tanuj Bhramar tells us why we're going to love his film.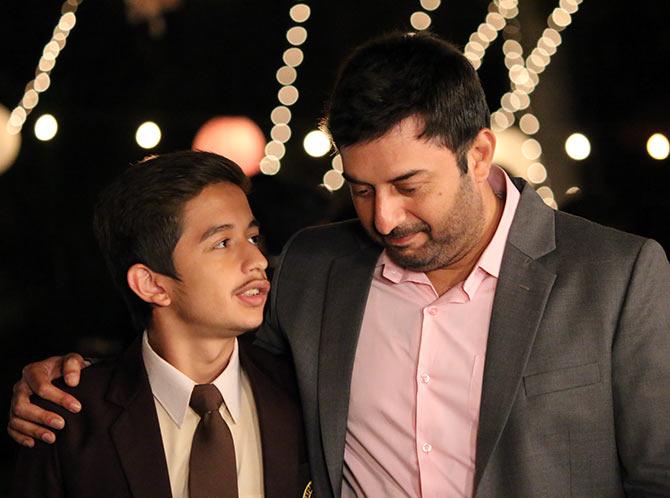 IMAGE: Himanshu Sharma and Arvind Swami in Dear Dad
It seems to have become relatively easier for first-time directors to make a film in Bollywood.
And so, we have Tanuj Bhramar belt out his first -- Dear Dad, featuring Arvind Swamy and Himanshu Sharma.
Born in Ranchi, Jharkhand, Bhramar did his schooling in Doon School, Dehradun. He was a part of the video club, and would try his hand at making parody videos, as well as ads for the cricket and football seasons.
Bhramar is also a painter, and has hosted a few exhibitions.
He went to college in New York, and shifted to Los Angeles for four years. He studied filmmaking there, and worked in popular sitcoms like Big Bang Theory and Family Guy.
He has also programmed video games.
After four years, Bhramar felt every genre had been explored in Hollywood, like action, romance and superheroes. India, he felt, is still growing cinematically and a lot of genres can yet be explored.
That's why he decided to come back and try his hand at direction here.
Bhramar discusses his career, and Dear Dad, in his chat with Jahnavi Patel/ Rediff.com.
What made you want to make a film like Dear Dad?

I have always wanted to tell simple stories, and strike a balance between simple and commercial/ universal stories which the audience can automatically relate to.
If you try to fit in everything in one film, the audience will get confused.
If you make films to the point, audiences will relate to them and the emotional impact will be better.
In India, such films aren't being made.
I was in the US for four years, studying direction. They focus a lot on this -- make simple, focused movies.
When I came back, I spent two years understanding the industry here. The way things work here are completely different from there.
How difficult was it get the emotional balance right?
It is difficult. I don't want to treat my audience like idiots; I want them to understand.
If you want to put a point across, you shouldn't have to repeat it again. You say it once, and the audience should understand.
In our films, we keep repeating the same point again and again. I didn't want to do that.
How did you balance the father-son equation in the film?
I studied in Doon School, so my father would drop me from Delhi to Dehradun from time to time, whenever he got the chance.
When I wrote the script, it was from the son's perspective. I've taken a few incidences from school, when I was a kid.
When Arvind Swamy got involved, he got the father's perspective. It was a good collaborate process.
Sir (Arvind Swamy) gave me his thoughts where his character came from.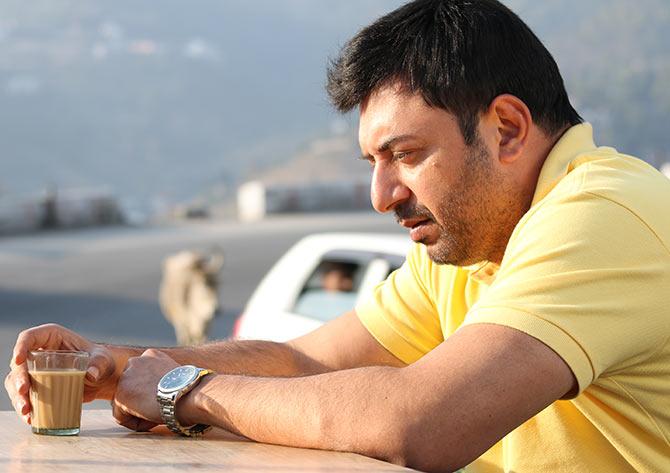 IMAGE: Arvind Swami in Dear Dad
Why did you decide to cast Arvind Swamy?
As a kid, I had seen Bombay and Roja and the film left an impact with me.
Sir has a very understated performance. He's not loud on screen. His eyes are captivating, he says a lot with them.
I needed somebody who had an understated performance but at the same time, had that warmth of a father. Sir has aged and perfected it.
When we were thinking about casting, my casting director suggested Arvind Sir, and I said yes. We approached him and he was game.
Arvind Swamy is associated with good songs as well. Was there any pressure on you to add some good songs?
I added that pressure on myself because a road movie doesn't fit without a song.
Of course, you have to balance those things -- you don't have to show them dancing but you can have a nice moment between the father and son, while the song plays out.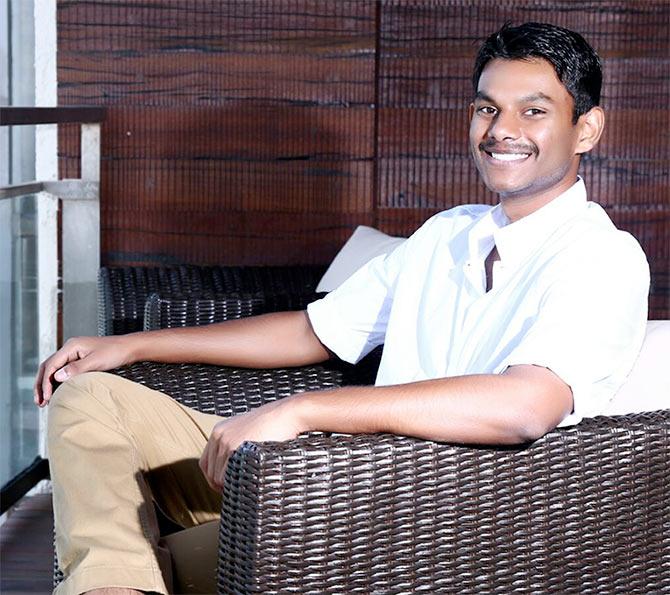 IMAGE: Tanuj Bhramar
A lot of movies do well by word-of-mouth. Do you think this is the right time for Dear Dad to release?
Yes, word-of-mouth will help my movie.
This is the right time. Indian cinema is evolving and people are looking forward to good movies.
For example, The Lunchbox is a great movie. It's one of the best movies that has come out in this generation.
In the movie there are many said unsaid things which happen.
It's a love story at heart so people connect with those things a lot.
These are the kind of things I'd like to make here.
How do you think the audience will accept Dear Dad?
When the audience leaves the theatres, they will have a smile on their faces. They will not be disappointed. That's a 100 per cent guarantee.
What else are you working on?
I am working on an action film. The script is almost ready but it isn't a proper Bollywood masala action movie.
I want to shoot a movie back home in Jharkhand. Also, explore North-East India and make a movie there.