'Until I remove that character from my head and empty the space, other characters cannot take that place,' Nawazuddin Siddique tells Rediff.com's Jahnavi Patel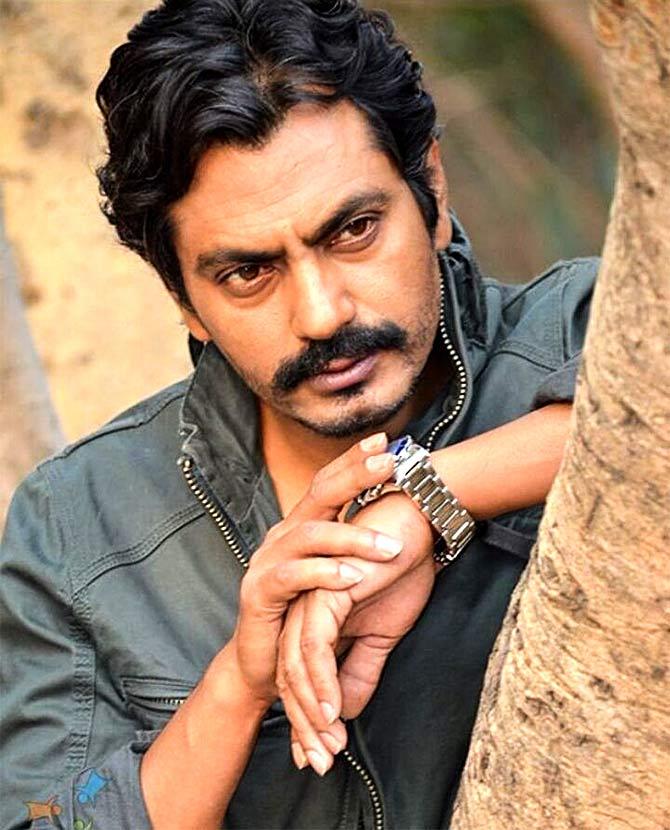 IMAGE: What are you thinking, Nawaz? Photograph: Kind courtesy Nawazuddin Siddiqui/Instagram
A man, dressed casually, sits on a sofa in a bungalow that has been converted into an office in the northwestern Mumbai suburb of Andheri.
A cup of tea, a plate of wafers and biscuits lies on the table.
The man obliges a journalist with a video for a friend, who is a huge fan. He poses for pictures as well.
He smiles, says thank you and shakes hands.
Nawazuddin Siddiqui, one of India's finest actors, is remarkably down-to-earth. Unlike actors he has been compared with, success hasn't gone to his head.
Cigarette in hand, Nawaz starts fielding questions a little hesitantly at first, then he seems to enjoy himself as he relaxes and the laughs come on.
Your look is very different in Mom.
Honestly, I don't believe in get-ups.
We haven't paid much attention to get-ups in my films before this, but in Mom, we have especially worked on it.
Even in Manto, for the bald look, we put a wig on, but did not use prosthetics on the face.
I don't believe in get-ups because somewhere I feel that you might take the support of the get-up, which I don't want.
In Mom, it was the demand of the director (Ravi Udwayar) to do something different and experimental.
I got a lot of references. Finally, we decided to use a get-up (of a person) which we see around us in daily life, but never notice him.
Even if they pass in front of you, you will not see them.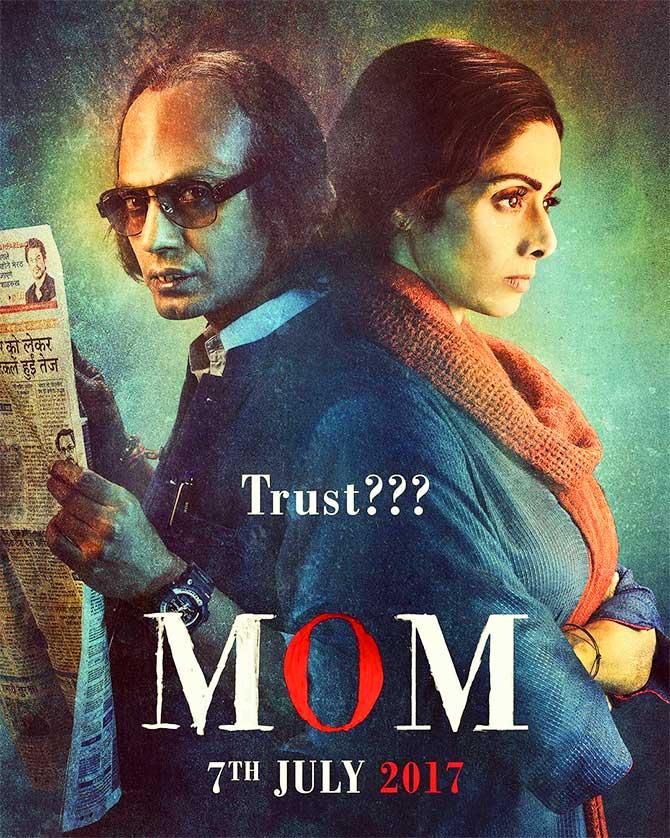 IMAGE: Nawaz and Sridevi in Mom.
You worked with Sridevi for the first time.
Sridevi is the world's best actress, according to me.
Hamare yahan kanjoosi karke bolte hai ke (we reluctantly say) 'he is one of the best actors in our country'.
If he is the best, say openly that he is the best actor in the world.
I have been to America a couple of times and saw a Broadway theatre rehearsal once.
If an actor does anything, the director says, 'He is the best actor in the world'.
So why do we shy away from saying 'world'?
If she is the best actress, like Sridevi is, we shouldn't do kanjoosi.
We should say, 'She is the best actress in the world'.
You have worked with Amitabh Bachchan, Shah Rukh Khan and Salman Khan. But it's you who people remember when they get out of the theatre.
Honestly, I don't think about all this.
But I am thankful to people, who appreciate this.
It motivates me to keep working with the same instinct that I have been working on my previous films.
I get that confidence and passion to put in the hard work because of the appreciation I get.
If people praise an actor, they should not let it get to their head. They should live up to the people's expectations.
They should continue working in the same manner; (do) the work that people have seen and praised them for.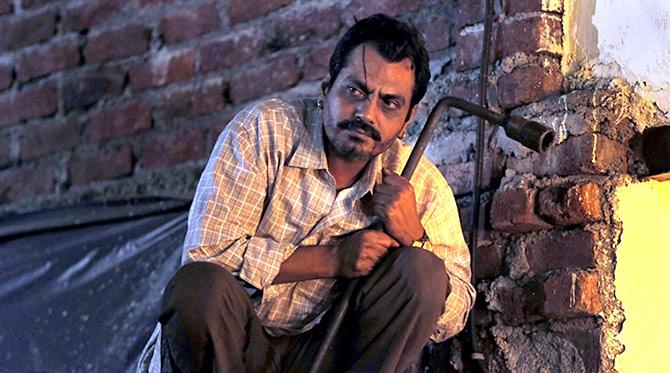 IMAGE: Nawaz in Raman Raghav 2.0.
People appreciated Raman Raghav 2.0, but hardly anyone watched it in the theatres. Does it get disappointing that your solo films don't draw in crowds?
Films like Raman Raghav or Haramkhor are difficult films for people.
But you will find a DVD of Raman Raghav in every house.
Freaky Ali and Manjhi were in profit.
The budget of Manjhi was Rs 3 crore, out of which Rs 2 crore was spent on publicity. The film made around Rs 12 crore to Rs 15 crore. That's profit, na?
The budget of Haramkhor was Rs 70 lakh. It made money at the film festivals. It was sold to Netflix and we got around Rs 1.5 crore to Rs 2 crore. So it's in profit.
When you talk about big films, you say it will make enough in satellite rights and other things, and show profit.
Why not make the same calculations for small films too?
My solo films are hits.
I got awards for them. For Raman Raghav, I got three international awards.
We are taking Indian cinema to the international level and people are appreciating it.
Because of this, people are watching and knowing more about Indian cinema.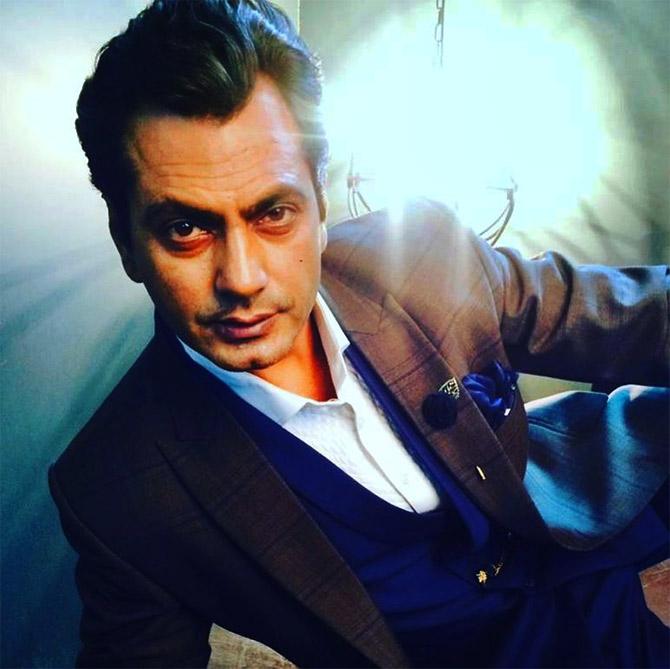 IMAGE: What are you looking at? Photograph: Kind courtesy Nawazuddin Siddiqui/Instagram
Audiences feel if Nawazuddin is in the film, it will be good. Do you take this as motivation or pressure?
Of course, motivation, and it should be that way.
People's appreciation drives us to put in double the hard work.
I don't let it get to me.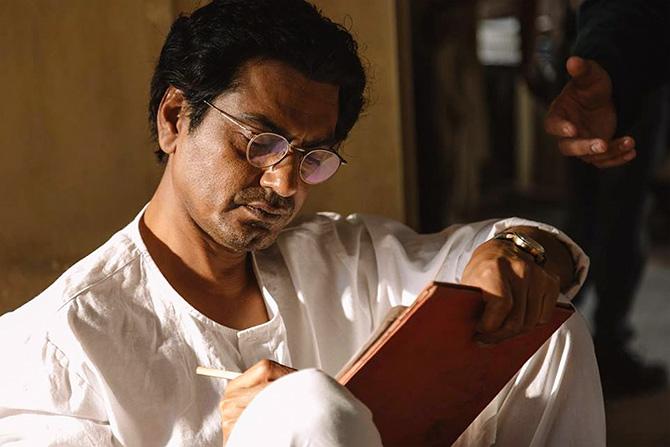 IMAGE: Nawaz in and as Manto.
How do you prepare for your films?
Earlier, after finishing a film, I needed a gap of a month or a month-and-a-half.
I don't want to look back at my characters.
I don't want to say 'I did this as Faisal Khan' (the character in Anurag Kashyap's Gangs Of Wasseypur 2, which put Nawaz on the map) and then say that again after four years.
I recently finished Manto, but I don't want to talk about it now.
I want to hate it now. I want to throw it away.
Until I remove that character from my head and empty the space, other characters cannot take that place.
That's why I need to leave the previous characters.
I don't want my previous characters to influence the new one.
I need a gap of a couple of months to return to normal, sit with my friends, listen to their gaalis, biwi se daant kha saku.. Woh zaroori hota hai reality check karne ke liye (Friends' abuses, my wife scolding me are all necessary as a reality check). (laughs).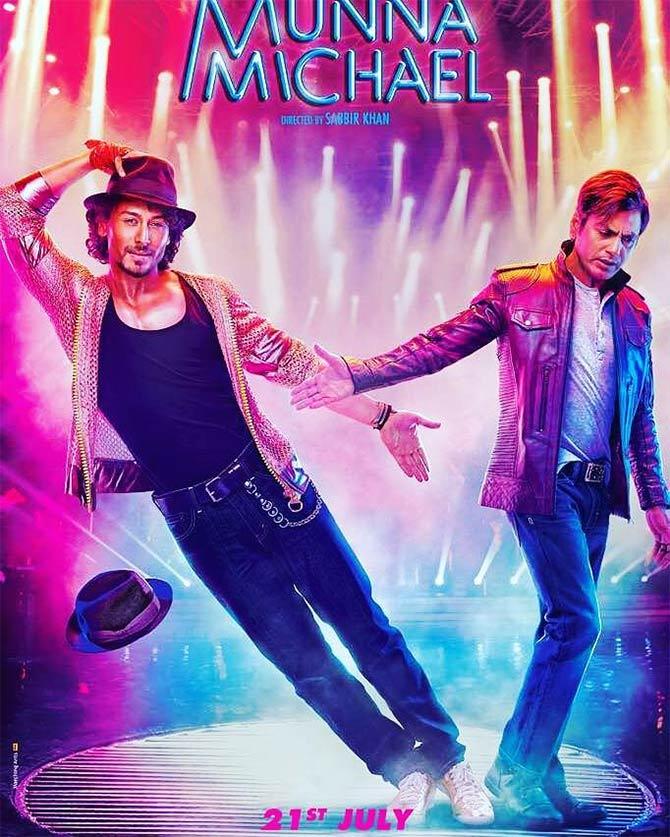 IMAGE: Tiger Shroff and Nawaz in Munna Michael.
What was it like matching steps with Tiger Shroff?
Nobody can match steps with him.
You dance in the trailer.
Naach rahe hai, nachva rahe hai (I am dancing, I am trying to dance). But you can't match Tiger.
I didn't want to dance, but Sabbir (Khan, the director) pressurised me.
When I did, I started enjoying it.
Now I have confidence about dancing and will maybe take up (more films with dance).
Did you give Tiger any acting tips?
Nahin yaar, main is layak nahin hoon (No, I am not capable of that).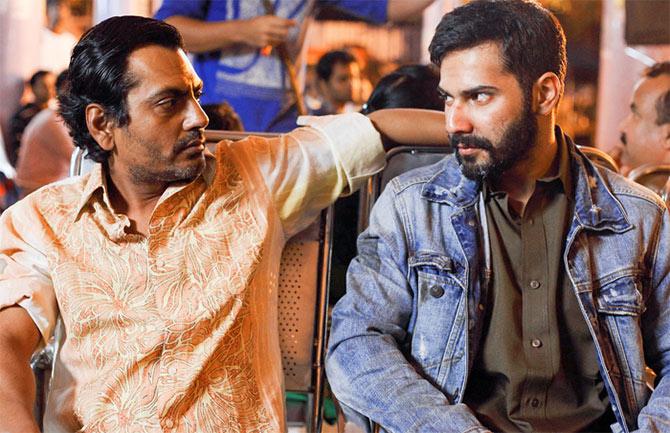 IMAGE: Nawaz and Varun Dhawan in Badlapur.
You work with established actors and the younger generation. What differences do you notice?
The young generation is very passionate about their work. They are experimenting too.
Varun (Dhawan) did with Badlapur. He is a hardworking actor toh maaza aata hai (so it is fun).
Be it established actors or new ones, when they are passionate, you enjoy working with them.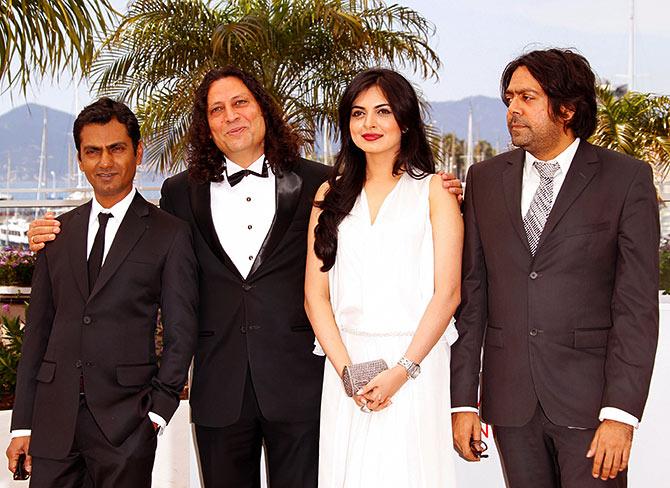 IMAGE: Nawaz, Anil George, Niharika Singh and director Ashim Ahluwalia at the Miss Lovely photocall in Cannes. Photograph: Andreas Rentz/Getty Images
You travel with your films to Cannes. How has that journey been?
The directors that I work with and the kind of films I do... they get selected.
When our films go to the festival, you definitely feel you're on the right track.
You do your kind of films and at the same time, do commercial films too, so it's good.
The journey has been good.