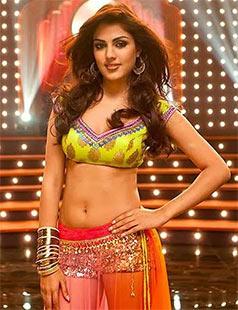 'I did not imagine I would be offered a film like Sonali Cable,' Rhea Chakraborty gets candid with Sonil Dedhia.
After Mere Dad Ki Maruti, VJ-turned-actress Rhea Chakraborty returns to films 18 months later, with a titular role in Sonali Cable.
In this interview with Sonil Dedhia, Rhea tells us how she had to go out of her comfort zone to play a Maharashtrian character, and clears the rumours about dating Aditya Roy Kapur.
It's been a long time since your first film Mere Dad Ki Maruti released.
If it was left to me, I would release a film every Friday in which I am the leading lady!
It takes time. We had to come out on a date where we aren't squished between big films.
Nowadays, every week there are big films, like a Salman or Shah Rukh starrer that dominate the business. So it's important for a plot-driven film like Sonali Cable to get the right spot.
We were to come out last October, but we did not get a spot because there were back-to-back releases. The next free slot we got was only now. Which is also not technically free, because we have Bang Bang and Haider coming out before us, and Happy New Year a week after us.
Did you deliberately choose to do an author-backed role rather than starring in a Rs 100 crore commercial movie?
If I was offered a Salman Khan or a Shah Rukh Khan film, I would have signed it. No one says no to that.
At the same time, when you get a script like Sonali Cable, it is rare because in a lot of Hindi films, actresses don't have a big part.
Of late there have been Dharma and YRF (Yash Raj Films) films where the male and female roles are equal. But many times, the actress has just a few scenes, two songs and is there only to add the glam quotient.
I did not imagine I would be offered a film like Sonali Cable. When I did Mere Dad Ki Maruti, everyone was teaching me and telling me what to do.
I had to figure out whether I am an actor or just someone intelligent enough to understand about camera angles, and a certain emotion and how I feel when I react. They are two different things.
Through the auditions and the process of Sonali Cable, I realised that I want to be an actor. I had to come across a script that made me feel like that. I don't think any actor would say no to Sonali Cable.
Isn't it risky playing the female lead so early in your career?
A lot of people advise me about the things that I need to do and shouldn't do, but I feel there is no right or wrong in the industry.
I am glad I am working in this film because a lot of women-centric films have released in 2014 and done well.
How involved was producer Ramesh Sippy in the film?
Ramesh sir helped a lot. He came to all our workshops. He was of great help when Ali (Fazal, co-star) and I had to shoot the make-out scenes.
We are buddies in real life and we were really nervous having to kiss on screen and make it look believable.
Ramesh sir called us to his vanity van where our director Charudutt Acharya was present and explained things to us very casually. He made it very funny. He told us, 'Real life main boyfriend ya girlfriend ko kiss karte ho na? So how is this a big deal?' This made things easy for us.
Ayushmaan Khuraana said that to act in films, he had to tone down his VJ persona. You have been a VJ too. Did you face a similar situation?
Yes, I did. I had to break my real life mould and probably unlearn certain things.
As a VJ, I was very forthcoming and talked all the time, presenting shows on television. I had to break down my confidence to become an actor. Back during my VJ days, I was overconfident as I was on television and was earning money very early in life.
My character in Sonali Cable is also a confident girl, but her confidence stems from her insecurities. There were certain traits I picked up from my real life to play this character.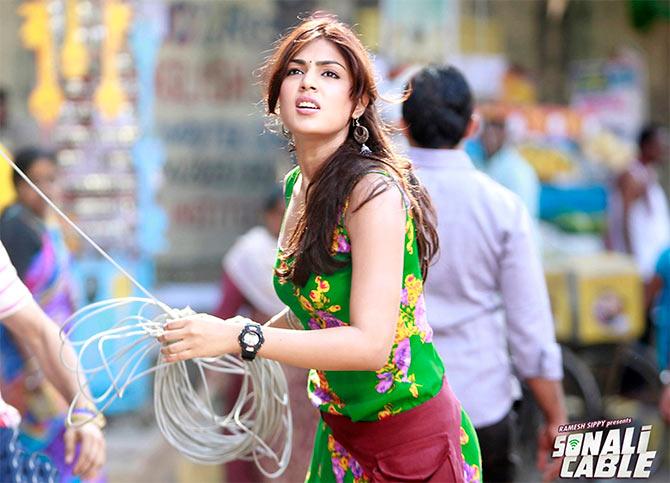 But the character is not like you in many ways. Was that difficult to portray?
It was very tough. When I entered, (director) Charu sir would be like, 'What are you wearing? You look like some queen's daughter. Go back home, wear a salwar-kameez and come.'
Rohan sir (Rohan Sippy) told me to stop using the car, and travel by bus. If I was tired, he asked me to take the autorickshaw. He would be like, 'Mere Dad Ki Maruti is done and Sonali Cable ho gayi chalu, so get out of the Yash Raj heroine mode'.
He told me to go live in the slums to get a hang of the lifestyle. So for three months before starting the film, I did not meet my friends. My cook's sister stays in Worli village. So I stayed in Worli village for three days. I ate there, and lived with them.
It was quite entertaining. I remember one night the neighbour got drunk and was going to hit his wife. The cool part is that you can't mess with Koli women. They beat the hell out of their men.
Can you believe, there is not a single molestation case reported by Koli women because they have guts and stand up for each other? It was a killer experience.
Is it true that you are dating Aditya Roy Kapur?
I am very much single. I am open to being in a relationship with someone but I've just not met anyone who I want to date.
I was never seeing Aditya. Aditya is a good friend of mine. He is a close pal. But of late, we haven't hung out together because he has been really busy.
In the past, we have been to the mall together, went shopping and saw movies together. I believe that's how the media wrote things about us.
I would like to do a romantic film with Aditya and end this speculation once and for all. And prove that we are friends.
You don't seem to be bothered about being linked to actors?
No, it doesn't bother me because that's what happens in this industry.
Also, I am not being linked to any bad people. Aditya is my friend and I like him. I don't mind being linked to him.
Your mother is Konkani. Did she help you play the character of a Maharashtrian girl in the film?
Yes, she helped me get the nuances of the Konkani language.
In fact, we talked about my link up, my mother who used to be a journalist, was reading some article of a friend of mine and she was like, 'Haan isne aise he kiya hoga.' I was like 'Mom, these guys write anything.'
She replied that there is no smoke without fire. Then she told me that I read somewhere that we are looking for a boy for you to get married, which isn't true. So then I told her that there is smoke without fire.
You will be working with experienced actors like Riteish Deshmukh and Vivek Oberoi in your next film, Bank Chor.
It's a very big film and I am really excited. It's probably my biggest film so far.
I play a news reporter in the film and it's a quirky role.
I am looking forward to working with Riteish Deshmukh and Vivek Oberoi. These guys have done a lot of films and they know their stuff.
It's different when you are working with experienced actors. They have a lot to say during rehearsals and readings, that maybe you should do it like this or like that. So the process gets a lot deeper.