'Kapil will always be my friend.'
'Sometimes it's nice to remain silent.'
Ali Asgar, who will be seen in The Drama Company next, gives Rajul Hedge his side of the story.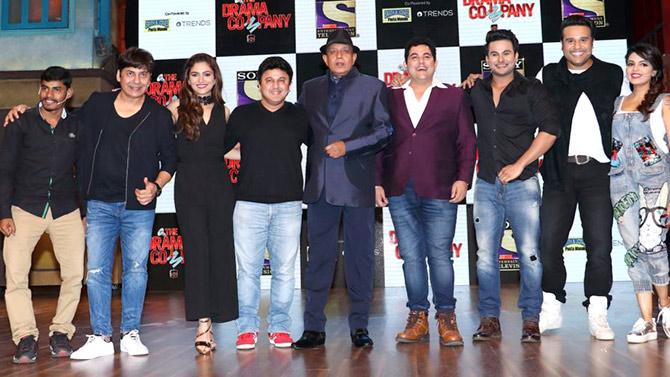 IMAGE: Tanaji Galgunde, Sudesh Lehri, Riddhima Pandit, Ali Asgar, Mithun Chakraborty, Aru Verma, Sanket Bhosale, Krushna Abhishek and Sugandha Mishra at the launch of The Drama Company.
Actor-comedian Ali Asgar is all set to showcase his talent on Sony Entertainment Television, with its new show, The Drama Company.
He will be seen with stand-up comedians like Dr Sanket Bhosale, Sugandha Mishra, Krushna Abhishek and Sudesh Lehri, along with screen legend Mithun Chakraborty.
"I don't have a permanent character; you will see me in varied characters, depending on the story in each episode," he says.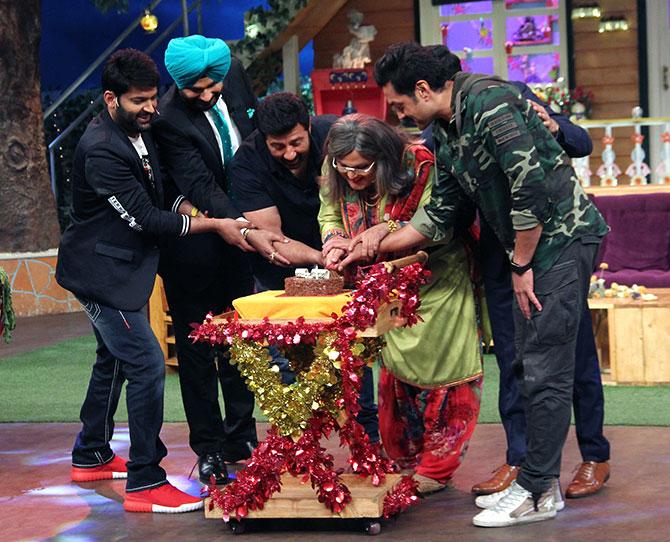 IMAGE: Ali Asgar celebrates his birthday on The Kapil Sharma Show along with Kapil, Navjot Singh Sidhu, Sunny Deol and Bobby Deol.
Ali had been an integral part of Kapil Sharma's core team -- working with him on Comedy Nights with Kapil and The Kapil Sharma Show -- but he quit after the altercation between Kapil and Sunil Grover.
Ali clarifies he left the show due to creative differences.
"There was no growth in my character," he says.
"I moved out due to creative differences as my character had become stagnant. There was no scope for improvement."
"Dadi (Asgar's character in Comedy Nights With Kapil) had different shades while Nani (Asgar's character in The Kapil Sharma Show) did not. Yet, I continued for a year."
"That's why I exited because it was mentally affecting me."
"There are several things that cannot be discussed publicly," he says.
"All I can say is that Kapil will always be my friend. Sometimes it's nice to remain silent, as it is not the right time to talk about certain issues."
"Things might get worse if you talk about it."
"Kapil has been my colleague for four years and I will not give any explanation to harm someone," he adds.
He was also unwell, he says, explaining his absence from Kapil's show.
"By the time I felt better, my contract was over," he says.
Ali says he has no reservations working with Kapil in the future.
"I don't have any personal fight with Kapil Sharma. I would love to work with him again. I wish he offers me a lovely character one day," he adds.
They maintain a cordial relationship. When Kapil was unwell, Ali made sure to check on his health.
"The celebrities enhanced the show's appeal," Ali says, looking back at his shows with the popular host.
"All the big stars made appearances and surrendered to the show. I loved all the celebrities, but I enjoyed cricket legend Kapil Dev the most. I have grown up watching him. He is my hero."
"When he came, unke jab pappi diya (when I kissed him), that was a historical moment for me (smiles). I regret not being there when Sunil Gavaskar had come. I had fun with Virat Kohli and Yuvraj Singh too."
He kissed most of the celebrities on Comedy Nights With Kapil. Is there anyone he wanted to kiss, but could not?
"Aamir Khan," he says immediately.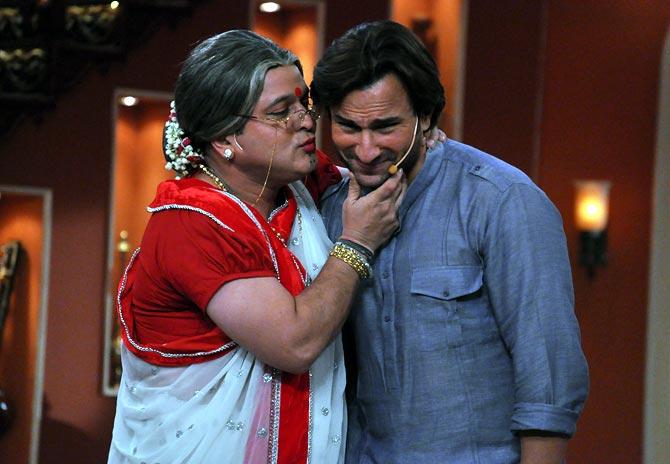 IMAGE: Ali Asgar kisses Saif Ali Khan in Comedy Nights with Kapil.
Ali, who played Kamal in the iconic show Kahani Ghar Ghar Ki has kept himself away from daily soaps.
"Though I was not the lead in Kahani Ghar Ghar Ki, my character had different shades. I did shows like FIR, Yeh Toh Ghar Ki Baat Hai, Jeannie Aur Juju and Woh Teri Bhabhi Hai Pagal."
"Some of them worked and some do not. After that, I received a lot of offers, but there was nothing new to explore."
"It was all repetitive," he says.
"I am hungry for good roles," he says.
"I want to do something negative. People have given me so much love for my characters that now I want them to say, 'Cheed aati hai isko dekh kay (I get the creeps seeing him)'."
"Someone like Pran's character in films. But I don't want to play a buffoon villain."