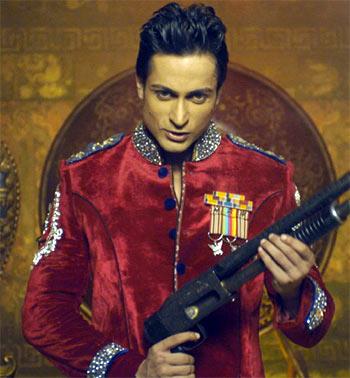 'Television is the medium that made the nation love me. I am who I am because of TV and I will never give it up.'

But for now, Shaleen Bhanot is concentrating on music.

Television actor Shaleen Bhanot (left) of Hitler Didi fame is all set to make a name in the music industry.
He has turned singer with his single called Kamasutra, in collaboration with Stereo Nation.
In this interview with Rajul Hegde/Rediff.com, the actor talks about his singing stint, his conspiracy to be a reigning TV star, and even sings for us.
How did this singing debut happen?
I met Taz (of Stereo Nation) in UK, and requested him to sing some of his hit songs for me. He insisted that I sing along.

He heard me and said that my voice is good and I should give singing a try. I thought about it and returned to India. It was at the back of my mind for a while before I took it up. I am happy that I tried it for my fans.
I love to perform and entertain audiences, but I wanted to perform on my own songs.

I was looking for the right number and this song was just perfect. I am now lining up my next set of songs.

Why the title Kamasutra?
The video is slick and stylish with catchy lyrics. The single is named according to its packaging.
WATCH: Shaleen Bhanot's video Dooba Hooa Hain Kamasutra
Are there any singers in your family?
The only musical influence in my family is my mother, who holds years of experience in Indian classical music.

I believe I've inherited my singing skills from her.

She used to get up early in the morning and practise just for the love of it. But I never practised with her.
Where did you record the song?
It was recorded in UK and the finishing touches were done in India.

The video was shot in four days at ND Studio, Karjat, near Mumbai. It took us six months to put the song and music video together.

I didn't want any vulgarity in the video.

This is a big budget song released by Zee Music.


Shaleen Bhanot sings Kyunki Tum Hi Ho Ab Tum Hi Ho from Aashiqui 2
How much time did you take to learn the lyrics?
It took me two-three hours to sing the entire song, which was surprising for me.

I was telling them to recorded it once again to be on the safer side but they said, 'It has come out very well, don't worry'.
I am a hardcore Punjabi at heart but when it comes to singing in Punjabi, I am not that great. I had to learn the lyrics.
Will acting take a backseat since you are involved in singing now?
Television is the medium that made the nation love me. I am who I am because of this love.

We have more number of television sets at people's home than cinema theatres. So I feel television is bigger than cinema.

I will never give up the medium that gave me so much love. I am certainly looking forward to good shows after a break of a year and a half. I am okay with anything provided the character I play excites me.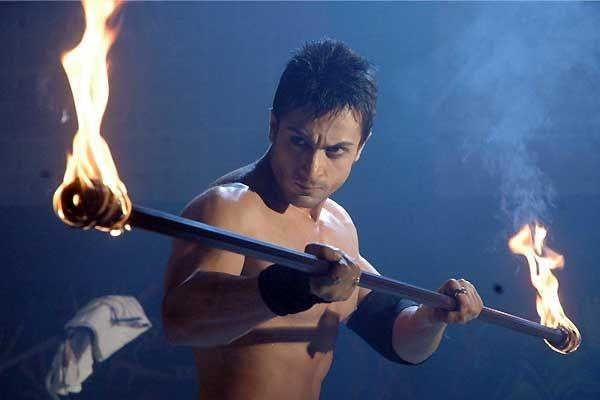 Image: Shaleen Bhanot in Sajda Tere Pyar Mein
You have produced the song yourself.
Yes. I am not doing singles for profit but for passion. I loved the track and so I wanted to justify it with a larger video.

There is lot of scope for singles even though there is no scope for returns. I would be more than willing to promote new musical talent and help them even though I am not a part of it. I would love to sing for free in films too.
You are acting in a couple of films.
Yes. Love Ke Funde may release in May and Chal Jhoothe is being shot currently.
Have you taken tips from friends who have forayed in films?
I am happy for my friends like Ayushmann Khurrana, Sushant Singh Rajput and Barun Sobti but I haven't taken any tips from them. Films were never on my mind. That just happened when I was on a break from television.

Whenever I meet my friends, I tell them to do more films.

When they ask me why I don't want to do films, I tell them if they all do more films, there will be vacuum on television and I will get to rule the medium (laughs).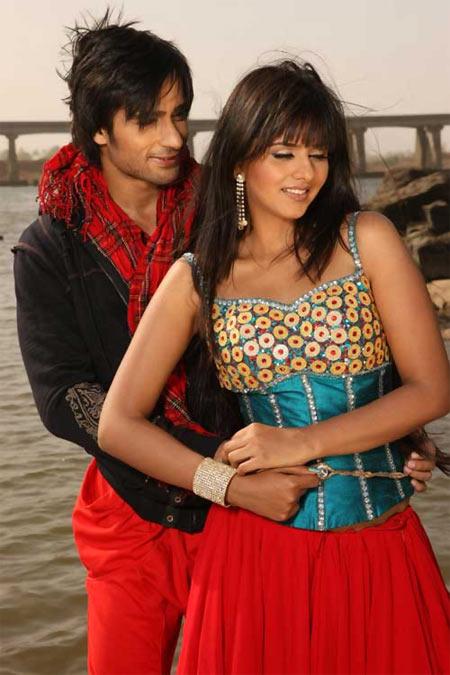 Image: Shaleen Bhanot with wife Daljeet Kaur
What's happening on the personal front?
Everything is going great.
Great? Recently there were reports about your wife actress Daljeet Kaur filing a case against you for assaulting her.
If I say something now, it will be wrong. I would like to talk about it, but at the right time.

WATCH: Shaleen Bhanot sings Dooba Hooa Hain Kamasutra, unplugged!

WATCH: Shaleen Bhanot sings More Saaiyan To Hain Pardes, unplugged!