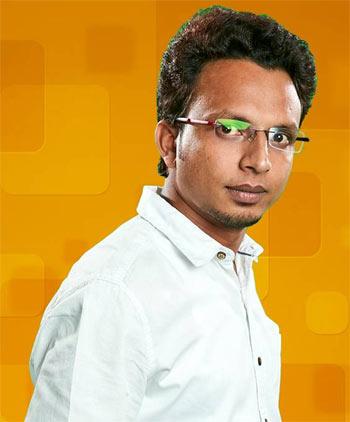 'Manu and Manveer have a bigger image. They are popular and I could not be compared to them. I was a small face from a small town but I clearly stood apart and contributed a lot to my team.'
Navin Prakash explains why he got eliminated from Bigg Boss 10.
Navin Prakash got eliminated from Bigg Boss 10 over the weekend and he could not fulfill his agenda of proving that a common man is no less than a celebrity and can give them tough competition. The other contestants, who were nominated for elimination, were Lokesh Sharma and Rahul Dev.
"I have dislocated my shoulder. I will have to take care of it for 45 days," Navin says. "Initially, when I entered the house, I thought if I manage to stay in the house for two-three weeks, it's enough. But when I started doing well in the tasks, I felt I would survive for another six weeks. But the moment my shoulder got dislocated during a task, I prayed to God to get me out of the house."
He added: "I wouldn't have felt bad if I was nominated with celebrities like Gaurav Chopra and Bani because they are quite active in the house. But losing to Rahul Dev is something I can't understand because he was not active at all. There's a lot of brand consciousness and celebrity obsession among people. Due to a celebrity's fame, they get votes from the audience while commoners get voted out."
Housemates like Manu Punjabi and Maveer Gurjar were more in the public eye than Navin.
"I was Manu and Manveer's backbone," Navin asserts. "I would brief them and participate actively during the tasks. They never tried to subdue me. In fact, all the important decisions during the tasks were mine. I was not influenced by them to take decisions. It's just that Manu and Manveer have a bigger image -- Manu has done a reality show before while Manveer had a good branding before the start of the show. They are popular and I could not be compared to them. I was a small face from a small town but I clearly stood apart and contributed a lot to my team."
Initially, Navin was seen as one of the most humble contestants on the show. He always showed a fighting spirit and went to any extent to win tasks. But then he displayed his aggressive side after getting into a scuffle with Rohan Mehra during a task.
"I would react or get angry only when it was necessary, only to make my point. I wouldn't unnecessarily scream or make noise," he says.
During the Laundry task, Navin changed the game at the very last minute by pouring water on the celebrity's consignment box leading to his team's victory.
During the Immunity task, he drew a lot of criticism for deceiving Lokesh by destroying her set of blocks when she was close to winning.
"There are some contestants, who did worse things on the show." Navin justifies. "Like, Bani pushing Lokesh into the pool during the sting operation, Lokesh getting nominated due to Karan's misinterpretation... What I did with Lokesh is only 1 percent wrong in comparison to Karan. He pretends to be sweet because he has a sweet face. If I get angry, it shows on my face. His misinterpretations are not discussed while mine are. Let me tell you, I didn't cheat while Karan did but only my issues are discussed.
"Instead of taking it negatively, people should see that whatever I did positively, that this guy used his mind to survive in the house. I don't know why people took it negatively. It was all a game plan inside the house," he adds.
"I didn't like Bani's attitude," he goes on. "She is the most selfish person in the house. She shouldn't be inside the house. Not once did she ask -- forget about the commoners, not even her own team members -- if they want tea or food or if they were in any stress. I have never seen her showing any concern for anyone. Despite the fights, we were all concerned for each other. I had the maximum fights with Rohan but I still cared for him."
Talking about his experience, he says, "I have found friends for life in Manveer, Manu and Mona. I hope the audience will remember me as a fighter. For me, getting a chance to share screen space with Salman Khan was like a dream come true. I am going to cherish that for a lifetime."
What would be his memorable moment in the house?
"Lopa gave me a funky haircut while Mona gave me a nice head massage. Mona was like my elder sister, she would take care of my food. Even if she fights with you, there's some logic to it. Her reasoning and thoughts are appropriate," he replies.
Navin says he missed his family a lot inside the house. "Sometimes I would sit quietly and be in a different zone for hours, thinking about my family. Then Nitibha would ask come and ask me if I was planning something," he says with a laugh.
Would he return to the house if given a chance?
"They can send me back but I won't be able to do the tasks actively. I don't think I would be interested now," he says.
Navin has become a celebrity after the show. What are his future plans now?
"I don't know if I am a celebrity; I am yet to experience that," Navin says. "If someone recognises me or if I get a big offer, then I would think this show has given me something. I will continue to teach part time but will search for jobs in writing and anchoring."