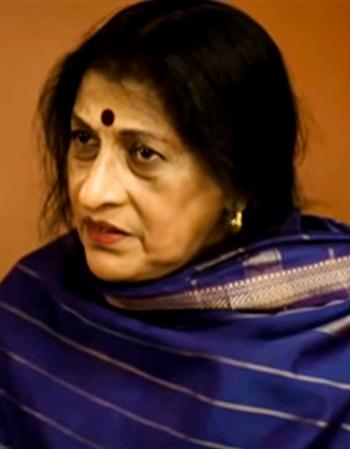 Amol Palekar tells Patcy N/ Rediff.com how he captured Kishori Amonkar's life in his documentary called Bhinna Shadaj.
Legendary singer Kishori Amonkar passed into the ages on April 3.
Amol Palekar, who had made a documentary called Bhinna Shadaj on her life in 2011, knew her for 30 long years.
He would travel around the world to listen to her concerts.
"I can travel that extra mile just to listen to her," he says.
Palekar tells us how the documentary fell into place.
Once, after listening to one of her concerts, Palekar started chatting with Kishoriji when the topic came up on why there was no documentary on her. Immediately, Kishori asked Palekar why doesn't he make one?
"I kept quiet and did not say anything at the time. I left the venue," Palekar narrates.
Two days later, Kishoriji called Palekar and asked him why he hadn't called her yet and replied about the documentary.
Palekar took his wife Sandhya Gokhale to Amonkar's home to speak with her and explain that he had certain apprehensions. He wanted to clarify them and only then move ahead.
Firstly, this was not the first time a documentary on Amonkar was being attempted. When other filmmakers had tried before, they were aborted midway. Palekar did not want the same fate for his documentary on her.
Kishoriji said she would give him in writing that she would complete the documentary.
The second apprehension was that he wanted her precious time, as he wanted to do an extensive documentary on her life and career in music, not just show the events of her life.
She agreed to that too.
And that's how Kishori Amonkar's life was captured through a series of interviews.
Palekar and his wife Sandhya Gokhale, who worked as a producer and co-director, did extensive research on Kishori Amonkar. Palekar wanted Sandhya on board as she is a trained classical singer as well apart from being a lawyer.
"She is the one who got all the material that we wanted," he explains.
The research and the making of the documentary took two years.
Musicians like Ustad Zakir Hussain, Pandit Hari Prasad Chaurasia and Ustad Amjad Ali Khan have given beautiful insights into her music.
Amonkar talks at length about her mother Mogubai Kurdikar, who was also her guru. In fact, we can also see Kurdikar singing.
Amonkar's sons Bibhas and Nihar talk about the difficult times that their mother saw when she lost her voice in 1968 for almost 10-12 years. She could also speak in notes or sign language and spent those years living like a recluse in a dark room.
When she got her voice back, she told her sons that her music gave her strength.