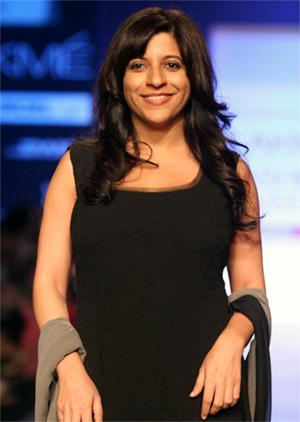 'I love Chalti Ka Naam Gaadi. I grew up watching it and find it very funny. I am a huge Kishore Kumar fan.'
Zoya Akhtar discusses the one thing she loves -- movies!
Zoya Akhtar has now taken on a new role.
The Zindagi Na Milegi Dobara director is the community ambassador for the premium English movie channel, Sony Le PLEX HD.
Zoya's role as a ambassador will be to reach out to movie lovers and build a tribe that appreciates good cinema. She will also be seen actively engaging with movie buffs across various social media platforms owned by the channel.
On the professional front, the 43-year-old has a few things going on as well.
While she doesn't confirm signing Ranveer Singh for her next, Zoya admits that she is eager to work with Ranbir Kapoor.
In this chat with Rediff.com contributor Rajul Hegde, Zoya discusses movies, and explains why she will not make a sequel to Zindagi Na Milegi Dobara just yet.
What kind of movies do you like to watch?
I like all kinds of films but I am sceptical about violent films. I find them disturbing, especially if there is violence against women.
I don't know if I want to watch that because it bothers me. Otherwise I am open to all, I like drama, comedy and love thrillers.
Which are your all-time favourite movies?
The Wizard of Oz was my favourite childhood movie. I have watched it on repeat.
The Godfather is an amazing family drama. There is nothing that can be better with that movie, it's just perfect. I don't how many times I have watched Godfather. When it comes on TV, I don't put it off. I am like that for most gangster films for some reason. I can watch it again and again.
Stanley Kubrick's films like Lolita, 2001: A Space Odyssey, The Shining and A Clockwork Orange.
All four films have been adapted from books, and they are difficult books to adapt. His works are a study. He has captured the essence, that's why he is a master.
I love Chalti Ka Naam Gaadi. I grew up watching it and find it very funny. I am a huge Kishore Kumar fan. I like Madhubala and the songs were amazing. It's a sweet film. Also because it's Bombay, they have these awesome driving scenes on the streets.
I love Jaane Bhi Do Yaaro.
I love Lagaan. It's a great story about the human spirit. I feel like screaming and clapping at the end, what more do you want?
Since everyone in your family is a writer (father Javed Akhtar, mother Honey Irani, and brother Farhan Akhtar), do you discuss movies a lot?
We talk about films all the time. I grew up watching films with my brother like Salaam Bombay; TV serials like Malgudi Days, Yeh Jo Hai Zindagi... We advise each other when asked.
When I write my first draft, I give it to every member of my family, and take their feedback and see what works. Then we (co-writer Reema Kagti and I) rewrite and give it back.
Do you take tips from you brother while directing?
Absolutely!
There has been speculation that Raveer Singh has been signed up for your next film Gully Boys. Have you finalised the casting?
We can't talk until we sign. As far as Ranveer is concerned, we would be happy to work with each other.
Is Ranbir Kapoor also in talks for a film?
Ranbir and I have been talking about a film for a while. Hopefully at some point, we will work together. I am very keen to work with him.
Any plans of making a sequel to Zindagi Na Milegi Dobara?
I do not want to make a sequel just to cash in on the first. That's not a reason for me to make a sequel.
When I get an idea that works, I will.
How will the channel Sony Le PLEX HD be any different?
It will be different because of the line up of movies.
As of now, we have 400 plus movie titles, which include 200 award-winning movies.
There is something for everybody -- from classics to this year's Oscar winning films.
They have one premiere every Sunday, so you will have a new film for 52 weeks.
They have something called the 'Noon Show,' which has no ads. It will have one interval, so you can watch a movie uninterrupted.
They have a show called the 'Magicians,' which is behind-the-scenes, talking to the people who make movies. Not just actors but the director, editors, filmmakers cameraman etc.
There is a show which is about interesting trivia and has been intelligently and beautifully packaged. For example, five amazing films which have been short in New York City. Or may be a great actor who has never won an Oscar. Or Robert Downey Jr, who is known as Iron Man, has also played Charlie Chaplin.
In the age of Netflix and internet streaming apps, how will TV channels survive?
Netflix and all has its own thing, web series are amazing and well written. But films are films. There is nothing on Netflix that will make me stop watching a classic. At the end of the day, if you want to watch a movie like Martin Scorsese's Taxi Driver, you will watch it.
Spotlight won the Oscar for Best Film. You can either watch it or not but nothing can replace it because it has such strong content.
If you are a movie buff, you want to watch films.