'It's an emotion at the end of the day.'
After her Bollywood debut -- the Emraan Hashmi starrer, Raaz Reboot -- bombed at the box office -- Kriti Kharbanda has set very high expectations for her second release, Guest Iin London.
The actress, who moved from Bengaluru to Mumbai eight months ago, says she loves the city and likes how independent she has become after coming to Mumbai.
Prettily dressed in hot pants, Kriti is running late for the dubbing of her film, but quickly settles down for an interview with Rajul Hegde.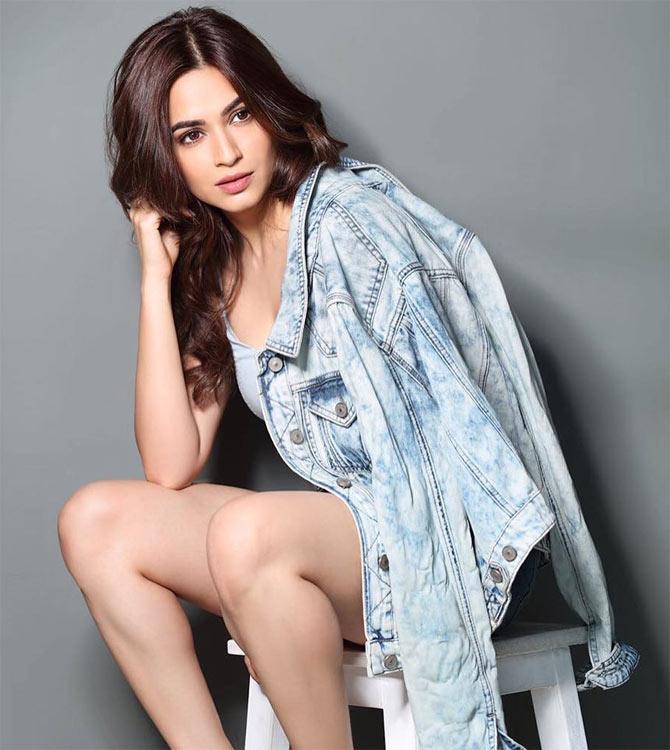 IMAGE: Her style game is spot on! Photograph: Kind courtesy Kriti Kharbanda/Instagram and Munna Singh
Your fashion statements are eye-catching. When it comes to fashion, who do you look up to?
It's about you being comfortable in your own skin.
I really like the way Deepika Padukone dresses up. I think she really carries herself very well.
I used to be a conscious person in terms of dressing and I wasn't comfortable with my body, so I wouldn't dress in a certain way.
Now I am comfortable and nothing bothers me. Once you are comfortable every things starts looking good.
One year ago I didn't have that kind of confidence, but now I can wear anything under the sun.
Are you comfortable in skin-baring roles?
If I am asked to wear a bikini in a film and there is a requirement, then I will do it.
It depends on what level they want to show.
I am okay with kissing; it's an emotion at the end of the day.
I am not going to do anything that embarrasses my parents.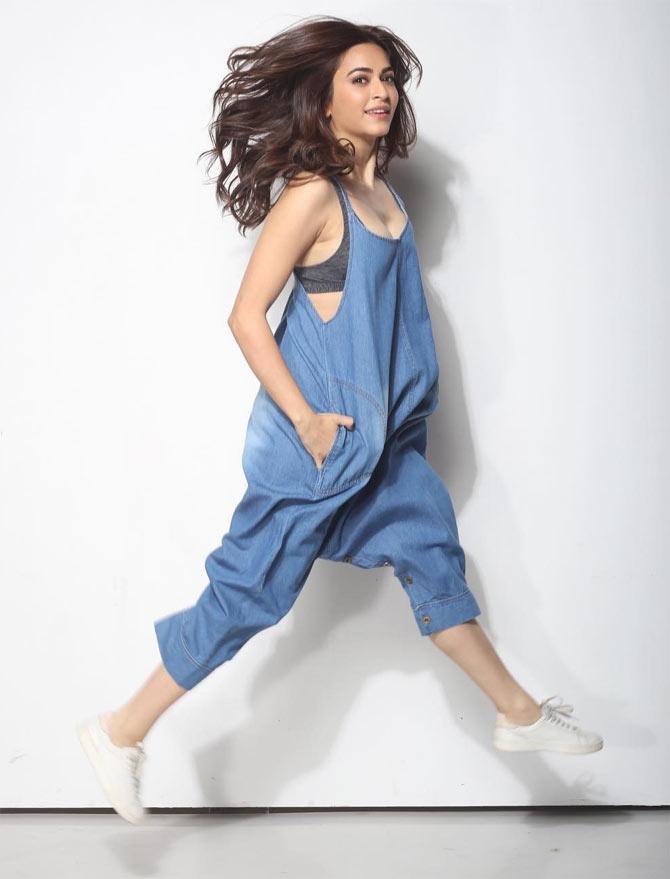 IMAGE: 'I'm crazy n I know it so I jump,' Kriti posts with the picture. Photograph: Kind courtesy Kriti Kharbanda/Instagram
In your earlier interview you said you are a big drama queen.
Guest Iin London is a comedy.
How good is your comic timing?
I am still a drama queen (laughs).
I think comedy is something I enjoy, so, it comes effortlessly. But comedy is not an easy genre.
I wanted people to believe I could do horror, the psycho girl you would be afraid of and also be this extremely lovable girl, which is a lot like me.
I will tell you how I bagged the film; that will tell you why it worked.
The first time when I met these people (the producer), they said she looks petite; after watching Raaz, people thought I looked a little big.
They said we really like you, but Ashwini sir has to meet you because comedy is not easy, plus you need to have the hang of the language.
I said 'Woh toh mein Punjabi hoon Hindi mein bolungee,' there is no tension.
Ashwini sir entered the office. He looked at me and asked 'Aur beta, kya chal raha hai?' I said, 'fogg chal raha hai.'
The Fogg (deodorant advertising) campaign had become big by then.
Ashwni sir just looked at me. I know he was thinking this girl is a psycho (laughs).
I think he saw certain quirks, so he said 'She works for the film, let's go ahead.'
And this he told me recently 'Jis din tumne woh dialogue mara na (Fogg) mein ne decide kar liya tha yehi meri film ka heroine banegi (The day you said that dialogue, I decided you would be my heroine).'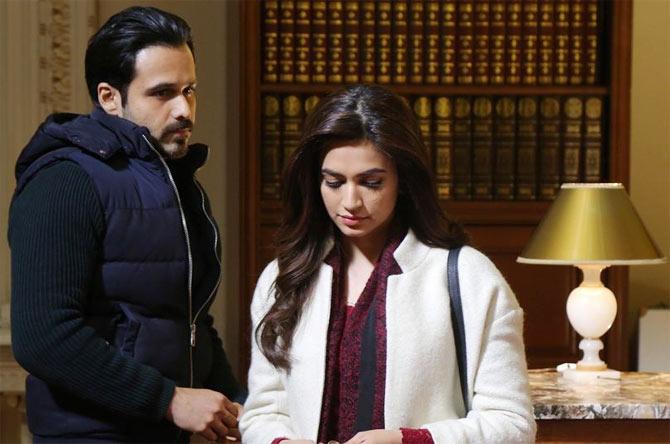 IMAGE: Emraan Hashmi and Kriti Kharbanda in Raaz Reboot.
How has the transition been from horror (Raaz Reboot) to comedy?
I am a girl and we make that transition every day (laughs).
Doing comedy was liberating in a way.
I had just come off a horror film. To come into something which is light-hearted helped ease my nerves.
It was a great shift of energy. It wasn't difficult because I switch on and off in seconds.
Raaz Reboot didn't do well.
A few days after the release of Raaz, I had moved on with the fact that it was not working.
I got good reviews, but unfortunately the film didn't do like we had expected.
I was upset and I cried.
But I have become strong now. I know failure is part of my job.
A week later, I was offered Guest Iin London.
I was more than excited because I was going to be part of a good film and be in the same frame as Paresh Rawal and Tanvi Azmi.
For me, it was a matter of pride.
Never in their wildest dreams did my parents think their daughter would become an actress and would get a chance to act with these actors.
They (her parents) flew to Mumbai while we were shooting for the film.
My dad took pictures with Paresh Sir and Tanvi Ma'am. I could see the pride in his eyes.
When my parents travelled business class, they were like we never thought we would ever fly.
I didn't have a passport till I shot my first film. I never had the hope of going abroad.
I belong to a very simple middle class family. I thought if at all I go, it would be for my honeymoon.
When I went to Switzerland (for her first film in Kannada), that was my first outdoor ever.
My mom cried and said, 'I never thought I would go abroad, but you have taken me to Switzerland.'
When I see the pride in my parents' eyes, it gives me the hope and power to work harder.
Hopefully someday, I will be able to get my dad's picture with Amitabh Bachchan.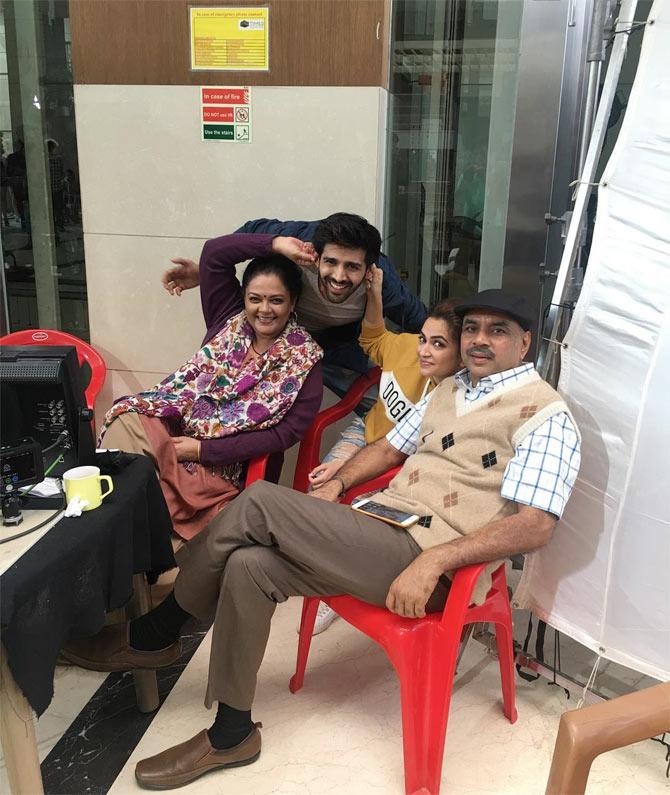 IMAGE: Tanvi Azmi and Kriti with Kartik and Paresh Rawal. Photograph: Kind courtesy Kriti Kharbanda/Instagram
What are your expectations from this film?
It's a move that I am proud of and I have given it my best.
I asked one director who watched the trailer about my work.
He said you have exceeded expectations. For me, that was a very big compliment.
I am hoping that everybody says that.
I have a very good feeling about Guest Iin London, that it will have a good connect with the audience.
It's fun, entertaining and a chilled out kind of film and I really enjoy that.
What was it like working with Paresh Rawal and Tanvi Azmi?
Amazing! My first meeting with them was bizarre.
I met them for the first time for script reading. And they broke the ice like how!
I walk into the room and introduce myself.
Tanvi Ma'am didn't shake hands, she came and just hugged me. It was so sweet of her.
Paresh Sir said, 'I heard the director praises you a lot.'
They were basically making me comfortable.
During the reading, it felt like we had already become those characters.
And two weeks after that, we were shooting for the film.
It was the most liberating experience to not pretend to be normal.
Because they are not normal people; they are very child-like, both of them love attention.
Paresh Sir is a kid at heart. He is very funny in real life.
As a person, he may come across as intimidating, but isn't like that at all.
He is approachable and very easy to be with.
Paresh Sir and I have a sulking competition.
We are like: Who can sulk more? And we had a major role reversal on set.
I am playing a Gujarati and he is playing a Punjabi.
So we were kind of helping each other there.
I would ask him for inputs for the slang and accent.
He has a name for me, he only calls me 'Punjaban.' He doesn't call me Kriti.
I think if you call him and ask about Kriti, he may get confused.
On the last day of the shoot I said it was amazing working with him.
He hugged me and said, 'You will go a long way.'
Acting with Paresh Rawal improved my comic timing and you will see me doing the best possible acting of my career.
They (Paresh Rawal and Tanvi Azmi) have made me a better actor, a positive and happier human being.
Tanvi Azmi is like a friend, she and I have that bond. I can talk to her about anything; I talk to her about boys.
It's the most bizarre thing, but I discussed with her and she would listen. She calls me 'heroinee idhar aa'.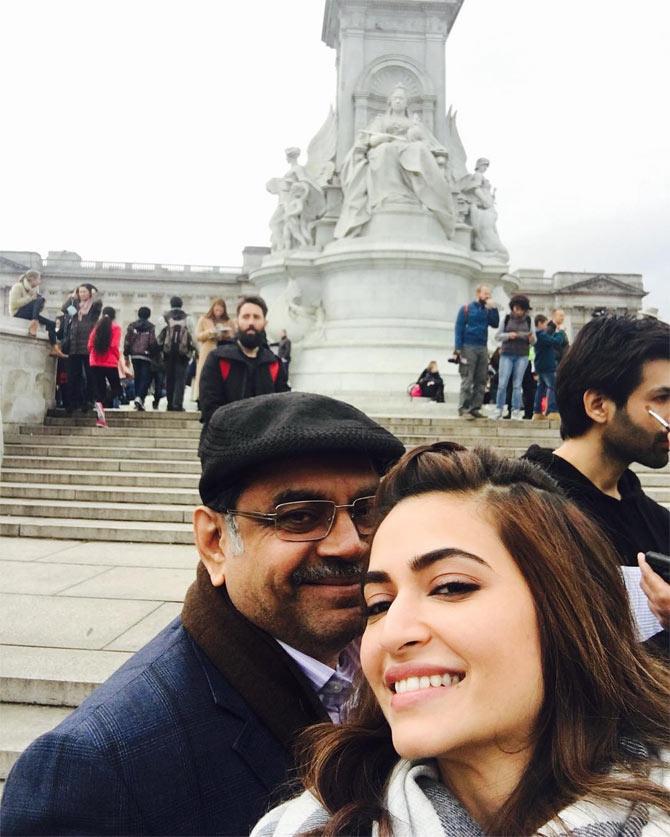 IMAGE: 'Punjaban' Kriti with her sulking competitor, Paresh Rawal. Photograph: Kind courtesy Kriti Kharbanda/Instagram
Your co-star Kartik has been appreciated for his comic timing in his films (Pyaar Ka Panchnama). Was there pressure to match up to him?
No. There was healthy competition. I always wanted to be a better actor. He is a very good actor.
I was like I am going to compete with him. But we hit off from day one.
When I did my look test to see how Kartik and I look together -- the first thing they did was they threw us together and said become romantic and sing.
They played a song from Humpty Sharma Ki Dulhaniya. That was the look test for the film, and they started clicking pictures.
Imagine the first time you are meeting your co-star, and you are hugging and singing (laughs).
The ice just broke there. It was so much fun to do that.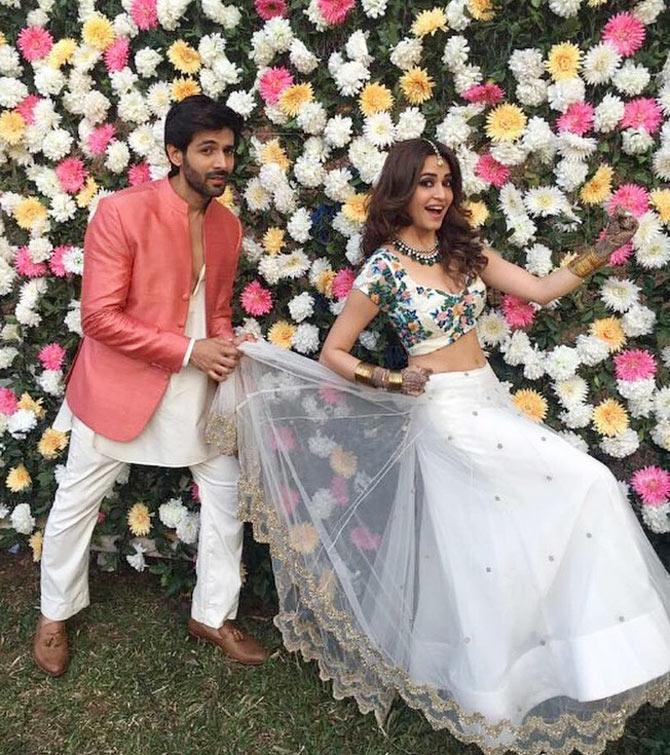 IMAGE: Kartik and Kriti in the song Frankly Tu Sona Nachdi. Photograph: Kind courtesy Panorama Studios/Instagram
What equation do you have with him now?
Now we pull each other's leg, but we are very competitive. I keep teasing him and he doesn't know what to do.
We are like Tom and Jerry; we can't live with, and live without each other.
Do you think working with big stars will help you get good work?
It helps you in your career.
But I feel it's more important to be part of bigger scripts. The film industry has proved that time and again.
The biggest example in the recent past is Vicky Donor. It became a cult film.
I want to do films that have good content and a good role for me.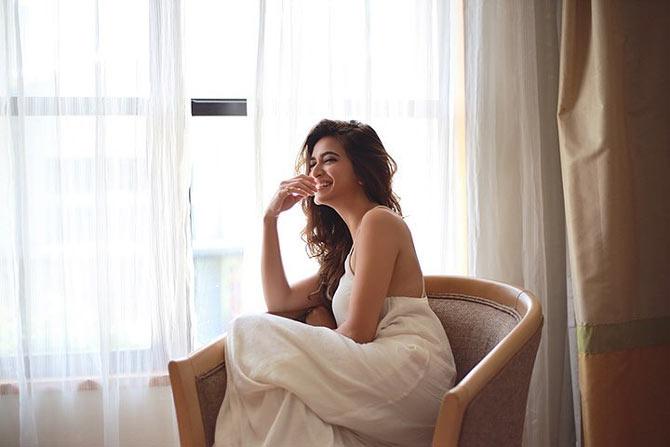 IMAGE: Cute candid capture. Photograph: Kind courtesy Kriti Kharbanda/Instagram
What about Ratna Sinha's film, Shaadi Mein Zaroor Aana?
I have almost finished shooting the film with Rajkumar Rao. I am very excited and looking forward to it.
I love that character and everything about it.
Shaadi is more of an intense love story. I can't thank my stars enough to be blessed with two good films.
Again, I am allowed to be my dramatic self in both films (laughs).