'I wasn't comfortable with the intimate scenes. There were 40 men behind the camera.'
'It's mechanical and doesn't mean a thing but there are so many eyes watching you! I got panicky and asked Vikram (Bhatt, director) sir to help me out.'
Patralekha gets bold and beautiful in Love Games.
We saw Patralekha play a doting mother in her first film, City Lights. Her character in her second film, Love Games, is drastically different.
The simple-looking girl is gone, and is replaced by a smouldering hot and bold woman.
Who is the real Patralekha? She tells Rediff.com contributor Rajul Hegde.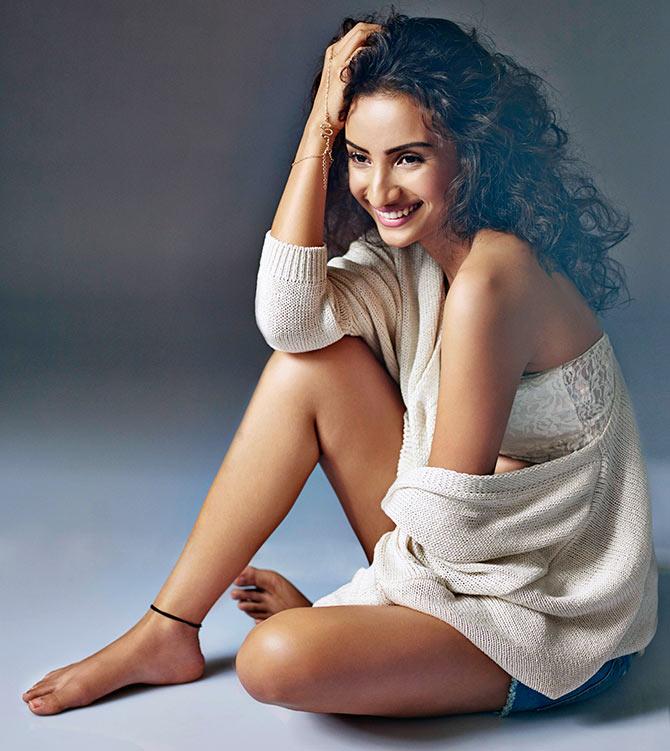 Was it a conscious effort to change your girl-next-door image with Love Games?
It wasn't intentional, it just happened.
Everybody is shocked with my makeover in Love Games but the real makeover happened in City Lights. I am an urban girl and I played a village girl and mother in that.
It was a huge transformation for me.
But people did not know who Patralekha was then, so they didn't understand the contrast between the character I played and me.
You play a bold character in Love Games.
My character Ramona in Love Games is different from what I did in Citylights.
Ramona is a high-society girl, who is passionate and fashionable. She takes the world head-on and is unapologetic about what she does.
She is addicted to drugs like cocaine and loves all sorts of weird things.
As a person, I believe in love and that it heals wounds. But my character doesn't believe in that. She is bitter and unhappy.
I could never visualise myself playing Ramona, so it was quite a task.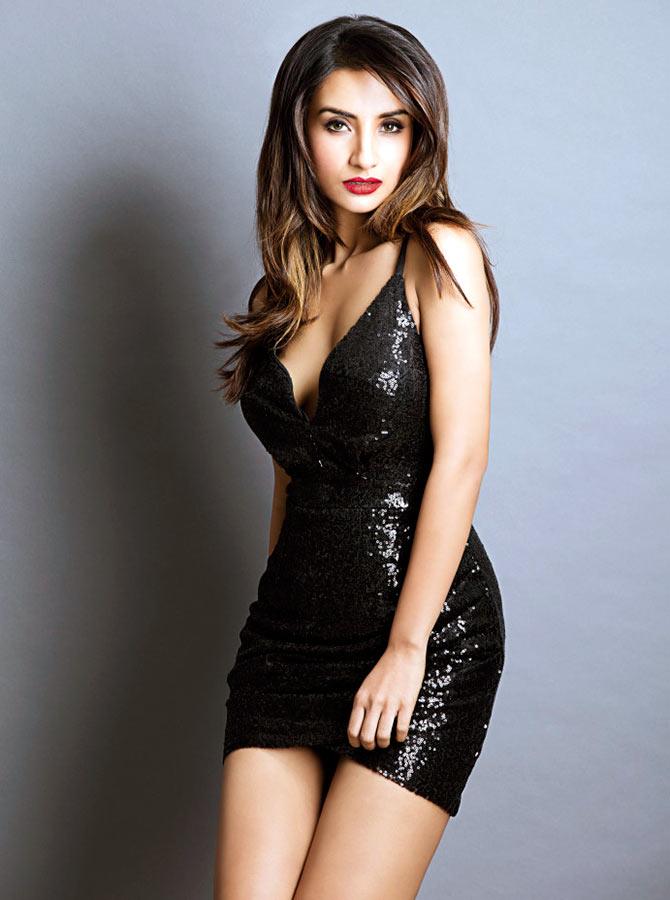 Apparently, you had to lose weight for the role.
I had to reduce seven-eight kilos for the character of an undernourished woman in City Lights. I returned to my normal weight after the film.
I had to reduce again for Ramona's character, so I went through a rigorous diet and crazy workout. I was about 50 kilos when I started shooting. There was so much stress during the shooting that I lost more weight.
How did you prepare for the role?
Without Vikram (Bhatt, director) sir's guidance, I don't think I could pull off this role.
I watched Basic Instinct but I am not asking to be compared with Sharon Stone. I had to just watch the way she handles her body with ease, and how she tackles the scenes.
I also went to a couple of parties and observed how people behaved.
I am not trying to be Sharon Stone. Please, she is Sharon Stone and I am Patralekha! (smiles)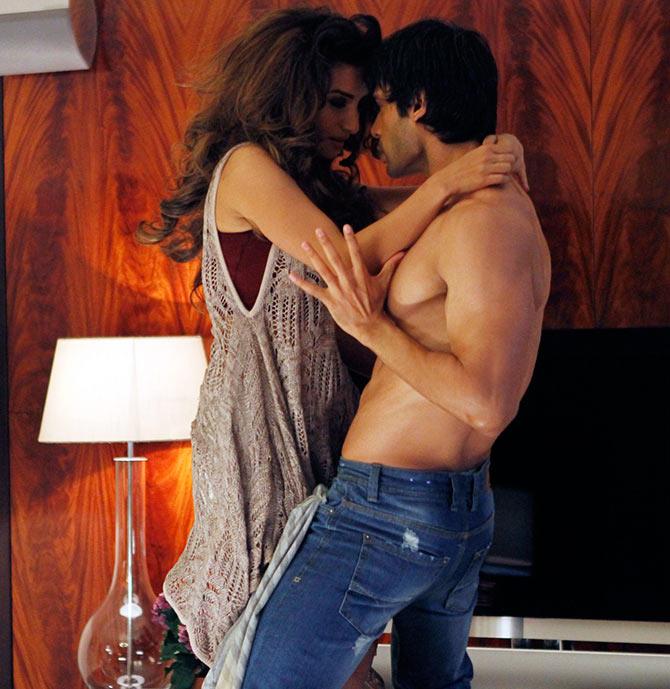 How comfortable were you shooting the intimate scenes?
I wasn't comfortable at all. There were 40 men behind the camera.
I was uncomfortable during City Lights as well, and had told Hansal (Mehta, director) sir to ask everybody to go out of the room.
It's mechanical and doesn't mean a thing but there are so many eyes watching you! So I got panicky and asked Vikram sir to help me out. He is very calm, and told me to treat it like a dialogue.
How did you break the ice with Gaurav Arora before doing intimate scenes?
We did a couple of workshops but it still wasn't easy.
Before the intimate scenes, I asked him to talk to me, as I was getting panicky. He calmed me down, he said he has sisters so he understands how uncomfortable it is for a woman. The moment your co-actor understands, you are half sorted because you know he respects your vulnerability.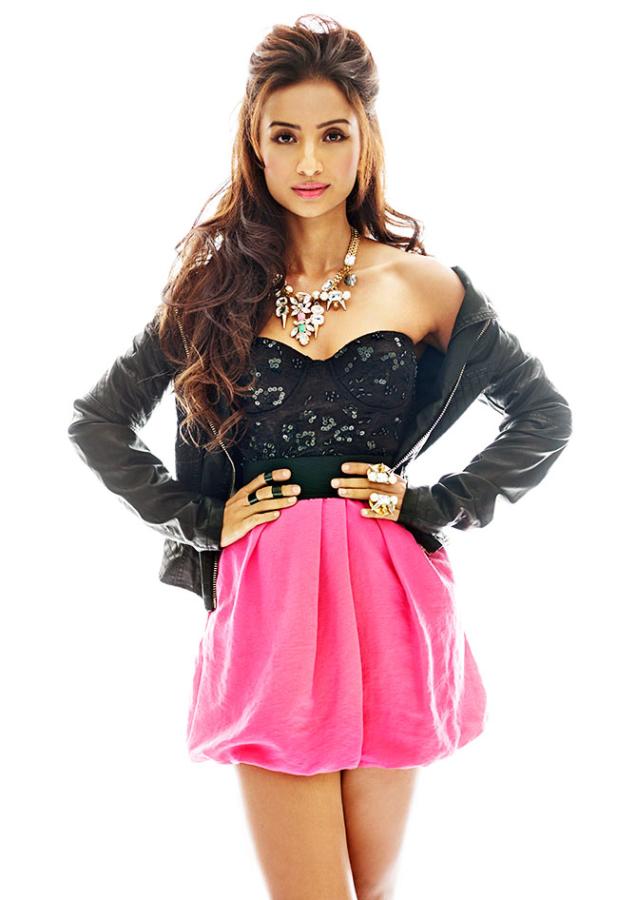 Like your character Ramona, do you think swapping partners is common in the industry?
Love Games shows the reality.
We all know 'swingers' in Bollywood are rampant.
I come from a middle class family and haven't been to such parties. I don't have friends from the industry, and don't know what is happening. But Vikram sir has written the script and he has told me that it does happen. He has met characters like this.
Was it tough shooting the bikini scene in the film?
I didn't eat much because I had to wear the bikini.
The swimming pool in Cape Town was not heated, and the temperature was minus degrees! People outside the pool were wearing three-layered jackets.
When I was in the pool, I kept telling myself, 'mind over matter.' I was crying and laughing in the pool -- crying because I couldn't take the cold and laughing because I couldn't believe that I was crying over it!
Vikram sir asked me to have brandy to heat my body. They were also continuously heating the towel and putting on my body. I managed to give two shots and then my body could not take it anymore. Vikram sir noticed my lips turning black and he immediately pulled me out of the water. I collapsed after that.
I was not comfortable in the bikini at all because I am not comfortable with my body.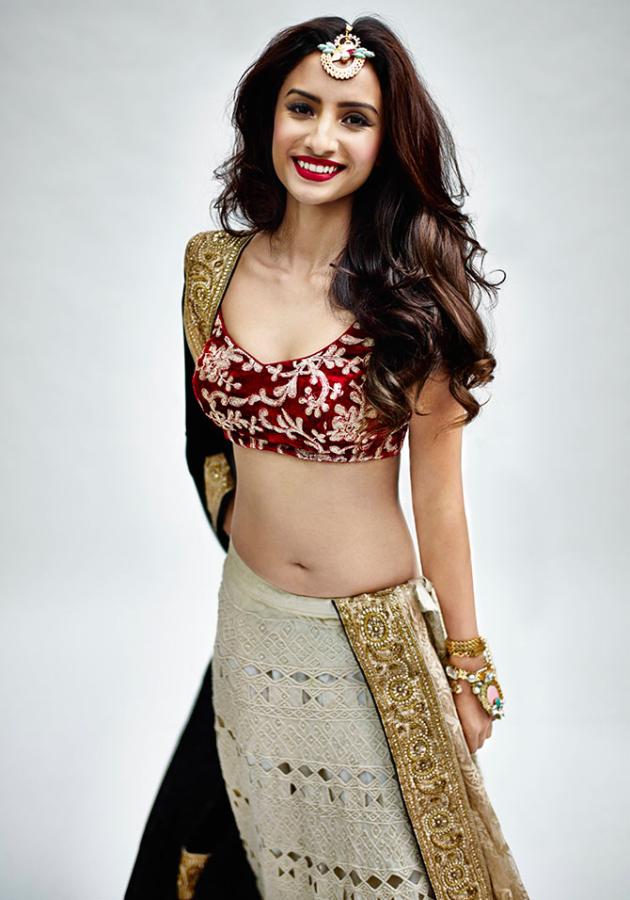 Your boyfriend Rajkummar Rao had tweeted that you look 'hot' and 'super cool' in Love Games when the first poster was released. Do you discuss work with him?
Rajkummar is happy because I am looking different.
We are actors, and are okay with whatever films we do. Finally, we are just shooting for films and it's not reality. Both of us are supportive of each other.
You are doing a bold film like Love Games while he is doing brilliant cinema like Aligarh.
Rajkummar is dancing around a tree in his next film Shimla Mirchi (laughs).
Hopefully, I will get to dance too; I'm a good dancer. I guess I'm just waiting for the right script.
I like films like Kahaani, The Dirty Picture, Tanu Weds Manu, Queen and Piku.
Why did you take so long to sign a film after City Lights?
I was not offered the kind of films I wanted to do. I was getting mother's roles, and ensemble cast films. I was offered a role of a mother of a 15-year-old for a television commercial. How will I look like a mother of a 15-year-old? Such offers didn't interest me.
I hope things will change.
What was the team like?
Vikram Bhatt is so professional; he does his job and then leaves. He doesn't socialise, interfere or talk much.
Tara (Alisha Berry) and Gaurav (Arora) are sweet people. Tara is a chilled person and we became friends. Unfortunately, we didn't fight (laughs).