'We shot Baahubali in Hyderabad during the summer when the temperatures would soar to 45 degrees. There was an ambulance on the set and every day someone would be injured or faint.'
'Whenever I saw that ambulance, I heaved a sigh of relief and thanked god that it was not me.'
Rana Daggubati shares his experience of shooting for Baahubali.
After spending almost three years working on one film, one might expect Rana Daggubati to be bored to talk about it.
But as soon as I start asking him about the film, the actor gets as excited as a child in a candy shop.
Towering at over 6 feet and weighing more than 126 kilos, Daggubati plays the antagonist in S S Rajamouli's magnum opus Baahubali, set to release on July 10.
Daggubati tells Sonil Dedhia/ Rediff.com what to expect from Baahubali.
Are you excited about the release of Baahubali?
I am going through a very strange feeling. We shot for almost three years and you feel like this is never going to get over (laughs).
Technically, the shooting is not over. But I am happy that the trailer has received such a positive response and the audience is eagerly waiting for the film to release.
Isn't giving three years to a film so early in your career a big risk?
I don't regret my decision. Prabhas (his co-star in the film, playing the title role) and I agreed to do this film because of the sheer joy of being a part of the film.
I don't think we will ever be part of such an epic film again. It could be one of the greatest films in Indian cinema.
Every day I went on to the sets with a lot of pride and excitement.
Skills like horse riding, the various exercises we did for the action sequences will stay with me for my lifetime.
Not many actors would take such a risk. But I have committed to it and I am sure the results will pay off.
How challenging was it to do this epic film?
It was very strenuous. Rajamouli sir wanted me to be physically big. I had to put on 35 kilos. I weighed 126 kilos in the film. I ate 30 eggs a day, and ate everything, from red meat to fish.
My mother got tired because I'd eat something every 20 minutes (laughs).
Prabhas and I trained in bodybuilding. Our action choreographer Peter Hein brought five men from Vietnam who trained us in different forms of martial arts for six months in Hyderabad. We also trained in horse and chariot riding and the use of Indian weapons.
There are quite a few Hollywood films and Asian war films; we did not want the action to look like anything from there. So, we designed the weapons ourselves and figured out ways to use them.
You shot for almost 280 days for just the first part of the film. Was it difficult to keep the attention span for such a long time?
This is a very special film for me. As a child, I grew up on stories from Amar Chitra Katha.
Growing up I also watched a lot of big Hollywood war films. I always wondered why we couldn't make a film on such a huge scale.
So when I was offered Baahubali it was like finding an answer to my question.
Recently, I went to a book store and brought all the 400 titles of Amar Chitra Katha. So it's almost like revisiting my childhood.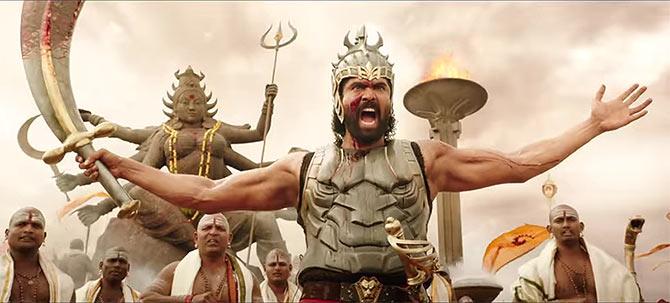 Image: Rana Daggubati in Baahubali.
Shooting for so many days with so many people and wearing the elaborate costumes is really tough. How did you keep your sanity?
It wasn't easy to shoot for Baahubali. It was very painful and annoying.
We were planning to shoot the war sequences in Hyderabad during the winter season. Unfortunately, I was injured on the third day of the shoot and was down for a month.
Then Prabhas got a shoulder injury and he was out for three months. By the time we got into shooting, it was already summer.
It was dry heat and the temperatures would soar to 45 degrees. There was an ambulance on the set and every day someone would be injured or faint. Whenever I saw that ambulance, I heaved a sigh of relief and thanked god that it was not me (laughs).
Also, I was 126 kilos and maintaining that weight was not easy. Right now I have stopped going to the gym. I told my gym trainer to take a vacation for a couple of months.
Can you recall your most memorable day from the film?
In this one scene we had to assemble a 150 foot statue of myself. It weighed over eight tons.
It was amazing to see three industrial cranes trying to assemble the statue.
Just the bust of the statue was 30-40 feet. When it was finally assembled, it was an incredible feeling to see my own statue.
How did your family react when you took up Baahubali?
They thought I was out of my mind (laughs).
It's been five years since I started acting, of which for three years I have shot for Baahubali, so technically, my career has grown with this film.
Rajamouli sir came home and narrated the script. I was blown away by it.
I desperately wanted to be a part of it. I did think that I would be staying away from the audience for three years, but I would never get this opportunity again.
Initially my father had a problem, but six months into the film he came on the set for the first time and was mesmerised by what he saw.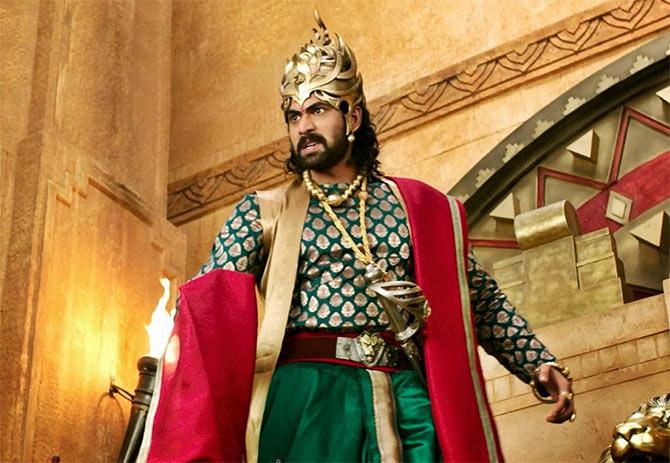 Image: Rana Daggubati in Baahubali.
In one of your interviews you said you had reservations about Baahubali working in Hindi. Now that Karan Johar is presenting the film, are you reassured it will work in Hindi?
My father was the first person to tell me to go to Karan Johar. We knew we were making the biggest film in Indian cinema and for that we needed the right positioning and the right people to put it in place.
Technically, Karan was our first audience. It's always nice to have another filmmaker to reassure you that you are making a good quality film. I remember talking to him over the phone and giving him a brief about Baahubali. He thought we were mad to make an Indian war film.
When I first met him, there was nothing much to show him, so I put together a bunch of images and narrated the story.
When I moved to the third slide, Karan said that this looks like Avatar and it is bigger than anything that he had seen in India. That's when I knew he was sold. It was a big confidence booster.
I chose to talk to him because I know him very well and if he believed in the project his production house (Dharma Productions) would go all out.
Shah Rukh Khan and Amitabh Bachchan have showered praise on the film after watching the promos.
It's a surreal feeling. I remember showing the trailer to Mr Bachchan and after watching it he requested me to show it again. He asked me where we had shot the film, and I said Hyderabad. He was stunned.
He spoke to me for half an hour. He said that every time he saw the promo, he felt like he was watching a Hollywood film.
I was moved to tears when I heard him saying such good things about the film.
Are you happy with the way your career has shaped up in Bollywood?
I made a decent debut in Bollywood with Dum Maaro Dum. While I was working in Bollywood, I did not sign any Telugu movie.
For two years I was without a movie down South and Department proved a disaster; people don't even remember the film.
Baahubali happened at this time. I am not trying hard to make it big in Bollywood and will take whatever good comes my way.
Neeraj spoke to me about a role in Baby. At that time I was busy with Baahubali, but Prabhas injured his shoulder while training for his role and I had three months off.
Are you making films under your production house Spirit Media?
Yes, I am making a remake of Marathi film Poster Boys.
There are a couple of other films that I am producing, but we haven't found a title for them.