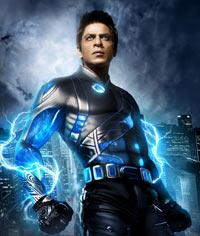 A week after Ra.One released, we take a look at the box office figures in India and abroad.

Shah Rukh Khan's much-anticipated Ra.One failed to break the opening day box office collection of Bodyguard, but it did break the record for the highest single-day collection ever (it made Rs 25 crore on October 27).

The jury is still out on whether Ra.One is a hit and will exceed the all-time box office collections of 3 Idiots and Bodyguard.

"No," says media professional and industry observer Abhijit Mhamunkar. "Everyone was expecting Ra.One to beat Bodyguard's opening week record and set a new record but it hasn't managed to do so. With a box office collection of Rs 111 crore, Bodyguard tops the list, followed by Ra.One at Rs 103 crore, and in the third position is Aamir Khan's 3 Idiots at Rs 80 crore for the first week."

These figures are only for the Hindi version of the film, not the dubbed versions. The figures are for the whole week, beginning October 26.

However, despite having a lower first week box office collection than Bodyguard and 3 Idiots, Ra.One can still beat the overall collection of Bodyguard which is currently at Rs 156 crore. It will be difficult to exceed the overall collection of 3 Idiots as the film has made more than Rs 300 crores at the box office.  

Ra.One opened with a bang, earning a whopping Rs 80 crore (Hindi version) but it saw a drop in business from Monday, October 31. There was a mixed response from audiences and the masses overall seem to be in rejection mode.

According to sources, the number of shows has been reduced at several theatres all over India. Says Sunil Punjabi, CE0, Cinemax India: "Whenever a big movie is released, we add to the number of shows. After the first weekend, these shows are taken off as they are just incremental shows."
Punjabi expects a further drop of 20 per cent in the number of Ra.One shows from today, with the start of the second week.

Amod Mehra, a trade analyst, is convinced that the sub-distributors will fail to recover their investment. "If things go well, the producers (Shah Rukh Khan and Eros Entertainment) will at the most be able to break even, but the sub-distributors are 100 per cent going to lose money. There are no two ways about it. They will lose an estimated 30 to 40 per cent of their money."

He says that as far as the trade is concerned, the film has not worked. "The branding of Shah Rukh Khan has not worked either. The film will recover its money, but at the end of the day, I feel the film is a flop because if the distributors are not able to recover the money then it is a matter of concern."

The story is different in the overseas market. "Ra.One has grossed approximately Rs 32 crore in its five-day weekend from international markets. The film is definitely the biggest opening for Shah Rukh Khan in his career and also for any Bollywood film," Mhamunkar says, adding that internationally, the film is expected to cross Rs 100 crore as it releases in different countries over a period of time.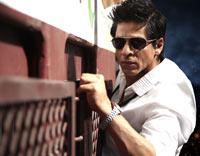 What this means is overseas, Ra.One can be the biggest blockbuster of all time.

The film is scheduled for release in the first quarter of 2012 across theatres in South Korea, Hong Kong, Taiwan, Russia, Lebanon, Jordan, Syria, Brazil, Spain, Italy and Greece.
Shah Rukh left no stone unturned to promote Ra.One, collaborating with as many as 25 brands and used other marketing tools to promote his superhero movie. But all the buzz created and the aggressive pre-release marketing doesn't seem to have worked as well as expected.